Senator Says GOP 'Deathly Afraid' of Impeachment Witnesses, Would Make It Harder to Hide Behind 'Myth of 'Perfect Phone Call'
A Democratic Senator said Republicans are "deathly afraid" of fact witnesses being brought before an impeachment trial of President Donald Trump because they would no longer be able to hide behind the "myth" of his "perfect" phone call with Ukrainian President Volodymyr Zelenskiy.
Maryland Sen. Chris Van Hollen told CBS News' Face the Nation on Sunday it would be "harder for those senators to vote for acquittal" after hearing testimony from witnesses such as former National Security Advisor John Bolton.
He also argued that withholding articles of impeachment from the Senate was "exactly the right thing" to do at the present time.
The articles of impeachment approved by the Democratic-controlled House last week charge the president with obstruction of Congress and abuse of power. Both articles center on the president's alleged attempt to pressure the Ukrainian government into opening investigations into political rival Joe Biden and his son, Hunter.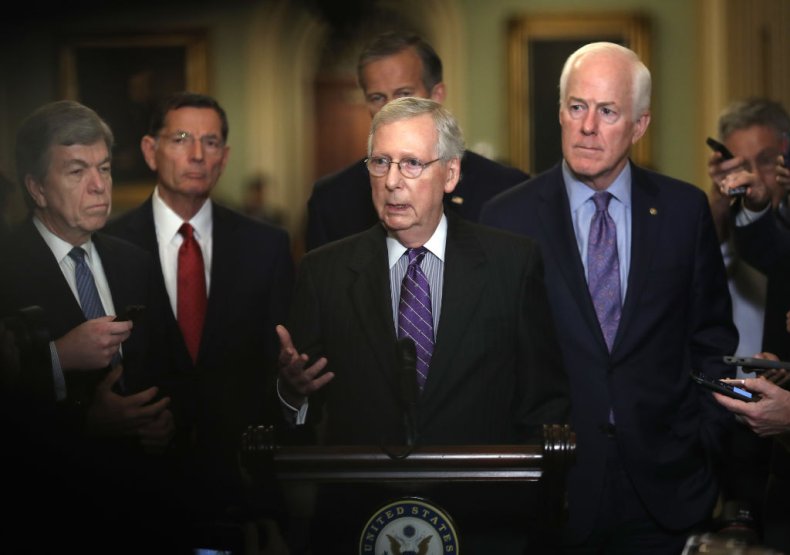 Following votes to approve two articles of impeachment against President Trump last Wednesday, House Speaker Nancy Pelosi has decided to withhold their passage to the Republican-controlled Senate for a trial.
The California Democrat is waiting to see what the Senate trial process might look like before releasing the charges amid concern in her party that a trial would lead to a speedy acquittal.
Vice President Mike Pence's chief of staff Marc Short attacked the block on Fox News Sunday, saying Pelosi's withholding of the articles was "untenable."
Speaking to Face the Nation with Margaret Brennan on Sunday, Van Hollen said the Speaker was doing "exactly the right thing" by holding onto the articles of impeachment.
"She is focusing a spotlight on the need to have a fair trial in the United States Senate," he said. "And it's especially necessary when you have Mitch McConnell, who you quoted earlier, saying publicly that he's not going to be an impartial juror, even though that's what the oath will require."
The senator for Maryland went on to say he didn't know if President Trump was "trash talking" when he said he wanted witnesses called for the impeachment trial, but added: "If it was such a perfect phone call, then send on Mick Mulvaney down to talk about that perfect phone call. Send down John Bolton."
Later in the interview with CBS News, Van Hollen claimed that Republicans were "deathly afraid" of fact witnesses being called before the Senate for an impeachment trial.
"The reason that Republicans are so deathly afraid of sending down these fact witnesses is because after they testify under oath- they'll have to raise their right hand, just like all the witnesses in the House did, and testify under penalty of perjury- it's going to be much harder for Republicans to hide behind this myth that this was a perfect phone call," the Democratic senator said.
"And it will make it harder for those senators to vote for acquittal."
Newsweek has contacted the office of Senate Majority Leader McConnell for comment.
The senator for Kentucky rejected a list of witnesses requested by Senate Minority Leader Chuck Schumer, including John Bolton and acting White House Chief of Staff Mick Mulvaney.
He has also previously told reporters he was "not an impartial juror" and described the impeachment process as "political" in nature.
McConnell also said that he would coordinate with President Trump's team on his trial defense, saying there was "zero chance" the commander-in-chief would be removed from office.