Lisa Murkowski's Chances of Beating Trump-Backed Challenger Day Before Vote
A new ranked-choice voting system in Alaska is adding intrigue to a primary battle that features longtime Senator Lisa Murkowski facing off Tuesday against Donald Trump-backed Kelly Tshibaka.
Murkowski, 65, a senator since 2002 and the second-highest-ranking Republican female senator after Maine's Susan Collins, faces her strongest challenge yet. Tshibaka, former Alaska Department of Administration commissioner, has raised only about one-third what Murkowski has raised, but it's possible both women will be on the ballot in November.
Alaska's new voting system puts all statewide candidates on the same primary ballot, regardless of party affiliation. Then, the top four candidates advance to the general election, which means multiple Republicans could be on the general election ballot.
Alaska voters will rank their top four candidates in each race. Unless one candidate garners over 50 percent of the first-choice votes, the candidate with the least support is eliminated from contention and voters' second choices are taken into account. The process continues in the same manner if another round does not result in a candidate hitting the 50 percent threshold.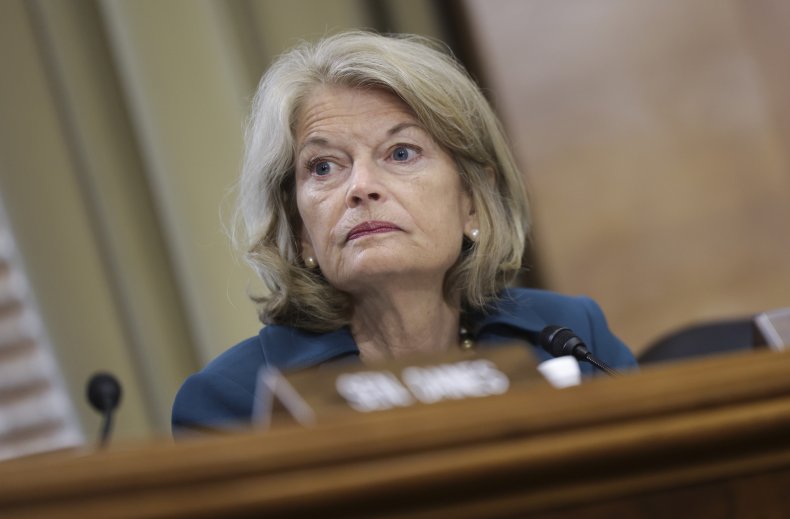 Since Republicans, Democrats and independents will all have a say in the primary, it is widely believed that either Murkowski or Tshibaka will come out victorious of the four candidates.
Polling of 1,201 likely Alaska voters conducted by Alaska Survey Research between July 2 and July 5 showed Murkowski winning after round three—even after losing the first two rounds to her Trump-endorsed opponent.
The survey also showed Murkowski with a 42.5 percent favorability rating compared to Tshibaka's 32 percent, with a margin of error of plus or minus 2.9 percent.
Murkowski has been a target of Trump since she voted to impeach him for his role in the January 6 insurrection. She is the only Republican senator who voted to impeach Trump to have an election in 2022.
In a July 9 rally for Tshibaka and House candidate and former Alaska Governor Sarah Palin in Anchorage, Trump didn't forget.
"She voted to impeach me," Trump said, according to the Associated Press. "And I did more for this state than any president in history. And that piece of," he said, pausing to mouth the word "garbage" to the crowd, "voted to impeach me!"
When Tshibaka filed to run for office, she said Murkowski "has forgotten us because she cares more about being popular with her friends in Washington, D.C." Along with calling out Murkowski's support for "leftist judge" (now U.S. Supreme Court Justice) Ketanji Brown Jackson, Tshibaka also said Murkowski didn't support Supreme Court Justice Amy Coney Barrett, even though Murkowski voted to confirm Barrett.
Tshibaka's campaign website describes her as a "pro-life, pro-2nd Amendment" conservative. Along with supporting reproductive rights, Murkowski has voted with President Joe Biden 69.4 percent of the time, according to FiveThirtyEight.
Representative Liz Cheney, another prominent Republican who has attacked Trump for his role in the January 6, 2001, Capitol riot, among other aspects of his presidency, is expected to lose handily in her Wyoming primary. Cheney is vice chairwoman of the House select Jan. 6 committee.
Newsweek reached out to the campaigns of Murkowski and Tshibaka for comment.