Liz Cheney's Chances of Winning GOP Primary With 4 Days to Election
The chances of Representative Liz Cheney being the Republican candidate in November for Wyoming's lone U.S. House seat are slim to none, new polling indicates.
On Thursday, the University of Wyoming's Wyoming Survey and Analysis Center (WYSAC) published a new poll of Republican voters likely participating in the state's August 16 primary showing just 28 percent of them supporting the incumbent Cheney against heavy favorite Harriet Hageman with less than a week to go.
Cheney is running for reelection, unlike her only Republican counterpart on the January 6 committee, Representative Adam Kinzinger of Illinois, who announced in October 2021 that he would not be seeking reelection.
About 57 percent of the 562 Wyoming residents surveyed between July 25 and August 6 preferred Hageman to Cheney. It's a deep slide for Cheney, who has represented Wyoming in Congress since 2017, including as the third highest-ranking House Republican due to chairing the House Republican Conference between 2019 and 2021.
The numbers may be even worse for Cheney, according to the poll.
"Given the unique attention this race is receiving, and the accompanying increases in voter registration and potential party switching, we decided to field this survey to a random sample of all Wyoming residents on cell phones and landlines and work to identify likely voters in the GOP primary," said Brian Harnisch, director of WYSAC. "When looking only at residents who say they are Republican and likely voters in the primary, we actually see Hageman leading by roughly 50 points."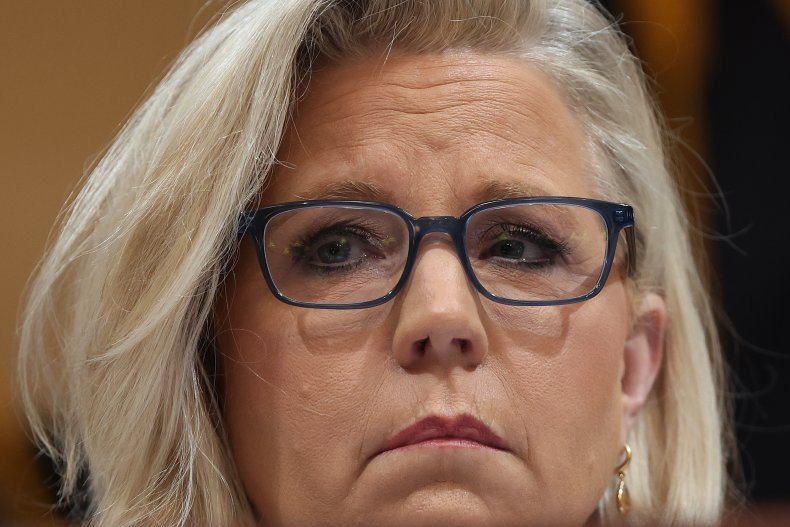 While some statewide Democrats—about 98 percent of whom support Cheney in her reelection efforts—have suggested crossing over and voting Republican during the primary, University of Wyoming political science professor Jim King said the numbers on the Republican side are too vast for a candidate like Cheney to overcome next week.
"The race for the Republican nomination appears to be a referendum on Cheney, as it usually is when an incumbent seeks reelection....There has been much talk in the media about Democrats crossing over and voting in the Republican primary; this group is not especially large," King said.
Hageman, who has been endorsed by former President Donald Trump, describes herself as a "deep-rooted Wyomingite" who has consistently battled and defeated government bureaucracy. She touted protecting national forests, preventing control from the Environmental Protection Agency regarding irrigation infrastructure and blocking the U.S. Department of Agriculture from registering ranches with the federal government.
Cheney has come out swinging in recent weeks.
In addition to making a direct correlation between Trump and the Capitol riot during repeated January 6 hearings regarding Trump, she has attacked outspoken Republican colleagues Marjorie Taylor Greene and Lauren Boebert.
She also shared a video made by her father, Dick Cheney, who recently said there is no "greater threat to our republic than Donald Trump."
Newsweek reached out to the Cheney and Hageman campaigns for comment.