Liz Cheney Shows Evidence Accusing Trump World of Jan. 6 Witness Tampering
Representative Liz Cheney showed witness responses on Tuesday indicating that former President Donald Trump's team allegedly pressured individuals who were testifying for the January 6 committee.
Lawmakers investigating the January 6, 2021, attack at the U.S. Capitol held a last-minute hearing on Tuesday to hear witness testimony from Cassidy Hutchinson, who served as an aide to Trump's ex-Chief of Staff Mark Meadows, in what analysts have described as a potential "smoking gun."
At the end of the hearing, Cheney, a Wyoming congresswoman who is one of the two Republicans to sit on the panel, showed evidence alleging that members of Trump's circle pressured members of his administration who have agreed to testify before the committee.
"While our committee has seen many witnesses, including many Republicans, testify fully and forthrightly, that has not been true of every witness," Cheney said. "We have received evidence of one particular practice that raises significant concern."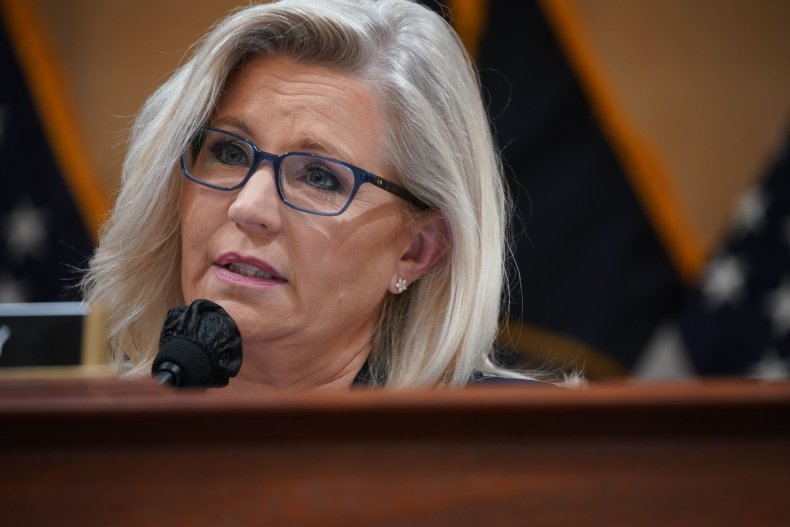 Cheney explained that the panel regularly asks witnesses who worked with Trump whether any of their former colleagues have reached out to them to try to influence or impact their testimony—as witness tampering is illegal.
The congresswoman then showed two witness responses indicating that members of Trump's team may be doing so. Neither witness was identified, nor is it known exactly who in Trump's circle the alleged conversations were with.
"What they said to me is as long as I continue to be a team player, they know that I'm on the team, I'm doing the right thing, I'm protecting who I need to protect, you know, I'll continue to stay in the good graces in Trump World," one witness responded. "And they have reminded me a couple of times that Trump does read transcripts and just keep that in mind as I proceed through my depositions and interviews with the committee."
Another witness provided a similar account. They said: "[A person] let me know you have your deposition tomorrow. He wants me to let you know that he's thinking about you. He knows you're loyal, and you're going to do the right thing when you go in for your deposition."
"I think most Americans know that attempting to influence witnesses to testify untruthfully presents very serious issues," Cheney said.
The committee, in the coming weeks, will discuss the issue of potential witness tampering to decide the next course of action, Cheney said. The committee is set to hold its next public hearing in July.
Also during Tuesday's hearing, the committee heard witness testimony from Hutchinson concerning several days around and on January 6. She made several new revelations, including that Trump allegedly got into a physical altercation with security and did not care that his supporters were armed during the speech he gave before the riot.
Newsweek reached out to Trump's office for comment.