Listen as Hero Southwest Pilot Tammie Jo Shults Plans Emergency Landing in Dramatic Air Traffic Recording
An audio recording has captured the eerily calm discussion between Southwest Airlines lead pilot Tammie Jo Shults and air traffic control during the dramatic emergency landing of her plane after one of its engines was destroyed and a window blew out, killing a passenger on board.
Shults, who was one of America's first female fighter pilots, is being called a hero over the incident on Flight 1380 from New York's LaGuardia to Dallas Love Field, which was forced into an emergency landing at Philadelphia when an engine caught fire and disintegrated.
While speaking to Philadelphia air traffic control, which was guiding her Boeing 737 and its 144 passengers and five crew in to land at the city's international airport, Shults was asked if her plane is on fire.
"No, it's not on fire, but part of it's missing," she says, coolly. "They said there's a hole and someone went out." The air traffic controller, taken aback, replies: "I'm sorry, you said there's a hole and somebody went out? Southwest 1380, don't worry, we'll work it out."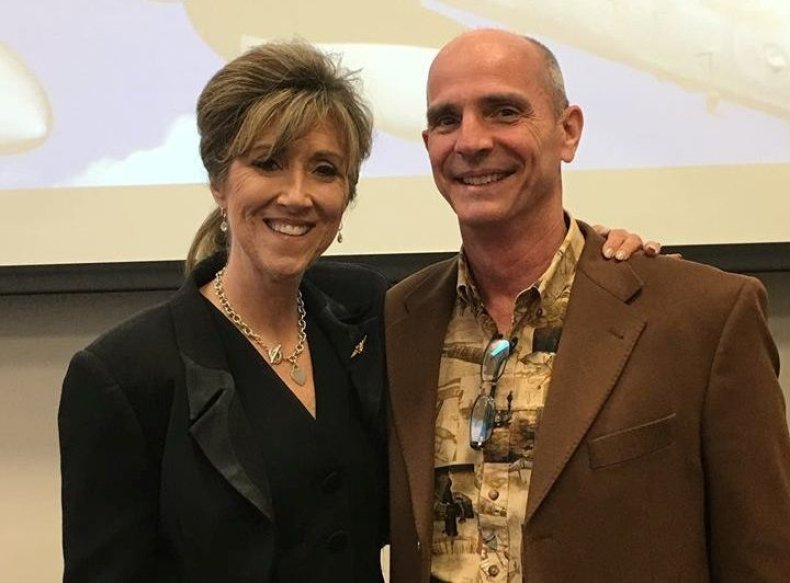 One of the jet engines broke apart around 20 minutes into the flight, sending debris into the side of the plane. A passenger window smashed and a lady sitting in an adjacent seat was almost sucked out by the air pressure. She died of her injuries.
The victim was named as Jennifer Riordan, a 43-year-old mother of two from Albuquerque, New Mexico. She died of blunt impact trauma to her head, neck and torso, said Philadelphia health officials.
One passenger on board, Marty Martinez, streamed live on Facebook during the emergency landing, which he was not sure he would survive.
"I literally bought WiFi as the plane was going down because I wanted to be able to reach the people I loved...thinking these were my final moments on earth," Martinez later wrote on Facebook.
"And put in a position to have to prioritize the people I loved to send them my final words was an absolutely gut wrenching feeling. So I thought to Facebook Live my experience, thinking this would be my last communication with the people I loved and my team back home."