Lithuania Protests Russian Aggression by Banning Display of Letter 'Z'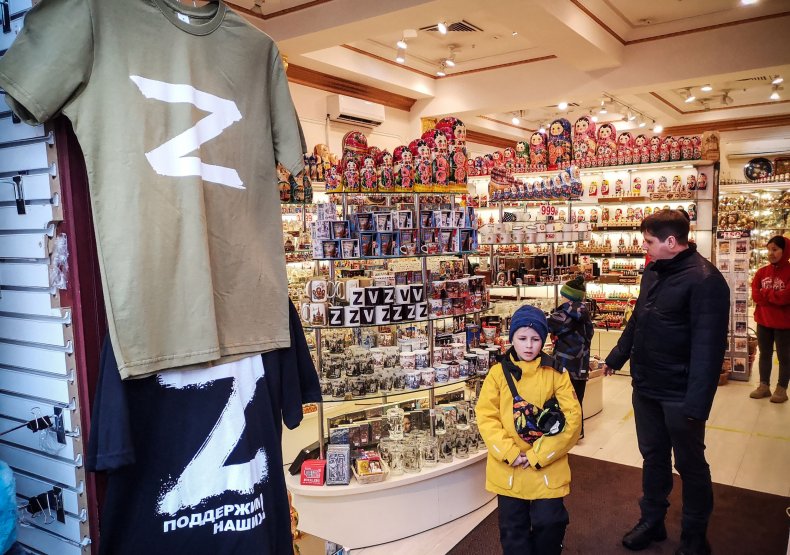 Lithuania has banned displays of the letter "Z" in a show of support for Ukraine in its war with Russia.
"Z" has become a well-known symbol of Russian solidarity since the invasion of Ukraine, although the letter is not part of Russia's Cyrillic alphabet. On Tuesday, Lithuania's parliament voted to ban public displays of the letter and other pro-Russia symbols, according to Reuters.
In addition to "Z," the ban included the black and orange ribbon of Saint George, which became popular among pro-Russia separatists in eastern Ukraine in 2014. Displays of the letter "V" were also banned, according to Lithuanian National Radio and Television.
The pro-Russia symbols were added to an existing law that banned symbols associated with Nazi Germany and the Soviet Union. Those who violate the ban could be punished by fines of up to 900 euros ($971) for an individual or 1,500 euros ($1,619) for a company.
Similar bans are in place in Latvia and Moldova, while other restrictive measures against the "Z" symbol exist in several other countries and local jurisdictions. In parts of Germany, using the letter to support Russia is punishable by up to three years in prison.
Late last month, Ukrainian Minister of Foreign Affairs Dmytro Kuleba called for all countries to criminalize the letter as a symbol of support for the Russian invasion.
"I call on all states to criminalize the use of the 'Z' symbol as a way to publicly support Russia's war of aggression against Ukraine," Kuleba tweeted on March 28. "'Z' means Russian war crimes, bombed out cities, thousands of murdered Ukrainians. Public support of this barbarism must be forbidden."
While "Z" recently became heavily associated with the Russian military due in part to it appearing on vehicles that invaded Ukraine, few seem to agree on the meaning behind the symbol.
Theories have alternatively cast the symbol as a reference to Nazis, Ukrainian President Volodymyr Zelensky or the Russian terms "Za pobedy" [for victory] and "Zapad" [West].
A Russian news presenter suggested on Monday that that symbol was meant to represent two number 7s—marking 77 years since the Russian Victory Day parade that followed the end of World War II.
Some have claimed that the Russian military using the symbol also served a functional purpose, such as a method to communicate between units or to avoid friendly fire by helping soldiers differentiate their vehicles from Ukrainian forces.
"Often these symbols will be location-based—they will be communicating where a unit is heading," professor Michael Clarke, former director of the think tank Rusi, told Sky News last month. "They are probably signs which tell you which units are heading to the northeast or northwest of a district, for example."
Newsweek reached out to the Washington, D.C.-based embassies of Lithuania, Ukraine and Russia for comment.