Fox News Spreading Putin's 'Propaganda and Lies,' Liz Cheney Says
Representative Liz Cheney, a Wyoming Republican, criticized Fox News Thursday for having retired Army Colonel Douglas Macgregor, who has made controversial comments about Russia's war in Ukraine, on as a guest.
"Rupert and Lachlan Murdoch - Why do you continually put Douglas MacGregor on @FoxNews to spread Putin's propaganda and lies? This is absolutely not in America's interest," Cheney said in a tweet referring to the Murdochs, who control Fox Corporation.
Cheney's comments came after Macgregor made an appearance on Tucker Carlson Tonight on Thursday. During his interview, Macgregor said that "almost from the very first moment that the Russians moved into eastern Ukraine, a succession of retired generals and political hacks in Washington and London and elsewhere have been declaring imminent victory for Ukraine.
"Seven months later and the Ukrainian army is bled white, tens of thousands of Ukrainian troops have been killed or wounded, Ukraine is really on the ropes and trying to create the illusion that that's not the case," Macgregor said.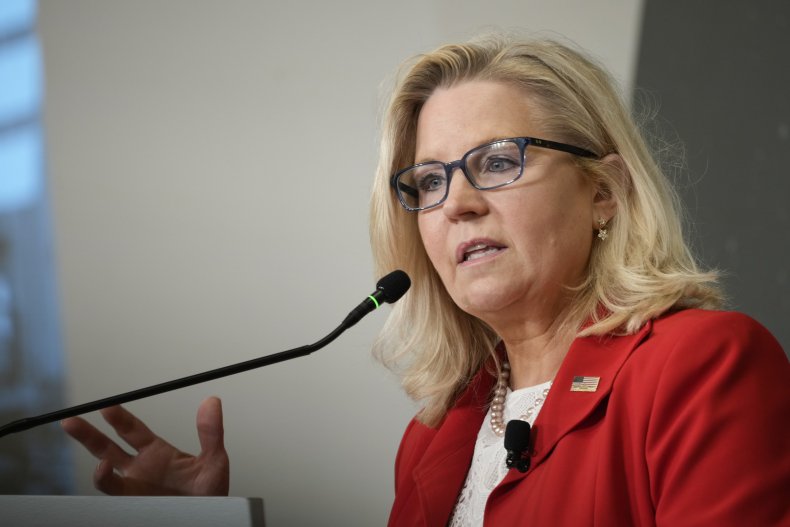 Macgregor also said that Russian President Vladimir Putin is "very aware...that there's been a lot of loose talk for several months about the viability of waging a nuclear war against Russia using the so-called tactical nuclear weapon.
"This sort of thing is very frightening to the Russians—they've made it very clear that their use of nuclear weapons is limited to retaliatory strikes in the event that we or someone else strikes them. So they just wanted to reaffirm clearly that they will respond if we use a nuclear weapon," the retired colonel added.
Macgregor's comments came after Putin appeared to threaten the use of nuclear weapons during a televised speech this week, saying that if "Russia feels its territorial integrity is threatened, we will use all defense methods at our disposal, and this is not a bluff."
Newsweek has reached out to Fox News for comment.
Cheney previously blasted Macgregor over comments he made about the war in Ukraine and said the retired colonel was part of the "Putin wing of the GOP." The first round of criticism came after Macgregor said during an interview with Fox Business in March that Russian forces had initially been "too gentle" in Ukraine and that he thought Ukrainian President Volodymyr Zelensky was a "puppet" who was "putting huge numbers of his own population in unnecessary risk."
In February, at the very beginning of the invasion of Ukraine, Cheney also accused Fox News host Tucker Carlson, former President Donald Trump and former Secretary of State Mike Pompeo of "praising Putin."
"As Russian forces invade Ukraine, Russian TV features Donald Trump, Mike Pompeo and Tucker Carlson praising Putin," Cheney tweeted. "Putin is evil. Every American watching what's happening in Ukraine should know that."