Republican Congresswoman Liz Cheney hit back against Donald Trump after the former president shared a strange mash-up photo through his various channels.
Trump spokesperson Liz Harrington posted the edited photo on Thursday, featuring the face of former President George W. Bush on Cheney's head. Bush is set to campaign for Cheney, the daughter of his vice president Dick Cheney, in the 2022 midterm race against a Trump-backed opponent.
In response, Liz Cheney shared an unaltered photo of Bush to Twitter on Sunday with the text: "I like Republican presidents who win re-election."
The remark referenced both Bush's successful re-election bid in 2004 and Trump's infamous dig against the late Senator John McCain, a former prisoner of war in Vietnam, in 2015 when he said: "I like people who weren't captured."
Cheney currently serves in the House as the sole representative for Wyoming. She was first elected in 2016 and has been successfully re-elected twice.
Despite mostly voting in support of his legislative agenda, Cheney emerged as one of the most prominent GOP critics of Trump during the waning days of his presidency. She voted in favor of his second impeachment following the Capitol riot and serves as vice chair of the House Select Committee on the January 6 attack. She and Rep. Adam Kinzinger of Illinois are the only two Republicans on the committee.
Amongst his recent attacks on Bush for his support of Cheney, Trump called out the former president's support for the wars in Afghanistan and Iraq, and his unwillingness to fully pardon Scooter Libby, a former adviser to Dick Cheney, who was convicted of perjury in 2007. Trump pardoned Libby in 2018.
Earlier this month Trump endorsed Harriet Hageman in the race to replace Liz Cheney on the Republican ticket in Wyoming. Hageman is a former member of the Republican National Committee and ran for governor of Wyoming in 2018.
Trump said in a statement on Wednesday, "[Republican in Name Only] former President George 'Dubya' Bush and his flunky Karl Rove are endorsing warmongering and very low polling, Liz Cheney."
He added: "Bush is the person who did not have the courage to give a pardon to his Vice President's Chief of Staff, Scooter Libby, even though Cheney begged for him to do so. He wouldn't, they didn't talk for years. I didn't know Scooter, but gave him a full pardon—not at their request, but because he deserved it. He suffered greatly. Former Vice President Cheney called to effusively thank me. Now he is on the side of his daughter who is so bad for Wyoming and the United States that she is polling at record lows."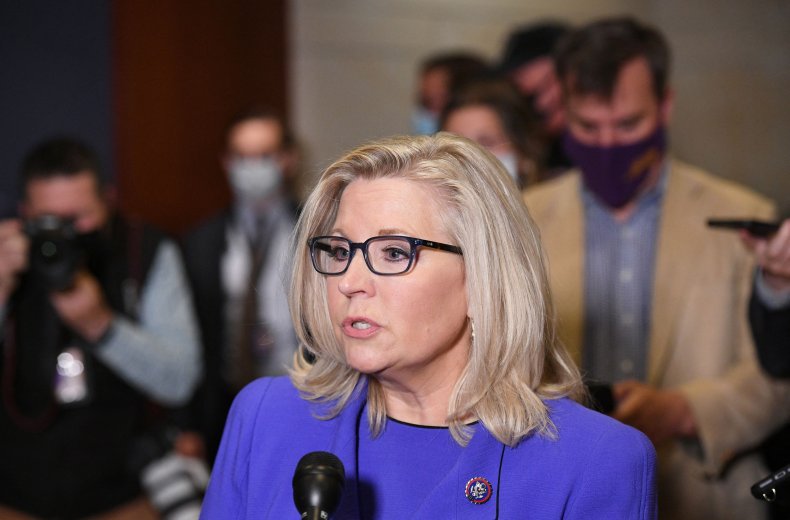 Newsweek reached out to Trump's representatives for comment.