Liz Cheney Is Nearly Three Times as Popular Among Dems Than GOP Voters: Poll
Republican Wyoming Representative Liz Cheney is nearly three times more popular among Democratic voters than Republican voters, according to a recent poll.
While only 15 percent of Republican and Republican-leaning voters view Cheney favorably, 42 percent of Democratic and Democratic-leaning voters view her favorably.
Conversely, while 53 percent of Republican voters view Cheney unfavorably, only 22 percent of Democrats view her unfavorably. Put another way, nearly 2.5 times more Republicans disfavor Cheney than Democrats.
The percentages come from a May survey of 1,696 voters. The survey was conducted by the market research company Morning Consult and the political news publication Politico poll conducted during May.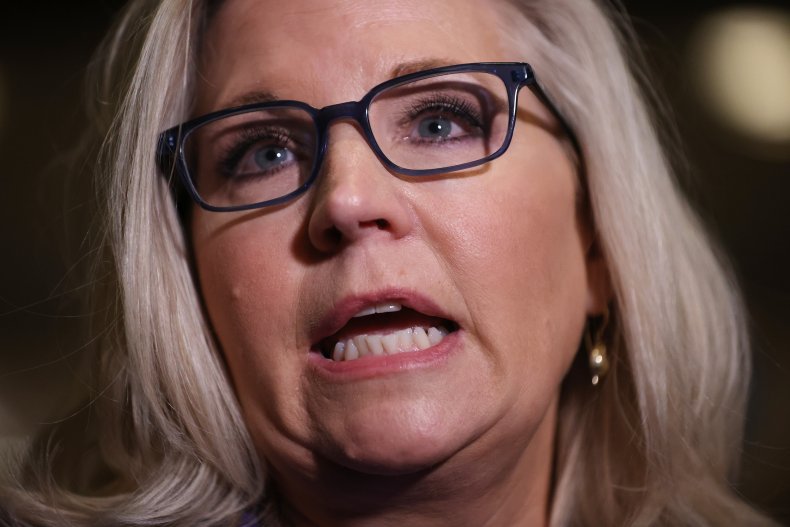 The percentages demonstrate the potential uphill climb that Cheney could face during her campaign for re-election in 2022.
Approximately 80 percent of Republicans supported Cheney's recent ouster from her Republican House leadership position, according to CBS News poll released last Sunday.
Last Wednesday, Republican House Minority Speaker Kevin McCarthy oversaw a House Republican voice vote that kicked Cheney out as the House Republican Conference Chair, the party's third-ranking leader.
Cheney was ousted after continually making public statements criticizing Republican former President Donald Trump's repeated and baseless claims that a national conspiracy of voter fraud "stole" the 2020 election from him.
Some of the Republicans who support Cheney's ouster and view her unfavorably will also vote on whether to re-elect her in 2022. Polling data suggests her re-election is a longshot, especially since Trump—who also publicly opposes and criticizes her—performed strongly in the state in both the 2016 and 2020 elections. Trump is expected to campaign against her.
Republican opponents will challenge Cheney in her re-election primary. Her competitors include Wyoming state Senator Anthony Bouchard, Wyoming state Representative Chuck Gray and retired Army Colonel Denton Knapp. Trump has yet to endorse any of Cheney's opponents.
Cheney had initially survived a similar vote to oust her from her leadership position in February. At the time, McCarthy encouraged House GOP members not to vote against her. Cheney survived that vote by a vote of 145-61.
Since then, McCarthy has reportedly soured on Cheney. He has been quoted as saying that he had "had it with her" and said he heard other conservatives questioning whether she could "carry out the job."
Cheney repeatedly broke from House GOP ranks to condemn Trump's election claims. In February, she was one of the few House Republicans who voted to impeach Trump on the charge of inciting the January 6 Capitol insurrection.
She more recently drew ire from her House GOP colleagues for accusing Trump and the supporters of his election falsehood of "spreading THE BIG LIE, turning their back on the rule of law, and poisoning our democratic system."
Cheney was one of 35 House Republicans who voted on Wednesday to create a commission to study the origins of the January 6 Capitol insurrection. Cheney has repeatedly said that Trump's baseless claims of election fraud helped spark the insurrection.
Newsweek contacted Cheney's office for comment.