Liz Cheney Promises Jan. 6 Probe Will Show Trump 'Provoked' Capitol Attack
Representative Liz Cheney, a Wyoming Republican, promised in an opinion article that the hearings of the House Select Committee to Investigate the January 6th Attack on the U.S. Capitol will show that former President Donald Trump's lies caused the violence.
Last Friday the Republican National Committee formally censured Cheney, as well as GOP Representative Adam Kinzinger of Illinois, due to their criticism of Trump and their involvement with the January 6 investigation. Some prominent Republicans have defended Cheney and Kinzinger, and both lawmakers have asserted they do not regret their opposition to the former president.
Cheney again leaned into her criticism of Trump and the transformation of the GOP under his leadership in a Thursday article published by The Wall Street Journal.
"Republicans used to advocate fidelity to the rule of law and the plain text of the Constitution," the Wyoming congresswoman wrote. "In 2020, Mr. Trump convinced many to abandon those principles. He falsely claimed that the election was stolen from him because of widespread fraud. While some degree of fraud occurs in every election, there was no evidence of fraud on a scale that could have changed this one. As the Select Committee will demonstrate in hearings later this year, no foreign power corrupted America's voting machines, and no massive secret fraud changed the election outcome."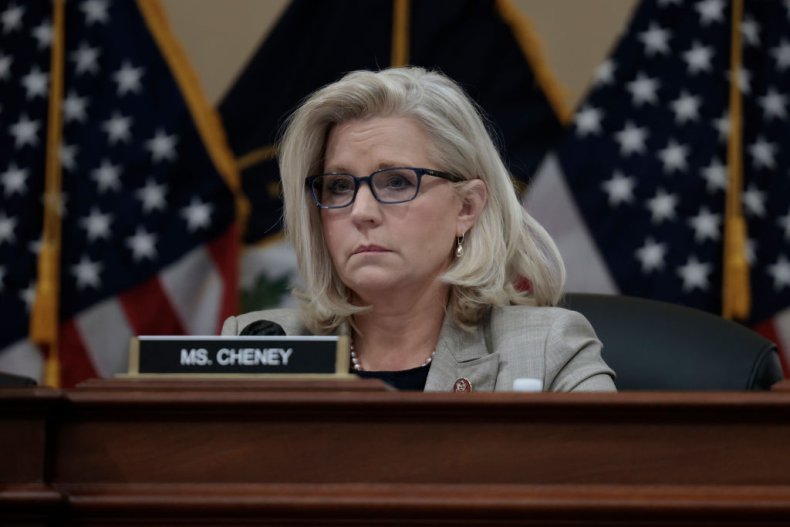 The Republican representative said that "almost all members of Congress" are aware that Trump's claims are false. But she noted "many lack the courage to say it out loud."
"Mr. Trump knew it too, from his own campaign officials, from his own appointees at the Justice Department, and from the dozens of lawsuits he lost," Cheney asserted. "Yet, Mr. Trump ignored the rulings of the courts and launched a massive campaign to mislead the public. Our hearings will show that these falsehoods provoked the violence on Jan. 6."
Hundreds of Trump's supporters violently stormed the federal legislative building just over 13 months ago in an apparent effort to disrupt the formal certification of President Joe Biden's Electoral College victory. The rioters were largely animated by Trump's baseless claims that the 2020 election was "rigged" or "stolen." Just ahead of the assault, Trump urged them at a nearby rally to walk to the Capitol and "fight like hell."
Many pro-Trump Republicans have attempted to downplay the violence of January 6. Some have spread conspiracy theories and misinformation, claiming that left-wing activists or the FBI were behind the attack. These claims are not supported by evidence, and many of those involved in the assault have testified in court that they believed they were acting upon Trump's orders.
"Those who do not wish the truth of Jan. 6 to come out have predictably resorted to attacking the process—claiming it is tainted and political," Cheney continued. "Our hearings will show this charge to be wrong. We are focused on facts, not rhetoric, and we will present those facts without exaggeration, no matter what criticism we face."
A number of prominent Republicans have defended Cheney and Kinzinger, pushing back against the RNC censure. That official censure suggested the events of January 6 were "legitimate political discourse"—which has drawn substantial backlash.
"We saw it happen. It was a violent insurrection for the purpose of trying to prevent the peaceful transfer of power after a legitimately certified election, from one administration to the next. That's what it was," Senate Minority Leader Mitch McConnell, a Kentucky Republican, told reporters on Tuesday, referring to the Capitol riot.
The GOP lawmaker criticized the RNC's decision to censure. He said that the organization should not be "singling out members of our party who may have different views of the majority."
Senator Mitt Romney, a Utah Republican and longtime Trump critic, described the RNC decision as a "shame" for the GOP.
"Shame falls on a party that would censure persons of conscience, who seek truth in the face of vitriol. Honor attaches to Liz Cheney and Adam Kinzinger for seeking truth even when doing so comes at great personal cost," Romney wrote in a tweet last Friday.
Newsweek reached out to Trump's press office for comment.