Liz Cheney Resignation Calls Prompt Fresh Split in the GOP
A new split has emerged in the Republican Party after House GOP Conference Chair Liz Cheney faced calls to resign on Wednesday, when she became the most senior Republican lawmaker to vote for President Donald Trump's impeachment.
The Wyoming representative voted with nine other GOP lawmakers to charge the president with incitement of insurrection, following the Capitol riots that unfolded when pro-Trump protesters stormed the building on January 6.
Protesters gathered outside the seat of Congress after Trump told them to march to the building at a rally earlier in the day. Five deaths were reported in the wake of the riots— including the death of a Capitol Police officer—and more were injured.
Releasing a statement explaining her support for impeachment ahead of the vote, Cheney said: "The President of the United States summoned this mob, assembled the mob, and lit the flame of this attack. Everything that followed was his doing. None of this would have happened without the President."
Whatever her reason for backing Trump's second impeachment, the third-ranking House Republican's vote for the charges has left her open to a challenge from the House Freedom Caucus, and the president's allies in the lower chamber.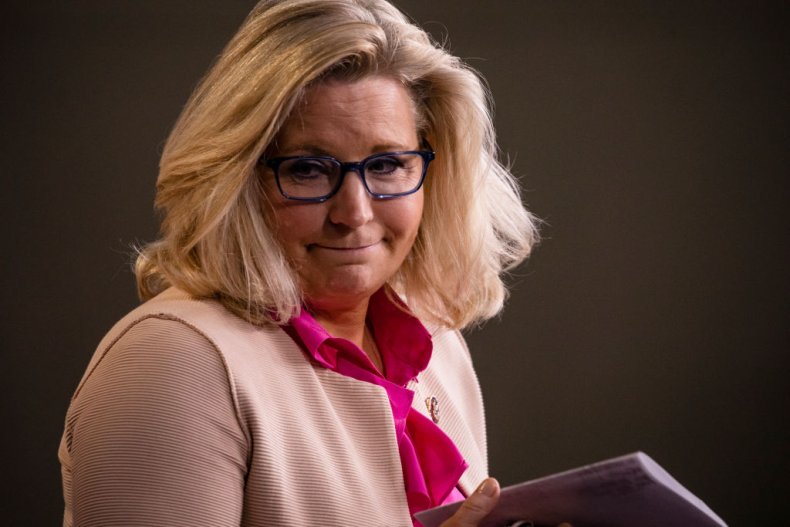 Rep. Jim Jordan (R-OH) told reporters on Capitol Hill that he wanted the GOP caucus to have a chance to vote on whether to keep Cheney in her top post. "The conference ought to vote on that," the House Freedom Caucus member said. "We ought to have a second vote."
Axios also reported that a petition demanding the conference chair's resignation had started to circulate among lawmakers. The petition noted that Cheney did not represent the view of most Republicans on impeachment.
Speaking to Fox News on Wednesday night, Rep. Matt Gaetz (R-FL) said: "We see an unprecedented cooperation between big tech, big media, and big corporations to silence those of us who believe in the America First agenda. If we're going to fight back, it cannot be with Liz Cheney as the Republican Conference chair."
He added that there was "growing momentum" in the Republican caucus to oust Cheney from her leadership post, and argued that one of the ten GOP lawmakers who backed Trump's impeachment could not lead the 197 Republicans who rejected the charge.
Rep. Andy Biggs (R-AZ), the House Freedom Caucus chair, also told Fox News that the Wyoming Republican had no place leading the party. "The reality is, she's not representing the conference," he said. "She's not representing the Republican ideals."
Hitting back at the calls for her ouster, Cheney told reporters on Wednesday that she was "not going anywhere" and said the impeachment vote was a "vote of conscience."
"It's one where there are different views in our conference. But our nation is facing an unprecedented, since the Civil War, constitutional crisis," the congresswoman added. "That's what we need to be focused on. That's where our efforts and attention need to be."
Cheney was backed by a handful of Republicans, including at least two who did not vote to impeach Trump for a second time last night.
"Let's get some truth on the record: Liz Cheney has a hell of a lot more backbone than most, & is a principled leader with a fierce intellect," Rep. Dan Crenshaw (R-TX) tweeted. "She will continue to be a much needed leader in the conference, with my full support."
Rep. Nancy Mace (R-SC) took a similar position. The freshman lawmaker told Politico that the GOP "should not be silencing voices of dissent" as Cheney came under fire for her decision.
"Liz has more support now than she did two days ago. She has gained immeasurable respect," Rep. Adam Kinzinger (R-IL), who voted for impeachment, tweeted. "Since the discussion is opened though, we may have to also have a discussion about who in our party fomented this, and their roles as ranking members."
Newsweek has contacted Rep. Cheney's office for further comment. This article will be updated with any response.