Liz Cheney Voted With Trump 93 Percent of Her Congressional Career
Republican Representative Liz Cheney of Wyoming is expected to lose today's statewide primary against opponent Harriet Hageman after becoming former President Donald Trump's number one target—despite voting with him about 93 percent of the time.
Three of the biggest votes Cheney cast out of line with Trump were to impeach the then-president in January 2021 for his role in the riot at the U.S. Capitol, and to decertify Arizona's and Pennsylvania's electors. Cheney's criticism of Trump in recent months prompted the former president to endorse Hageman and call Cheney "a crazed lunatic" and "worse than any Democrat."
However, Cheney has largely been a supporter of Trump's policies, voting against impeaching him in December 2019 and finding common ground on a number of issues.
Both opposed a $1.5 trillion infrastructure package; congressional approval for Trump to take military action against Iran; the Environmental Protection Agency issuing regulations pertaining to certain chemicals; restoring parts of the Voting Rights Act; Affordable Care Act expansion; and allowing the federal government to negotiate lower prescription drug prices.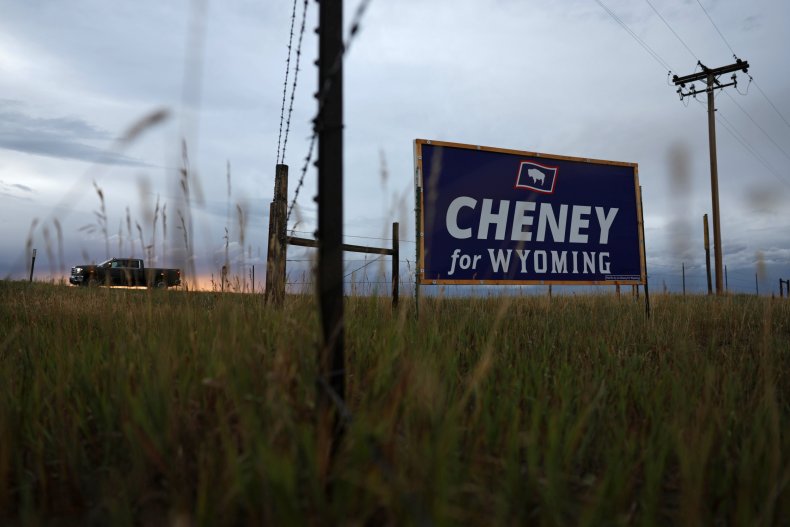 Since the riot at the U.S. Capitol on January 6, 2021, Cheney has been an outspoken critic of the former president and serves as vice chair on the committee investigating the events of that day. She's told her Republican colleagues their "dishonor will remain" long after Trump is no longer a party fixture.
"We can either be loyal to Donald Trump or we can be loyal to the Constitution, but we cannot be both," Cheney said during an appearance on Face the Nation following the first committee hearing in June.
Over 70 percent of Wyoming voters were pro-Trump in 2016, with the former president receiving even higher numbers against President Joe Biden in 2020.
Despite Cheney's voting record in relation to Trump's positions during his presidency, Hageman has campaigned on the notion that Cheney represents "Washington, D.C. elites" rather than her Wyoming constituents.
"Liz Cheney cast her lot with the Washington, D.C. elites and those who use their power to further their own agenda at our expense," Hageman's campaign website states. "She doesn't represent Wyoming and she doesn't represent conservatives. We deserve better. We demand better. I am running to represent Wyomingites and take our state back from big government."
Hageman is running on issues like election integrity and "reining in the surveillance state," saying that liberals "want to eliminate freedom of speech, dissolve our right to keep and bear arms, and seize our private property."
Cheney's campaign website says she stands for "truth, accountability and the Constitution," adding that she "is committed to fighting for the values at the very heart of America's democracy: The peaceful transition of power, congressional oversight, and putting the best interests of America first."
Both candidates support Second Amendment rights, preserving energy independence and advancing Wyoming's interests in the energy sector, protecting private property, and pro-life initiatives and legislation.
Newsweek reached out to the Cheney and Hageman campaigns for comment.