Liz Cheney's Chances of Beating Hageman With Less Than 48 Hours to Primary
Representative Liz Cheney of Wyoming still hopes to maintain her House seat as she faces off against GOP opponent Harriet Hageman in a closely-watched primary—but with less than 48 hours until polls open, the incumbent Republican appears to be fighting a losing battle.
Cheney, the daughter of former GOP Vice President Dick Cheney, is a staunch conservative who voted with former President Donald Trump more than 90 percent of the time. Although they occasionally sparred over foreign policy differences, the Republican lawmaker appeared to be largely aligned with the former president until he refused to admit defeat after the 2020 election.
Then, the Wyoming lawmaker drew Trump's wrath after she joined nine other Republican House members in voting to impeach him for inciting his supporters to attack the U.S. Capitol on January 6, 2021. Trump endorsed Hageman, an attorney and former Republican National Committee (RNC) member, last September to oppose Cheney in the primary, which will be held on Tuesday. Meanwhile, the incumbent Republican has become one of the former president's strongest and most consistent conservative critics—readily rebuking fellow GOP lawmakers who continue to align with him.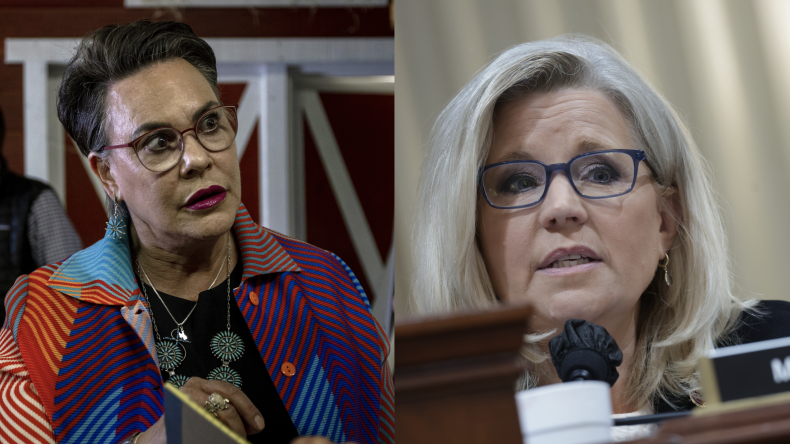 While Cheney raked in millions of dollars in contributions to her campaign, significantly out-raising Hageman, polls show the Wyoming congresswoman trailing by large double-digit margins. Nonetheless, the incumbent Republican appears unperturbed by the prospect of losing in the primary.
"If the cost of standing up for the Constitution is losing the House seat, then that's a price I'm willing to pay," she told The New York Times in a recent interview.
What the Polls Show
The most recent public polling for the race was carried out by the University of Wyoming's Wyoming Survey and Analysis Center from July 25 to August 6, showing Hageman ahead by nearly 30 points. Cheney had the support of just 28 percent of likely primary voters compared to 57 percent who backed her Trump-backed rival. The survey included 562 likely voters with a margin of error of plus or minus 4 percent.
"The race for the Republican nomination appears to be a referendum on Cheney, as it usually is when an incumbent seeks re-election," Jim King, professor of political science at University of Wyoming, said in a press release overviewing the poll results.
A previous poll conducted from July 7 to 11 by Mason-Dixon Polling & Strategy for Wyoming's Casper Star-Tribune showed Cheney down by more than 20 points. That survey had Hageman at 52 percent and the incumbent Republican at just 30 percent. The survey included 1,100 likely voters with a margin of error of plus or minus 3 percent.
"The big story is Liz Cheney is going to get beat," Brad Coker, Mason-Dixon managing director, told Star-Tribune when the results were first reported. "That's a foregone conclusion."
Cheney's odds of winning her primary has appeared unlikely for months. Back in January, a small Republican straw poll showed Cheney losing by a large margin to her Trump-backed challenger. It was held by Wyoming's GOP State Central Committee and showed Hageman supported by 59 out of the 71 members, the Casper Star-Tribune reported at the time. Cheney only won six votes while other local Republicans garnered some support as well.
While the GOP lawmaker garnered substantial majority support in the past couple of election cycles, Trump consistently outperformed her in the deep-red state. Cheney won reelection with nearly 69 percent of the vote in 2020, while Trump carried the state with nearly 70 percent. In 2016, Cheney won with 64 percent of the vote compared to Trump's 68 percent.
Some analysts have suggested that Cheney could be buoyed by Democratic voters changing their registration and casting ballots for her in the GOP primary. But in a state with four times as many Republicans as there are Democrats, it's unlikely that such an effort would be enough to change the outcome.
Notably, of the other nine Republicans who voted to impeach Trump, four (Representatives Adam Kinzinger of Illinois, Fred Upton of Michigan, Anthony Gonzalez of Ohio and John Katko of New York) chose not to seek reelection, three (Representatives Tom Rice of South Carolina, Peter Meijer of Michigan, and Representative Jaime Herrera Beutler of Washington state) have lost their primaries to Trump-backed challengers, and just two (Representatives Dan Newhouse of Washington state and David Valadao of California) will go on to the general election.