Liz Cheney Will Be Ousted From GOP Leadership by Month's End, Predicts Rep. Lance Gooden
The internal tensions within the House Republican caucus continue to simmer, with at least one GOP congressman predicting that Representative Liz Cheney—who remains staunchly opposed to former President Donald Trump—will be ousted from her leadership role by the end of May.
Cheney, who chairs the House Republican Conference, came out firmly in favor of Trump's impeachment after the former president incited his supporters to attack the U.S. Capitol on January 6. The Wyoming congresswoman has repeatedly condemned Trump since that vote, drawing the ire of many fellow GOP lawmakers who continue to support him.
"Liz Cheney has promised she will campaign on impeaching Trump 'every day of the week.' Good luck with that, Liz!" Representative Lance Gooden, a Texas Republican, tweeted on Saturday.
"PREDICTION: she'll be out of her GOP leadership role by month's end!" added Gooden, a member of the conservative Republican Study Committee caucus.
The GOP congressman was referring to remarks Cheney made to Punchbowl News this week. "So anybody who wants to get in that race [to challenge me] and who wants to do it on the basis of debating me about whether or not President Trump should have been impeached, I'll have that debate every day of the week," Cheney said.
Trump has slammed Cheney and she is facing multiple 2022 primary challengers. Although many House GOP members are openly critical of the Wyoming lawmaker, she already easily survived an attempt by Trump loyalists to oust her from her position as the No. 3 House Republican. That vote went down with 145 House Republicans voting in her favor and just 61 voting against her.
But fellow Republican House leaders have been increasingly critical of Cheney, as it's become apparent that the majority of GOP voters remain supportive of Trump.
"This idea that you just disregard President Trump is not where we are, and, frankly, he has a lot to offer still," Representative Steve Scalise, a Louisiana Republican and House Minority Whip, told Axios on Friday.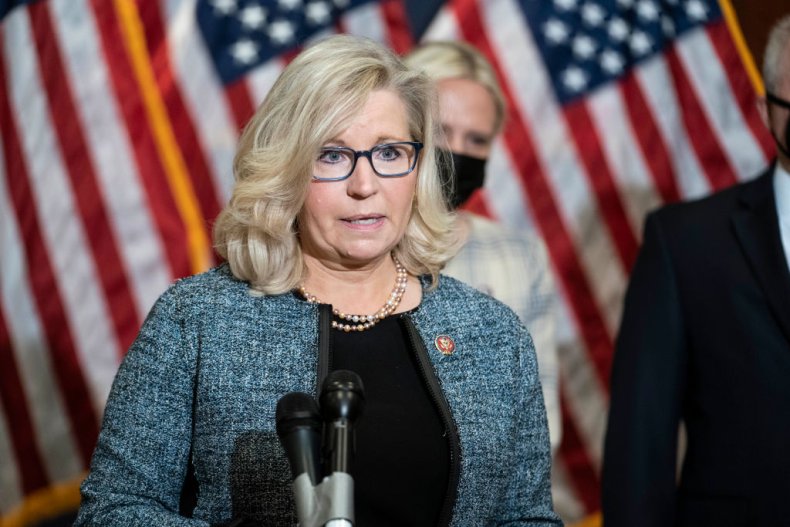 Representative Jim Banks, an Indiana Republican and chair of the Republican Study Committee, told Axios that Cheney's criticisms of Trump are "an unwelcome distraction." Meanwhile, House Minority Leader Kevin McCarthy, a California Republican, suggested to reporters earlier in the week that Cheney was "not being productive" by continuing to criticize Trump.
But other Republicans continue to publicly defend Cheney. Representative Adam Kinzinger, an Illinois Republican who was also one of the 10 GOP House members to vote for Trump's impeachment, criticized Republicans opposing Cheney's leadership.
"The three men (Scalise, McCarthy, and Banks) threatened by Liz Cheney, but defensive of Trump and Jan 6th," Kinzinger tweeted on Saturday.
An NBC poll released Tuesday suggested Trump is losing some support among GOP voters. In it, 44 percent of Republicans said they're more supporters of Trump than of the party, while 50 percent said they're more supporters of the GOP than of Trump. According to NBC, that's the first time since July 2019 that party supporters have outnumbered Trump supporters in the survey.
Newsweek reached out to Cheney's communications team for comment.