Lizzo Faces Backlash After Calling Chris Brown Her 'Favorite Person'
Lizzo is facing backlash across social media, after video emerged of her posing with Chris Brown, as she called him her "favorite person" in the world.
In a video shared on Twitter over the weekend, the "Truth Hurts" singer was seen greeting Brown backstage during a stop on the Millennium Tour, which features such performers as Omarion, Bow Wow, Soulja Boy, and Ying Yang Twins.
Singer Lizzo approached Brown, who was among a host of surprise performers on the tour's Los Angeles stop, and asked him: "Can I get a picture with you? Because you're my favorite person in the whole f****** world."
The footage showed Brown happily obliging, as Lizzo—real name Melissa Viviane Jefferson—joked with her friend about getting a picture alone with the R&B star.
Lizzo's brief and friendly interaction with Brown led to widespread backlash on social media, not least because of the numerous incidents of violence involving women he has been associated with in the past, including his violent altercation with then-girlfriend Rihanna back in 2009.
Reacting to the footage, one Twitter user wrote: "lizzo, my baby, look at me. LOOK AT ME. this isn't you. i know the real you. listen, it's just me and you, okay? this isn't you. i know you better than that. please."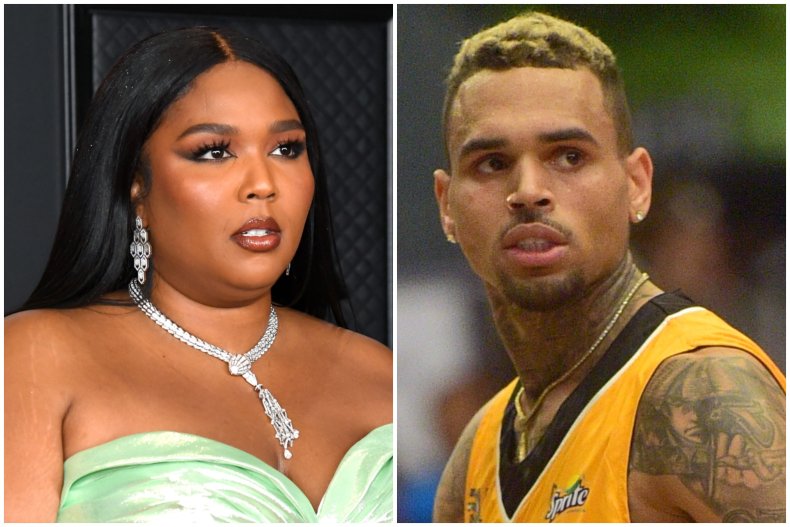 One Twitter user stated that they were "disappointed, but no surprised," echoing the sentiments of another, who stated: "hearing lizzo supports chris brown, disappointing day."
"Nothing like Lizzo calling Chris Brown her 'favorite' and Lil Nas X releasing an NFT to cap off my disappointment in even the seemingly purest most wonderful celebrities," read another tweet in the storm of criticism.
An excerpt from a USA Today article on the allegations against Brown was shared by another critic of Lizzo's actions, who wrote: "okay yall, I love @lizzo but wtf is up with her calling Chris Brown her favorite person in the world... we're not forgetting all the HORRIBLE THINGS hr continues to do over some hit singles are we... 🥴🤔 not one to cancel but #cancelchrisbrown."
Meanwhile, another pointed out Brown's continued favor with a number of other recording artists, writing: "literally almost all y'all faves still like chris brown calm down, still disappointed in lizzo though."
Newsweek has contacted a representative of Lizzo for comment.
Following Brown's altercation with Rihanna, a photo showing severe bruising at the time led to a public outcry and criminal charges for Brown, who subsequently pled guilty to assault, completing his probation in 2015.
Recalling the harrowing incident in an interview with Oprah Winfrey back in 2012, Rihanna said: "It was a weird, confusing space to be in because as angry as I was, as angry and hurt and betrayed, I just felt like, he made that mistake because he needed help and who's gonna help him? Nobody's gonna say he needs help, everybody's gonna say he's a monster."
Rihanna and Brown briefly reconciled, before finally going their separate ways. In the years since, Brown has been accused on numerous occasions of committing violent acts against men and women.
According to E! News, Brown's ex-girlfriend, Karrueche Tran, was granted a permanent restraining order against the singer in 2017, after accusing him of threatening to kill her, according to E! News.
In January of 2019, he was arrested in Paris after being accused of drugging and raping a woman.
The star, who denied the allegations, was eventually permitted to leave the country without being charged, according to the Associated Press.