'Locke & Key' Fans Think the Finale Gives a Massive Clue to the Nature of the Keys
Locke & Key's first season, streaming now on Netflix, offered many mysteries to fans and many hints as to what might happen if the show gets a Season 2. Some of these mysteries were taken from the comics books and some of which were not. Fans who have read the graphic novels already know that medium's explanation from the nature of the mysterious keys, but viewers new to the world of the Lockes have their own theories about where exactly the keys come from.
One new viewer, writing on the Keyhouse Reddit, thinks that the opening of the Black Door in the Season 1 finale gives us our first clue as to where the keys come from in the Netflix version.
They wrote: "When the Omega Door is opened the glowing bullets that miss appear to cool into metal ingots. I think these retain some mystical power and can be smithed into keys.
"In an earlier episode the locksmith says the key feels like not iron he has felt before, probably because it's this special demon metal."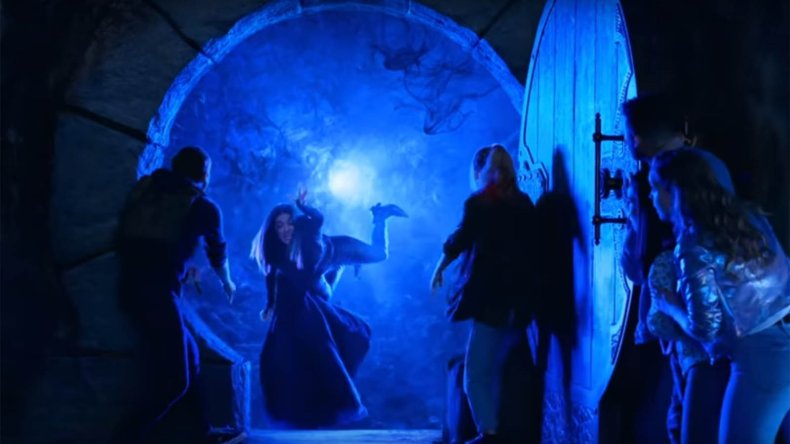 This is a particularly interesting theory, as it gives us a clue as to one of the potential plots for Locke & Key Season 2. In the Season 1 finale, one of these "bullets" penetrates mean girl Eden (Hallea Jones), suggesting that Season 2 is going to see her develop some of the powers of the keys.
This has already been hinted at in the last episode, which saw Eden chowing down on an epic feast⁠—one of the signs the show has established for someone being possessed by a demon.
For fans of the Locke & Key comic books, the idea that the power that comes out of the Black Door gets turned into keys is not a new one, as a similar idea is explored in Joe Hill's graphic novels.
In the books, it is established that these "bullets" are demon souls, which if they do not attach to a human host like Eden become what is called "whispering iron," a substance that can then be used to forge keys.
Though the Netflix series has deviated from its source material in some big ways in the first season, the use of the Black Door in the finale suggests that the show has adopted this mythology, and that Eden has been possessed by a demon that will spell huge trouble for Tyler (Connor Jessup), Kinsey (Emilia Jones) and Bode (Jackson Robert Scott) if and when there is a Season 2 of the show on Netflix.
Locke & Key is streaming now on Netflix.