Looming Bitcoin Correction Could Cut Value More Than 50%, Analyst Says
Bitcoin has climbed too high too quickly and is due for a sharp correction, an analyst believes.
"Given the massive move we've had in Bitcoin in the short run, things are very frothy, and I think we're going to have a major correction in Bitcoin," Scott Minered, firm's global chief investment officer at Guggenheim Partners in New York, told CNBC.
He said Bitcoin could fall into a range of $20,000 to $30,000 from its current price of about $56,000.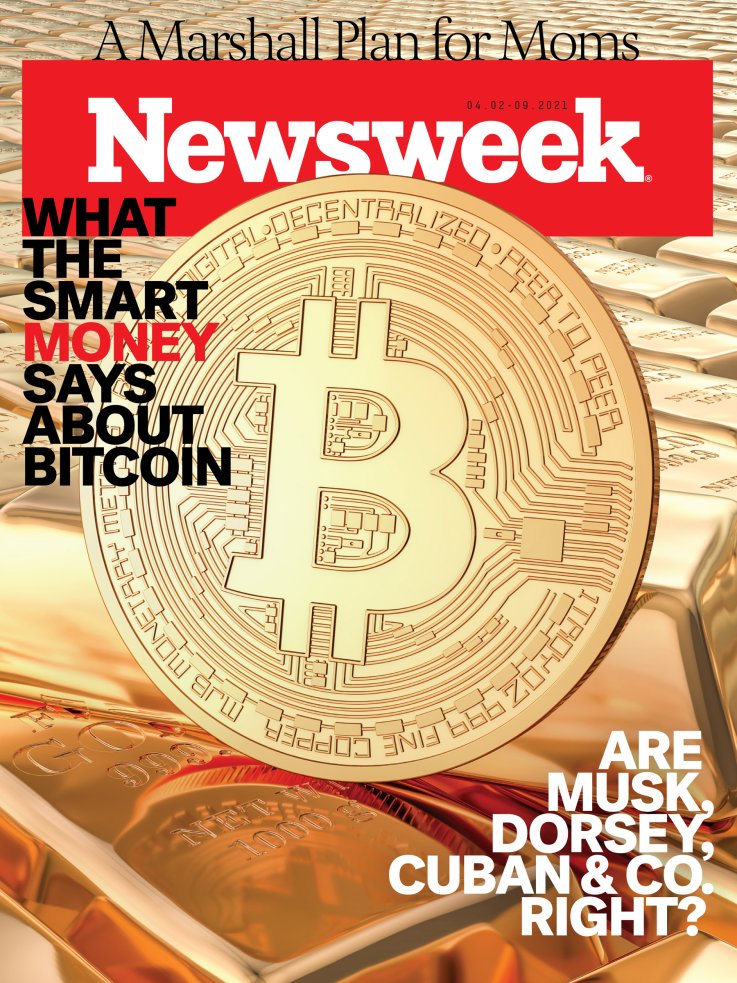 "What the Smart Money Says About Bitcoin," Newsweek magazine cover, April 2-9, 2021.
CREDIT: AlexLMX/Getty
A plunge to $20,000 would represent about a 64% decline from its current price.
But overall, he remained bullish on the cryptocurrency, and said it eventually could rise to $400,000 to $600,000, or a gain of about 971% at the top of the range.
Last week, Bitcoin reached a record high of $64,829.14 in anticipation of Coinbase's direct listing on Nasdaq.
A flash crash attributed to a power outage in China, where much of Bitcoin mining takes place, knocked the price to $52,138.98, a drop of 19.56% from its high, but it quickly rebounded.
A decline of 20% or more is considered a bear market.
An analyst told Newsweek that he didn't expect the sudden downturn would have a long-term effect on Bitcoin's price.
The supply of Bitcoin is limited to 21 million. In theory, strong demand should smooth out manic price swings—especially as major investors buy-and-hold Bitcoin as a bet on future price gains and as an inflation hedge. But that hasn't happened.
But futures trading may tell Bitcoin's immediate future.
Nikolaos Panigirtzoglou, an analyst at JP Morgan Chase who earlier said Bitcoin could go as high as $146,000, warned that an increasing number of long positions in the futures market could stall its advance.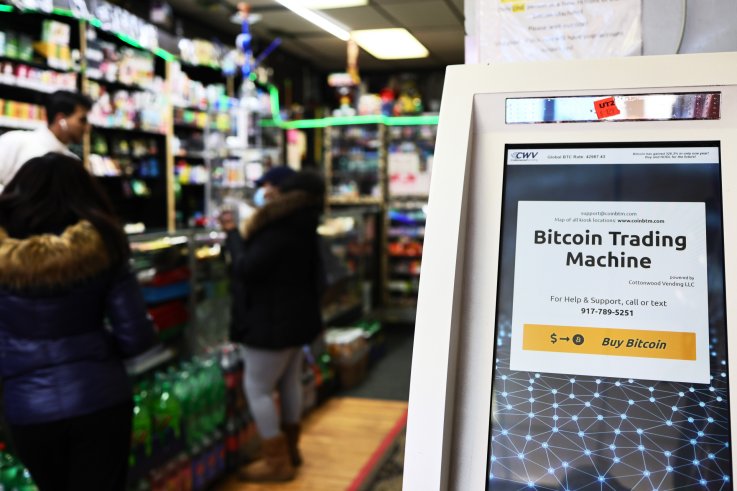 NEW YORK, NEW YORK - FEBRUARY 08: A bitcoin ATM is seen inside the Big Apple Tobacco Shop on February 08, 2021 in New York City.
Michael M. Santiago/Getty Images
In a research report, he warned that if Bitcoin doesn't climb above $60,0000 soon, momentum may collapse and that could pull the price lower.
"Over the past few days, Bitcoin futures markets experienced a steep liquidation in a similar fashion to the middle of last February, middle of last January or the end of last November," he said in a research report. "Momentum signals will naturally decay from here for several months, given their still elevated level."
The futures market allows participants to buy or sell contracts for delivery on a specified future date.
In mid-day trading Wednesday, Bitcoin changed hands at $56,146.45. The cryptocurrency is up 92.20% for the year, CoinDesk reported.
Other cryptocurrencies also gained Wednesday. Ethereum, the world's second most popular cryptocurrency, rose 10.58% to $2,450.84. XRP, Stellar and Cardano also climbed.
But Dogecoin, a parody cryptocurrency launched in 2013, fell 10.18% to $0.30. Unlike Bitcoin, there is no cap on the number of Dogecoin that can be produced. There are now 120.3 billion bowsers in circulation.
Elon Musk, head of Tesla and SpaceX, has playfully mused about Dogecoin becoming the world's currency, but most see it as a diversion—or as a clever way to buy media coverage for next to nothing.
Market Pulse
Global energy demand is expected to rise by 4.6% in 2021 as the COVID-19 pandemic abates and economies restart, the Paris-based International Energy Agency (IEA) said.
The projected increase more than offsets the 4% contraction in 2020 and is 0.5% above 2019 levels. Reopening the global economy is expected to increase CO2 emissions by the second largest amount ever.
"Demand for all fossil fuels is set to grow significantly in 2021," the IEA said in a report.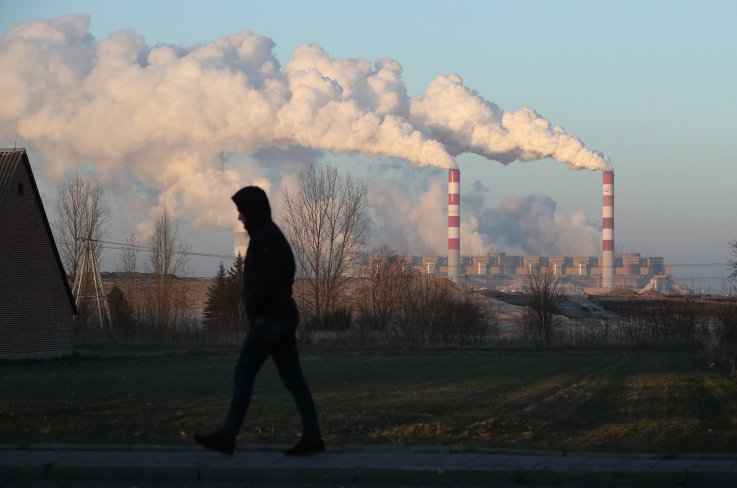 A man walks through a village as steam and smoke rise from the Belchatow coal power station on November 29, 2018 at Rogowiec, Poland. Emissions slowed for a time during the pandemic.
Sean Gallup/Getty
"Coal demand alone is projected to increase by 60% more than all renewables combined, underpinning a rise in emissions of almost 5%, or 1,500 metric tons," the report said. "This expected increase would reverse 80% of the drop in 2020, with emissions ending up just 1.2% (or 400 metric tons) below 2019 emissions levels."
The share of renewable energy in electric generation is projected to grow to nearly 30% in 2021, the biggest share in history and up from about 27% in 2019. Wind power is expected to show the largest increase, but still trails solar in the renewable generation sector.
The IEA was organized in 1974 following the 1973-1974 oil crisis to provide a global view of the market. It comprises 29 industrialized nations and is based in Paris.
About 70% of the projected increase in global energy use will be in emerging markets, where demand is likely to be 3.4% above 2019 levels. Energy use in industrialized economies is projected to be 3% below pre-pandemic levels.
Demand for coal is expected to increase 4.5% this year with more than 80% of the global increase in Asia.
China is projected to account for 50% of the world's increased use of coal. Demand is the United States and the European Union is rebounding, but is expected to remain below pre-pandemic levels, the IEA said.
In 2020, the electric generation sector accounted for 50% of the decline in coal-related emissions.
Global demand for oil is projected to remain about 3% below 2019 levels. Oil refined for aviation is expected to be 20% below 2019 levels. Oil use in road transportation is not expected to match pre-pandemic levels until the end of the year.
Demand for natural gas is expected to increase 3.2% this year, driven by higher usage in Asia, the Middle East and the Russian Federation. Overall, demand is expected to be 1% above 2019 levels.
Meanwhile, The Wall Street Journal reports that major oil and coal companies are selling assets as a bet the world economy will move away from fossil fuels. But smaller companies are buying the assets, believing demand for oil and coal will remain strong in the immediate future.