'Rings of Power' Actor Maxim Baldry Jokes Fans Think Isildur 'Ruins Show'
Fans of J. R. R. Tolkien's The Lord of the Rings will know certain characters from Prime Video's The Rings of Power very well, and Episode 3 introduced one of immense importance to the franchise: Isildur.
An ancestor to Aragorn, Isildur was once the High King of the Realms in Exile who was instrumental in the defeat of Sauron, but also is the reason the villain endured into the Third Age of Middle-earth, leading to the War of the Ring.
Maxim Baldry, who portrays Isildur in the show, joked with Newsweek about how fans know how his character's story will end, and have already started to make remarks about how Isildur will "ruin the show" because of it.
'Rings of Power' Actor Maxim Baldry Jokes Fans Think Isildur 'Ruins Show'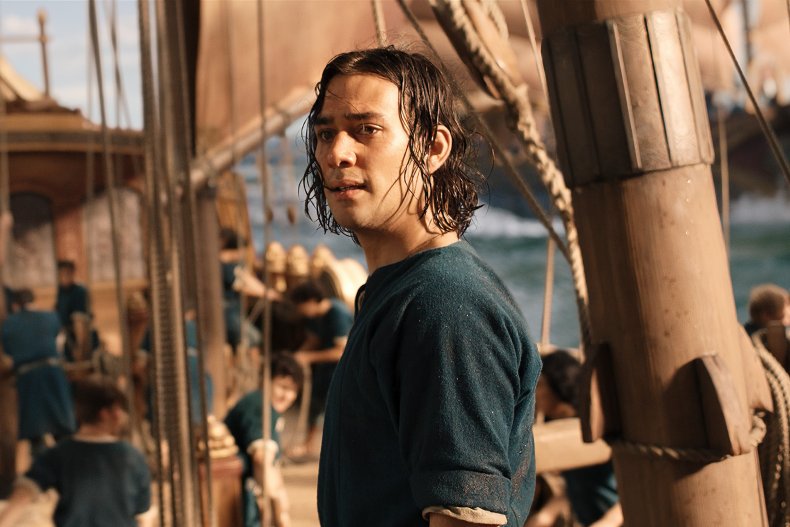 Isildur makes his debut in Episode 3 of The Lord of the Rings: The Rings of Power. He is first seen going through training on a ship in Númenor before later meeting with his sister Eärien (Ema Horvath), and his father Elendil (Lloyd Owen).
But viewers who have read Tolkien's novels, or watched Peter Jackson's films, will instantly recognize the character for what he will become, a ruler and skilled fighter who defeats Sauron in The War of the Last Alliance, but refuses to destroy the One Ring.
"It's a lot of weight of expectation on [me], the bane of Isildur," Baldry told Newsweek. "I get a lot of comments like, 'why did you ruin the show?' Oh my god, I'm sorry, it's not me it's my character!"
Isildur's Bane, as it is referred to in Tolkien's work, is another name for the One Ring, which came to spell Isildur's doom and allowed its master Sauron to endure in Middle-earth. Isildur's decision not to destroy the ring is the reason why Frodo Baggins (Elijah Wood in Jackson's films) goes on his epic journey in The Lord of the Rings.
"I definitely feel a great weight of privilege as well to play a character that connects the Second Age with the Third Age, and we see him as a young person trying to find himself, with a kind of strenuous relationship with his father," Baldry went on.
"[We're] trying to make him relatable, and that's where we kind of see him in the first season, and [he's] very funny as well."
Reflecting on defying what fan expectations of the character might be, the actor added: "He's a bit of a mincer, comedic relief in a fantasy world."
This is certainly different to the warrior that the character will come to be in his later years, but it will no doubt be interesting to see how Isildur will develop as the show continues.
The Lord of the Rings: The Rings of Power airs Fridays on Prime Video.