Rick Caruso's Chances of Beating Karen Bass in L.A. Mayor Race
Billionaire developer Rick Caruso, a former Republican who is now running as a Democrat against Congresswoman Karen Bass in the Los Angeles mayoral election, is still on course to pull off a potential shock victory, according to recent polls.
Caruso and Bass have pulled away as the two main frontrunners in the crowded June 7 primary, with political newcomer Caruso emerging as the leading candidate in a number of surveys.
The mayoral election is scheduled for November 8, but in such a Democratic-leaning city such as L.A, the primary is key. Caruso and Bass are battling it out to replace Eric Garcetti as the city's next mayor.
According to a mid-May poll conducted by a pro-Bass political action committee (PAC), Caruso led when potential voters were asked to decide between the full field of candidates, with the billionaire on 37 percent compared to Bass on 35 percent.
However, when voters were asked to choose between just Bass and Caruso, the California representative took a significant 48 percent to 39 percent lead over Caruso, with 13 percent still undecided.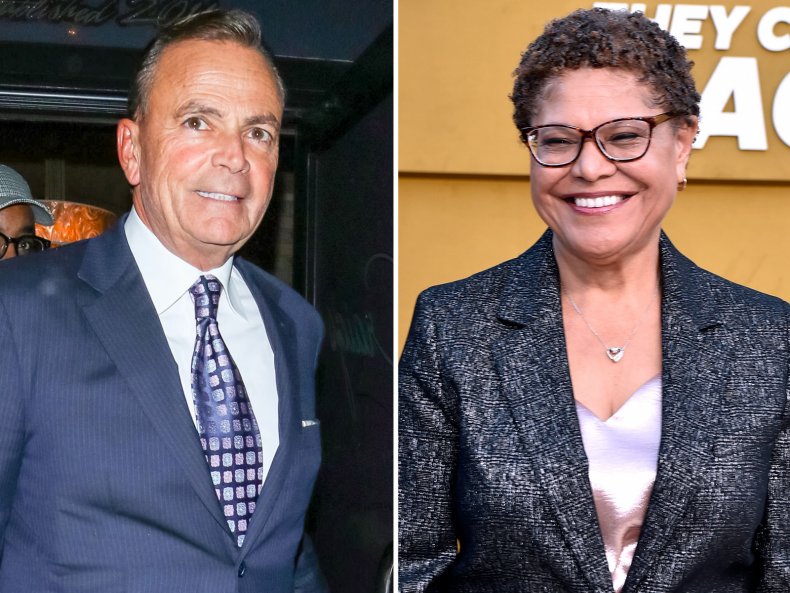 If accurate, both polls from the PAC show that neither Bass, who was reportedly on President Joe Biden's shortlist of running mates in 2020, or Caruso, who sits on the Ronald Reagan Presidential Foundation board, will be able to get the required 50 percent of the votes to win the race outright, meaning the election may yet advance into a runoff.
A separate BSP Research poll, conducted between April 20-May 3 on behalf on the NALEO Educational Fund, also showed that Caruso is more popular with registered Latino voters, a key demographic in the country's second-largest city.
The poll found that Bass has a total favorable rating of 44 percent, with 15 percent giving her an unfavorable rating and 41 percent saying they do not know enough about her to say.
In comparison, Caruso was given a 47 percent total favorable rating by those taking part in the poll, with 37 percent saying they don't know enough to say.
Caruso, who has spent tens of millions of dollars of his own money on his campaign, was also given a unfavorable rating of 15 percent in the poll.
Another poll from the UC Berkeley Institute of Governmental Studies, co-sponsored by the Los Angeles Times, conducted between March 29 and April 4 gave Caruso a narrow lead over Bass.
When asked if the primary was held "today," Caruso got the backing of 24 percent of likely voters, compared to Bass with 23 percent. Again, the poll suggests neither of the leading candidates have enough support to avoid a runoff in the election.
Discussing the results, Mark DiCamillo, director of the IGS poll, said that Caruso pumping millions of dollars into television and digital advertising since February appears to have helped him reach potential voters, especially as Bass had not yet begun airing television ads yet.
"It's a classic case where he's getting out in front, and he's defining himself before his opponents can define him on their terms," DiCamillo told the Los Angeles Times. "Apparently the advertising is getting people's attention."
Garry South, a longtime California Democratic consultant, said that Caruso making tackling the city's homelessness crisis is appealing to voters.
"Even here on the heavily Democratic westside of L.A., there's frustration that the city has not grappled with the homeless situation," South told Axios. "It's pretty dire. Every underpass is occupied. There are tents in every park. You can't walk down the sidewalk."
Anna Bahr, a Bass spokesperson, disputed Caruso's vow to tackle homelessness in Los Angeles.
"Voters have a choice in this race—between a billionaire real estate developer who has never built a single unit of affordable housing despite 50,000 people living on our streets, and a Black community organizer who has spent her life running toward this city's crises and solving them," Bahr added.