Postmaster General Louis DeJoy is facing growing calls for his ouster amid renewed criticism over how he runs the U.S. Postal Service.
Since he was appointed in May 2020, DeJoy, a prominent GOP donor, has been in the firing line for presiding over USPS cuts and delivery delays in a period that included the coronavirus pandemic and the presidential election.
This week, Rep. Bill Pascrell of New Jersey was among the Democratic lawmakers calling for President Joe Biden to "fire the entire Post Office board," adding: "Louis DeJoy is trying to destroy USPS and he will succeed if he isn't tossed out."
Robert Cruickshank, campaign director at advocacy group Demand Progress, tweeted: "He really needs to be fired immediately."
Although DeJoy was not technically appointed by Donald Trump, the former president had tapped him for the job and the postmaster general faced scrutiny over whether his role had a political dimension.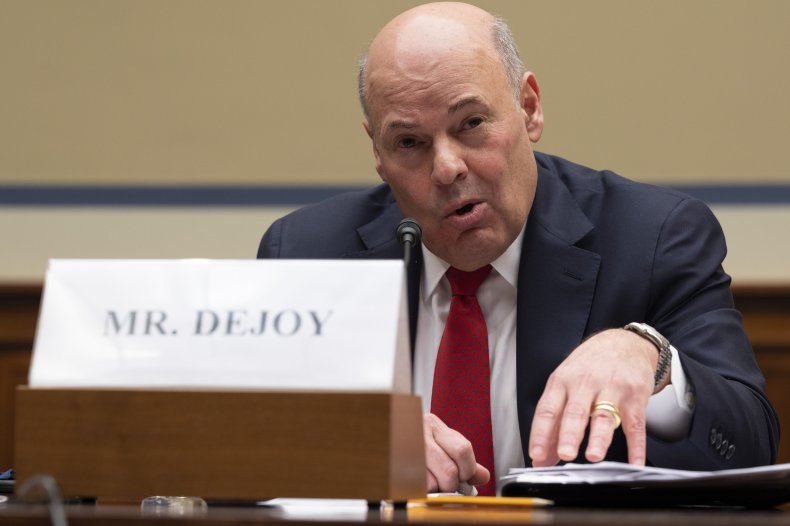 Ahead of the 2020 election, in which a record number of Americans were expected to vote by mail because of the pandemic, DeJoy adopted cost-cutting measures that lengthened delivery times as Trump was making comments that undermined confidence in postal ballots.
Although DeJoy rejected Democrats' claims that there was a political motive behind his changes, a federal judge in Washington ruled that the cost-cutting had resulted in "voter disenfranchisement."
DeJoy later apologized for failing to consult properly with state election officials about a postcard aimed at educating voters on mail-in ballots.
Before his arrival, the USPS had a first-class mail on-time delivery rate of 90.6 percent, according to The Washington Post.
This declined to a low of 71 percent over the holidays, although it was affected by winter storms and the COVID-fueled increase in demand. Delivery scores had bounced back to 83.7 percent for first-class mail for the week of March 12, the USPS said last week.
This week, DeJoy unveiled a 10-year plan designed to prevent losses of up to $160 billion over the next decade.
The Delivering For America plan listed an aim to meet or exceed 95 percent network-wide, on-time delivery as well as to preserve "affordable, six-day mail and expand seven-day package delivery."
But the plan was criticized by the American Postal Workers Union for proposing longer first-call mail delivery, shorter office hours and higher postage prices. Union president Mark Dimondstein said in a statement that although the plan had "some positive attributes," there were also proposals "that should be of concern to postal workers and customers."
"Any proposals that would either slow the mail, reduce access to post offices, or further pursue the failed strategy of plant consolidation will need to be addressed," he added.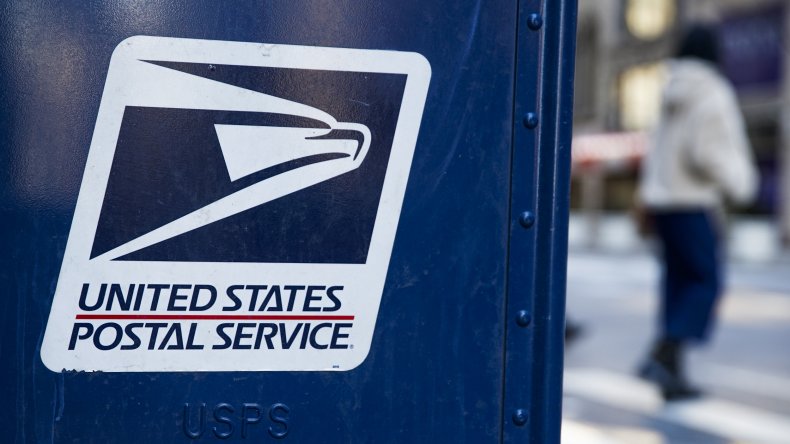 Rep. Gerry Connolly (D-VA), who chairs the House oversight panel's subcommittee on government operations, called the plan "draconian" and said: "The only way to right this ship is new leadership, a better vision and a realistic plan that serves all Americans," NBC reported.
Cruickshank of Demand Progress tweeted on Tuesday: "The Senate must not delay in confirming the postal board of governors nominees."
This refers to the process required for DeJoy's removal. President Biden cannot simply fire him. That decision would be up to the USPS board of governors, which is comprised of three Republicans and one Democrat, and has three open seats.
If the Senate confirms Biden's nominees to those seats, the board could remove him if DeJoy does not quit, CNN reported.
It seems DeJoy has no intention of leaving of his own accord. Last month, when asked how long he would stay in the job, he told lawmakers: "A long time. Get used to me."
The USPS told Newsweek that Ron Bloom, chairman of its board of governors, had reiterated governors' confidence in DeJoy's leadership before the House committee on oversight and reform.
"Postmaster General Louis DeJoy has the full support of the governors," the board said in a joint statement. "He was selected to help bring needed changes to the Postal Service, which has experienced over a decade of financial losses and faces the need for fundamental reform.
"The essential public service functions of the Postal Service must be maintained, and the Postmaster General's reform initiatives will help ensure that they can be for many years to come."