Louisiana's Lt. Governor Warns More People May Die After Ida Due to Heat, Lack of Power
Louisiana's Lieutenant Governor William Nungesser has warned that more people in his state may die due to heat and lack of power following Hurricane Ida's damage.
As of September 4, there have been 12 confirmed storm-related deaths in Louisiana due to Ida, Reuters reported. Nungesser said even more people may die due to high summer temperatures, a lack of community services, limited restoration of electricity and crowded shelters, all occurring as the Delta variant of COVID-19 continues to surge in the state, journalist Victoria Brownworth reported on Monday.
Ida hit the state on August 29, damaging homes, businesses, hospitals and schools and flooding areas throughout the state. Additionally, the storm damaged over 24,308 electric poles, downed 29,084 spans of electric wire and destroyed 212 electric transmission structures, Entergy Louisiana, an energy company, said on its website.
These power structures will have to be rebuilt. As of September 5, more than 598,000 residents across the state remain without electric power. A portion of them may not have their energy restored for a month or longer.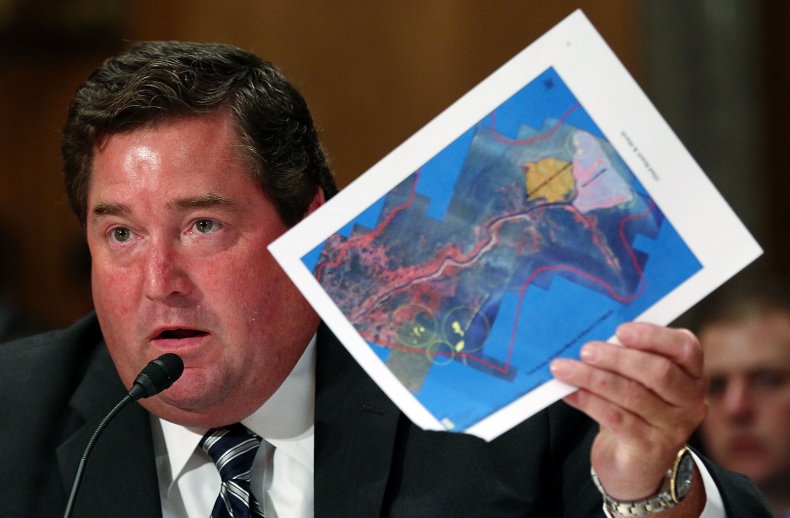 "Electricity is literally the difference between life and death," Louisiana Republican Representative Garret Graves told Newsweek. "This isn't just about hospitals and nursing homes."
Until power is restored, residents will have to contend with humid summer days reaching nearly 90 degrees Fahrenheit. At least one state resident has already died of heat exhaustion. An additional four people have died of carbon monoxide poisoning while running their cars and electric generators for air conditioning, CNN reported.
To keep their cars and generators running, residents have also sought fuel. But many gas stations are either non-functioning or don't have fuel. Gas stations with fuel often have hours-long lines of cars waiting to access the pumps. Last week, a suspect who cut in line allegedly killed a man who confronted him about it.
Outside of the fuel shortage, many local grocery stores remain closed and many homes lack clean tap water. Some government officials have urged people who fled the hurricane not to return home yet, Reuters reported.
"We have communities without cell coverage, without internet access, without water," Graves added. "It's the cumulative impact on these communities—it's not just about being without electricity."
Insurers may have to pay up to $18 billion in damages, according to Karen Clark & Company, a firm that does catastrophe risk modeling.
A year after Hurricane Katrina hit, hundreds of people along the U.S. southern coast continued to sue insurance companies for what the survivors said were improperly denied valid claims, NPR reported. Lawyers accused insurers of using appraisals and evaluations that would enable them to pay as little as possible for policy holders' claims.
Newsweek contacted Nungesser's office for comment.