All of the Songs in 'Lucifer' Season 6
Lucifer on Netflix has come to an end with an epic sixth and final season. As per tradition, the season has a varied, energetic soundtrack, with songs often playing during some of the show's most emotional scenes—of which there are plenty this time around.
Kevin Alejandro, who plays Dan Espinoza and directed two episodes of the final season, spoke to Newsweek about the process of picking songs for the series.
"Each director, according to their episode has the ability to incorporate every element of their creativity into it. So, in the episodes that I directed, I got to choose [the songs]," he said.
"If I had a strong opinion about a certain song, or what I thought happened, we would put it into my edit and if at the end of the day, if we can afford it, then they [the producers] will do that, or the producers will come in and find a song similar to it.
"Every element of the editing is a collaboration, but the director does have the ability to incorporate his or her music choice all throughout it. It's a matter of whether it can be afforded, or if it tells the right story."
Many Lucifer fans will be delighted to see Tom Ellis (as Lucifer) perform songs once again, just a few episodes on from the season five musical episode.
All of the Songs in 'Lucifer' Season 6
Episode 1: "Nothing Ever Changes Around Here"
At the beginning of Lucifer season 6, Lucifer (played by Tom Ellis) and Chloe (Lauren German) are celebrating their last night on Earth before their move to heaven; that is until they witness a murder.
"The Passenger" by Iggy Pop
"Bad Decisions" by Girlhood
"Dirty Hands (Gone Mad)" by Kenra Dantes
Episode 2: "Buckets of Baggage"
The second episode of Lucifer sees the arrival of Chloe and Lucifer's daughter Rory (Brianna Hildebrand) from the future, make her debut on Earth.
"Way Too Good" by Night Panda & BEGINNERS
"Hands Out, Head High" by BERSERKER, Colin Smith & Dan Krysa
"Rise" by caxtn
"The Lady Is A Tramp" by Ella Fitzgerald
"Pull Me Under (Deadly Avenger x Si Begg Remix)" by Bassline Drift & Deadly Avenger
"Conquer" by Danger Twins
In episode 2, Tom Ellis and Busty Bazoogas (Bob the Drag Queen) cover "The Lady is a Tramp" as Detective Corbett (Scott Porter) investigates the murder of an L.A. Drag Queen.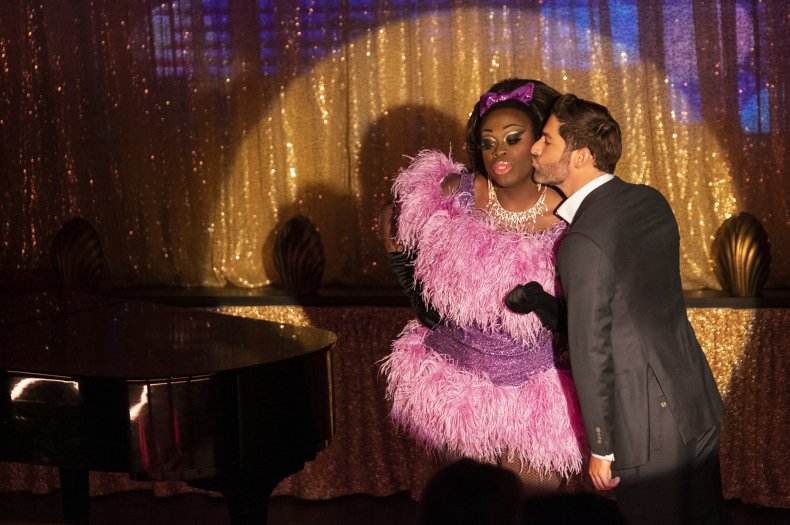 Episode 3: "Yabba Dabba Do Me"
In episode 3, Lucifer and Chloe visit hell for a meeting with murderer Jimmy Barnes (John Pankow) but find themselves tuck in a time loop, hell loop and as cartoon versions of themselves.
"Up All Night" by George Barnett
"Hungry Like The Wolf" by Duran Duran
"20th Century Boy" by T Rex
"Bust A Move" by Young MC
"Change My Image" by Cassie
"One Thing Leads to Another" by The Fixx
Episode 4: "Pin the Tail on the Daddy"
In episode four, Lucifer is trying to come to terms with the idea he may actually have a daughter. In a bid to find her mother, he travels across the United States to find her.
"Rum Drunk" by Ms. Triniti
"No Sleep" by Kinder
"You Ain't Woman Enough" by Loretta Lynn
"Don't Let Me Go" by Cigarettes After Sex
Episode 5: "The Murder of Lucifer Morningstar"
In episode five, Lucifer and Chloe are trying to get to the bottom of why and how exactly Lucifer disappears on August 4th.
"Trouble's Coming" by Royal Blood
"Tangerine" by Steady Holiday
"SLEEP ON ME" by Creams
"The Silence" by Manchester Orchestra
Episode 6: "A Lot Dirtier Than That"
Episode six see's Amenadiel (D.B Woodside) challenge racism, police brutality and corruption head on.
"Troublemaker" by Devon Gilfillian
"You Got It" by Roy Orbison
"Bridge Over Troubled Water" by Simon & Garfunkel
Tom Ellis performs You Got It by Roy Orbison at Lux, in a bid to show his daughter she can have anything she wants. He then performs Bridge Over Troubled Water by Simon & Garfunkel with his co-star, Brianna Hildebrand.
Episode 7: "My Best Fiend's Wedding"
The wedding of all millennia takes place in episode seven of Lucifer between Maze (Lesley-Ann Brandt) and Eve (Inbar Lavi).
"Invincible" by The Phantoms
"(I Just) Died in Your Arms" by Cutting Crew
"Queendom" by Moana A & Koda Kids
"FXRMXNT" by Swayze (Feat. The Darcys)
"Without You" by Air Supply
"Worship (Savoir Adore Remix)" by LACES & Savoir Adore
Episode 8: "Save the Devil, Save the World"
In episode 8, Linda's (Rachael Harris) book comes to light and Lucifer hopes it can bring him one step closer to understanding why he leaves Earth.
"Take A Few More Steps" by Randolph Brown & Co
"Found" by Jacob Banks
"I Just Want to Thank You" by Big John Hamilton
Episode 9: "Goodbye, Lucifer"
In the penultimate episode as August 4 approaches, Lucifer says his goodbyes to the ones he loves.
"Hazy Shade of Winter" by The Bangles
"Breakout" by Deraj
"I'm A Queen" by SVLT
"Time Moves On" by Phantom Planet
"Unchained Melody (Subway Version)" by Mike Yung
Episode 10: "Partners 'Til The End"
In the finale, Lucifer realizes his true calling in life after rescuing his daughter Rory from the hands of the evil Le Mec (Rob Benedict). Unfortunately, his calling to be the "healer" of hell does mean he leaves Earth behind, but thankfully, he is reunited with Chloe, his partner for life at the very end.
"My Body Is A Cage" by Peter Gabriel
"Dive" by Tom Adams
"Champagne Supernova" by Scala & Kolacny Brothers
"Welcome to the Black Parade" by My Chemical Romance
A cover of the Oasis hit "Champagne Supernova" by Scala & Kolacny Brothers is the backing track to a five-minute-long montage of life on Earth without Lucifer.
The montage reveals n the future, Chloe has given birth to Rory, Amenadiel (DB Woodside) is God, Charlie gets his angel wings, Sonya (Merrin Dungey) is promoted to detective and Chloe is now lieutenant, Maze (Lesley-Ann Brandt) and Eve (Inbar Lavi) are continuing their bounty-hunter careers, and Ella and Carol (Scott Porter) are together.
The intro of "Welcome to the Black Parade" plays out as Amenadiel flies Chloe down to Earth and stops as we get an update on how Lucifer is doing down in hell.
Dishing out therapy to tortured souls, Lucifer receives a knock on the door and as he stands to answer it, Welcome to the Black Parade resumes playing.
"I thought you could use a partner," Chloe says and she and Lucifer have their final kiss, as Welcome to the Black Parade's brings the show to a close.
Lucifer season 6 is streaming on Netflix now.