Lucy Lawless Explains Why She Called Out 'Chicken' Kevin Sorbo
Lucy Lawless has no time for extremism. The Xena actress has proven herself a warrior off screen as well as on, never shying away from sharing her beliefs.
The New Zealand-born star, 53, made headlines in January when she called out her former co-star Kevin Sorbo for his promotion of a pro-Trump conspiracy theory.
This week, in an interview with Newsweek, Lawless said of the spat with Sorbo: "Those people who just foment ugliness from a distance, I think they deserve to be called out. So, that's all that was."
She added: "I think extremism is very injurious, and people who foment extremism and don't really own it are chickens***.
"At least that knucklehead—the shaman at the [Capitol] riots—had his full name and face and body there, so he was accountable."
Sorbo played the titular hero on Hercules: The Legendary Journeys and reprised the role in its spin-off Xena: Warrior Princess, starring Lawless. The former co-stars have been embroiled in a feud about their politics and their personal lives for many years.
Newsweek has reached out to Sorbo's representatives for comment.
Lawless, meanwhile, is advocating for unity in the face of the climate crisis.
"I feel very much we have to pull to the middle with what's facing all our societies with catastrophic climate change," she told Newsweek.
"It means that there is no time to start fracturing into hateful little, little groups that want to exclude others. We're gonna have to pull together as a team."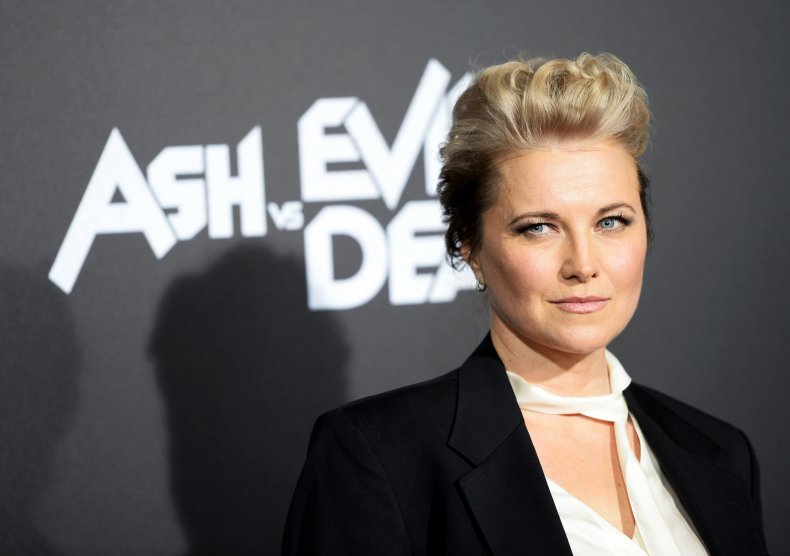 Lawless sat down with Newsweek for the release of her animated movie, The Spine of Night, which she describes as a "strange, dark little jewel."
The actress said she was drawn to the project because it was "just so nutty."
"It appeals to me. I want to be part of something weird, and it's kind of fresh again," she said. "And I feel like the kids of today, Gen Z, wants to discover things for themselves."
The film is an ultra-violent fantasy epic, about ancient dark magic falling into sinister hands and unleashing ages of suffering onto mankind. According to its official synopsis, "a group of heroes from different eras and cultures must band together in order to defeat it at all costs."
Lawless said "the experience of voicing The Spine of Night was unlike any job I've ever done."
The Spine of Night voice cast also includes Richard E. Grant, Patton Oswalt, Betty Gabriel and Joe Manganiello.
It will be released in theaters, on-demand and digital on October 29.