'QAnon Shaman' Pleads Guilty in Capitol Riot Case After Lawyer Says He Disavows Conspiracy
The rioter dubbed the "QAnon Shaman" in the wake of the violent January 6 attack at the U.S. Capitol pleaded guilty on Friday to one charge of obstruction of an official proceeding as part of a plea deal.
During the insurrection, Jacob Chansley, 33, wore an animal skin headpiece with horns and carried a spear with an American flag attached. His face was painted red, white, and blue, and images of his antics in the Capitol during the attack quickly went viral online.
A day before Chansley entered his guilty plea, the defendant's attorney, Albert Watkins, told Newsweek in an emailed statement that his client had disavowed the QAnon conspiracy theory.
"Mr. Chansley, a long avowed and practicing Shaman, has repudiated the 'Q' previously assigned to him and requests future references to him be devoid of use of the letter 'Q'," Watkins said.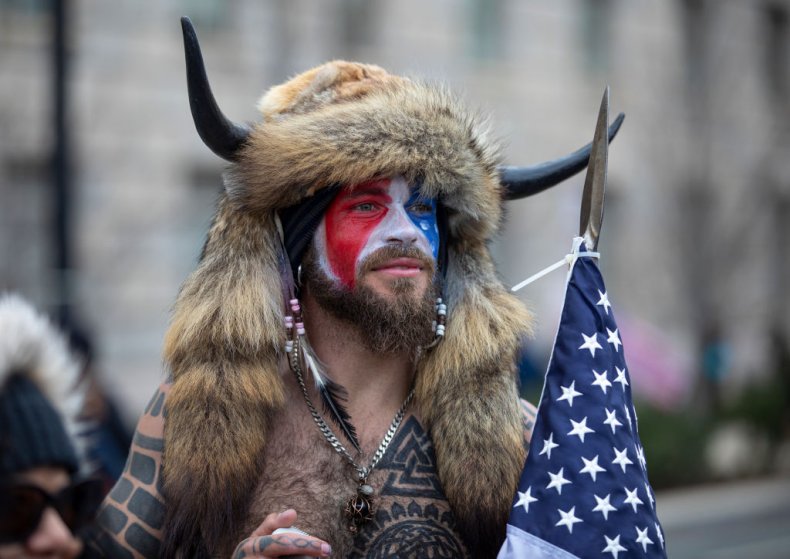 The attorney added that Chansley had undergone a process that "involved pain, depression, solitary confinement, introspection, recognition of mental health vulnerabilities, and a coming to grips with the need for more self-work" over the past several months.
"Mr. Chansley has been confined for eight months in solitary [for] 22 to 23 hours per day. Now, after the psych evaluation and procurement of 2006 military records, the government and the court recognize the mental health issues at play," Watkins told Newsweek in a Friday email.
"In reality, any health expert will confirm solitary confinement for the mentally vulnerable is nothing short of torture," he added. A United Nations special rapporteur assessed in a 2020 report that prolonged solitary confinement as practiced in U.S. prisons amounts to"psychological torture."
Chansley thanked the court during his Friday plea hearing, The Daily Beast reported. "I am very appreciative for the court's willingness to have me and my mental vulnerabilities evaluated," he said.
"God bless you and thank you for what you do for our country," Chansley told the judge.
Initially, Chansley faced six charges that could have sent him to prison for nearly three decades. His guilty plea is expected to get him significantly less time.
More than 600 people have been charged in connection to the January 6 Capitol riot. The mob that attacked the legislative building was animated by former President Donald Trump's false claims that the 2020 election was "rigged" or "stolen" in favor of President Joe Biden.
At a nearby rally held by the White House, Trump urged his supporters to "march" to the Capitol and to "fight like hell" just ahead of the insurrection. The riot was an apparent effort to prevent the formal certification of Biden's election victory.
Although the former president continues to baselessly allege that the November election was rife with widespread voter fraud, he has not put forward evidence to substantiate the claim. Dozens of election challenge lawsuits filed by Trump and his allies have failed in state and federal courts. Even judges appointed by Trump and other Republicans have rejected the cases.