Republicans in Pennsylvania are moving ahead with a hearing into "irregularities" and "improprieties" that they believe occurred in the 2020 election, after substantial pressure from former President Donald Trump and his supporters.
Pennsylvania Senate President Jake Corman, a Republican, announced in August that he and his colleagues were pushing forward with a review of the 2020 election, a result of Trump's baseless claims of widespread voter fraud. On Thursday, Pennsylvania's Senate Intergovernmental Operations Committee announced the launch of a new website for voters in the state to report "problems" they personally witnessed in the 2020 election. The committee has scheduled its first hearing for next Thursday.
State Senator Cris Dush, a Republican who chairs the committee, encouraged "voters to come forward if they have witnessed voter irregularities or other election improprieties firsthand," according to a press release published by Republican leaders.
Dush noted that testimony is being accepted only from Pennsylvania residents and that the infractions must have been witnessed in person or affected the state resident personally. In addition, members of the public should submit testimony on the webpage only if they are comfortable signing an affidavit and potentially testifying under oath at a Senate committee hearing under penalty of perjury," the press release said.
A source from Corman's office told Newsweek that the website had received more than 100 submissions within just 12 hours. However, some of these submissions were duplicates, and others did not include relevant information. The source said that many did detail "legitimate concerns" as well.
"Since November, no issue has generated more calls, emails and other constituent responses to our office than election reform. Without proper investigation and reform, those doubts are going to fester, and that is not good for the system," Jason Thompson, Corman's communications director, told Newsweek.
On Thursday, Corman spoke with former Trump adviser Steve Bannon on his War Room podcast to promote the audit. He criticized Democrats for opposing the effort.
"All we're doing is getting information. Why would someone be against that? I don't understand why you would be against something unless you're afraid of what the information may provide," the state lawmaker said. "You know, if we get nothing back, then there was no fraud, so be it. What have we harmed? Nothing."
Critics of the election audits and hearings being pushed by Trump allies across the country argue that the effort works to undermine trust in American elections. Concerns among Trump supporters about widespread fraud were spurred by Trump's and his allies' repeated false claims that Democrats were working to "rig" or "steal" the 2020 election. When President Joe Biden won, they continued to promote these allegations—despite a lack of evidence to support them.
Pennsylvania previously conducted a "risk-limiting" audit of the 2020 election results. Furthermore, every county in the state—as mandated by law—audited a sample of its ballots. Those audits did not show any evidence of significant fraud that would come anywhere close to overturning Biden's lead of some 81,000 votes over Trump.
Trump has slammed Pennsylvania Republicans, and specifically Corman, for failing to move forward with a partisan election review quicker.
"Why is State Senator Jake Corman of Pennsylvania fighting so hard that there not be a Forensic Audit of the 2020 Presidential Election Scam? Corman is fighting as though he were a Radical Left Democrat, saying that a Forensic Audit of Pennsylvania not take place," the former president said in mid-June.
Even after Corman announced in August that a review process would move forward, a Trump spokesperson expressed dissatisfaction.
"After many weeks of work behind the scenes, we are now moving forward to conduct a forensic review of recent elections. I am confident that we have the right team in place to make it happen," Corman tweeted on August 20.
Hours later, Liz Harrington, a spokesperson for the former president, criticized Corman. "Why do RINOs always prefer to work 'behind the scenes'?" she asked in a tweet.
RINO is an acronym for "Republicans in name only." Harrington went on to suggest that Corman's efforts would be a "con job," saying he'd already "stonewalled" the audit.
Newsweek reached out to Trump's press representatives for further comment but did not hear back before publication.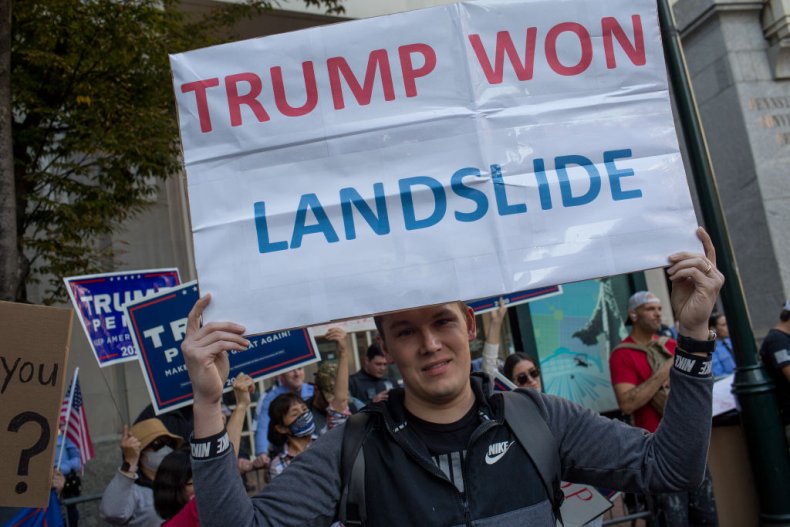 Dozens of election challenge lawsuits filed by Trump and his allies failed in state and federal courts. Even judges appointed by Trump and other Republicans have rejected the often bizarre allegations. Official nonpartisan audits and recounts in key battleground states—including in areas where the election was overseen by pro-Trump Republicans—have reaffirmed Biden's victory.
Former Attorney General William Barr, who was widely viewed as one of Trump's most loyal Cabinet members, said last December that there was "no evidence" of widespread voter fraud that would affect the election results. The Cybersecurity and Infrastructure Security Agency at the Department of Homeland Security, which was led by a Trump appointee at the time, described the November election as the "most secure in American history."