True-Crime Fan Collects Tap Water From Cecil Hotel, Sparks Criticism
A woman's decision to collect a bottle of tap water from the infamous Cecil Hotel has split viewers, after she gained more than 200,000 views online.
In the video, Lydia Dupra shows a man, who was allegedly a security guard with the TikTok handle @moneytalk.j, leaving the hotel with the bottle, for which she told Newsweek she paid $500. "I bought the world's first bottle of water from Hotel Cecil. Specifically from Richard Ramirez's room," she wrote.
According to Dupra, the security guard was let go because of the TikTok video, but she claimed to have hired him shortly after, to work at her cosmetic company, Heaux Cosmetics.
"I purchased the water because I saw value in the opportunity. There is only one Cecil hotel and only one person on this earth with access and the willingness to source the water for me," she said. "As of right now I own the only specimens in the world, one bottle from Richard Ramirez's room 1419 and one from Elisa Lam's room 506. So while I in no way romanticize the criminal activity that made the hotel famous, I couldn't pass up the rare opportunity to own these items."
Dupra also added that she chose to buy the water as a way to offer the security guard money and "to establish it's [the bottles of water] value if he were ever to decide to sell other bottles."
The Cecil Hotel in Los Angeles has been under a $100 million renovation since 2017, but interest in the place has spiked since the release of Netflix's Crime Scene: The Vanishing at the Cecil Hotel. Elisa Lam's body was found in the water tank of the hotel in 2013, after she went missing for 19 days while staying at the hotel. Without realizing, the hotel continued to use water from the tank with Lam's body inside for the whole 19 days.
A follow-up clip showed the bottle being filled up, apparently with the tap water of room 506. Although the rooms look vastly different to those shown in the documentaries about the hotel due to ongoing renovations, the room and corridor shown appear identical to those in "urban exploration" videos of the hotel on YouTube.
Room 506, where she took the water from, was where Elisa Lam stayed with three other girls during her time at the Cecil Hotel. It was a female bunk room.
It was actually Dupra's intention to collect the water from serial killer Richard Ramirez's room, which as of Sunday—and as mentioned above—she now has a bottle from as well. Ramirez, also the focus of a recent popular Netflix documentary titled Night Stalker: The Hunt For a Serial Killer, went on a killing spree in 80s Los Angeles, taking 13 lives, and stayed at the Cecil Hotel, at least for part of that time.
It has also been reported Ramirez once dumped his blood-soaked clothes into a dumpster behind the hotel, and returned to his room naked.
The hotel, built in the 1920s, was cheap and became a place people "down on their luck" stayed at. Now however, with the stories of Lam and Ramirez, along with a reported 80 suicides and deaths, the hotel had a dark reputation and has become of interest to the ever-growing true-crime community online.
Just like the true-crime community itself, Dupra's decision to collect the tap water has garnered criticism online, with many suggesting it's disrespectful and tone deaf.
"I don't wanna seem mean but that's a little disrespectful. Why would you get that as a novelty," wrote one TikTok viewer.
Others however didn't see an issue with the decision, with some even requesting more footage of the room.
"For those who criticize me, that's their right to but it has zero effect on me. Now if an actual victims family member was offended, I would apologize and see how I could make the situation right with them," said Dupra.
Romanticizing Murder Cases
The true-crime community has found a home in TikTok, but has similarly faced criticism for romanticizing murder cases, and even the murderers themselves. The Menendez brothers have found themselves with a large fan base on the app, with many young people starting accounts dedicated to them and justifying their crimes.
Dupra claimed to have been experiencing bad luck since taking home the bottle of water, and said she "almost threw up from sudden nausea and anxiety," when she arrived home.
"When I got the bottle I immediately got a wave of anxiety and nausea and had insomnia for the next few nights. I found myself getting into arguments with friends, losing my valuables and being more accident prone," she told Newsweek.
"As for the security guard, he was fired shortly after I posted the bottles. Even my friend who helped facilitate the deal has suffered many injuries since. So everyone who was involved in this deal has experienced immediate misfortune."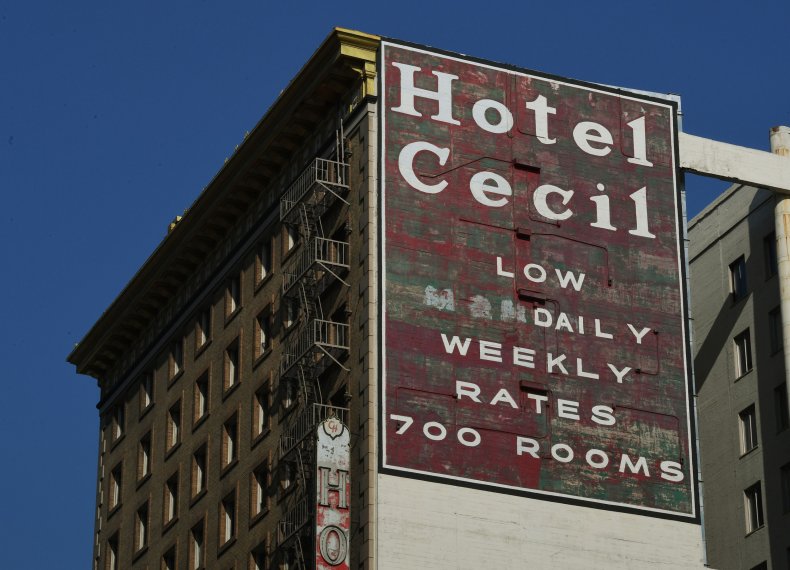 Update 7/8/21 at 3:44 a.m. ET: This article was updated to include comment from Lydia Dupra.