Denver Suspect Lyndon McLeod's Books Describing Mass Shooting Still Sold on Amazon
Books authored by the 47-year-old suspect in the Denver and Lakewood shootings—which contain racist rants and a mass shooting sequence similar to Monday's attacks—are still available for purchase on Amazon.
Sanction, written by Lyndon James McLeod under the pen name Roman McClay, is a science fiction trilogy that is available in paperback and Kindle formats.
The books, which were published between 2018 and 2020, have remained on the e-commerce giant's website two days after their author killed five people and was subsequently shot dead by a police officer.
According to its Amazon listing, the first book, Sanction I, ranked number 16 in Genetic Engineering Science Fiction and number 50 in Dystopian Fiction.
Newsweek examined passages of the books, which feature a man named Lyndon as a protagonist. In Sanction II, published in 2019, the character commits a mass shooting, which McLeod described vividly and with morbid enthusiasm.
The character Lyndon heads across Denver's Sixth Avenue towards a "house that shared walls with VI Tattoo." McLeod wrote the character was dressed in tactical gear and "had a total of 225 rounds in waiting with forty-seven bullets loaded into his two weapons."
Lyndon then shoots and kills a woman and two dogs in the home portion of the building, before heading to the tattoo studio, where he kills a pair of tattoo artists, two seated clients, and an additional man.
This sequence closely resembles certain events in Monday's shooting spree.
At least four people were shot in two Colorado tattoo shops that afternoon. The first was in Denver, where the suspect killed two women and injured one man.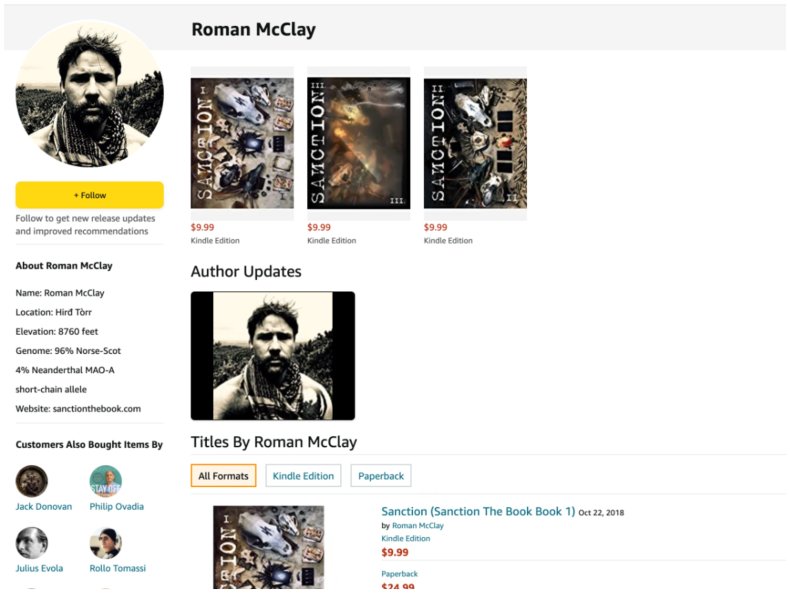 Police have not yet disclosed the victims' identities, but their families identified them as Sol Tribe tattoo artists Alicia Cardenas, 44, and Alyssa Gunn-Maldonado. The latter's husband, Sol Tribe piercer Jimmy Maldonado, was injured in the shooting and remains in critical condition.
In nearby Lakewood, the shooter killed 38-year-old tattoo artist Danny Scofield at Lucky 13 Tattoo Parlor.
At one point, the suspect broke into the 200th block of West Sixth Avenue in Denver, which authorities described as a "dual purpose" building that stood as a residence and part of a business. He pursued its occupants and shots were fired, but nobody was injured.
Newsweek has contacted Amazon for comment.
McLeod's books also contain white supremacist screed. Passages seen by Newsweek included racial slurs, such as the n-word. McLeod additionally made use of racist tropes: one passage had a character rant about "filthy Muslims and African freaks who are raping white women with impunity."
That character also mentions the prospect of a "race war," which he said will occur so long as white men are prevented from "defending their women; their own honor."
Yet in the first few passages of Sanction III, McLeod had a character ponder about "the things women won't admit about rape, that it slakes, that it enthralls, that—if done by a certain type of man—they don't hate it at all."
While McLeod's works have since garnered negative reviews spurred by the shooting, both good and bad reviews on Sanction I posted prior to the tragedy lifted the veil on concerning content espoused in the book.
"I don't strongly identify with democrats or republicans on a lot of things and I enjoy a strong critique of both," read a negative review written in January 2020. "But this book is packed full of rants on diversity, women, and globalization."
"There are fantasies of killing people involved in the BLM movement, and bizarre threats to Ben Shapiro/Sam Harris/and others. While others may be guilty of ignoring the necessity of violence in some extreme situations, this book fetishizes violence as the great equalizer."
A reviewer who gave the book five stars in December 2019 wrote: "Taboo topics like incest, murder, racial inferiority, and genocide, are written in an almost casual tone. It puts language to what most people secretly think, and then suppress, in the deepest recesses of their hearts. It challenges you by showing a mirror to your evil ideas."
"SANCTION is an epic, visceral journey into the dark heart of every man broken by society; chewed up and spit out," wrote another satisfied reviewer.
One Amazon user gave more details about the first book's premise in a February 2020 review, revealing McLeod's portrayal of himself as a homicidal anti-hero.
"The plot, as revealed gradually through a non-chronological narrative, is about an intelligent and sensitive man named Lyndon McLeod," the reviewer shared. "Fed up with the pettiness and slights and double-crosses of the people around him, Lyndon commits 46 murders."
"An epic story about the human condition. It's about artificial intelligence. It's about the emasculation of the alpha male," another wrote that same month. "A war is coming and pain demands a response. Viva la Roman McClay."
The book's first words—"Pain demands a response"—capture McLeod's belief in "male honor violence," i.e. violent retribution towards those who have shown perceived disrespect.
The shooting suspect's extremist ideologies, such as glorifying violence, misogyny and firearms, has been apparent from his Twitter account, which made use of his pen name.
Authorities believe all but one of the victims targeted by McLeod were "known to him," either personally or professionally.