MGK Shows Bloody Injury After Smashing Glass On His Face During Performance
Machine Gun Kelly gave his Instagram followers a full view of his bloody injury on Wednesday, after smashing a champagne flute over his own face while performing in New York City the night before.
Kelly, real name Colson Baker, had performed at Madison Square Garden as part of his Mainstream Sellout tour earlier in the evening before heading to Catch Steakhouse for what appeared to be quite the raucous after-party.
In footage shared on his Instagram Story, the musician, 32, was shown treating party attendees to another performance, during which he said: "I don't give a s***," before smashing the glass on his face, prompting gasps from the crowd.
Captioning the seconds-long clip, Machine Gun Kelly wrote: "And this is where things turned..."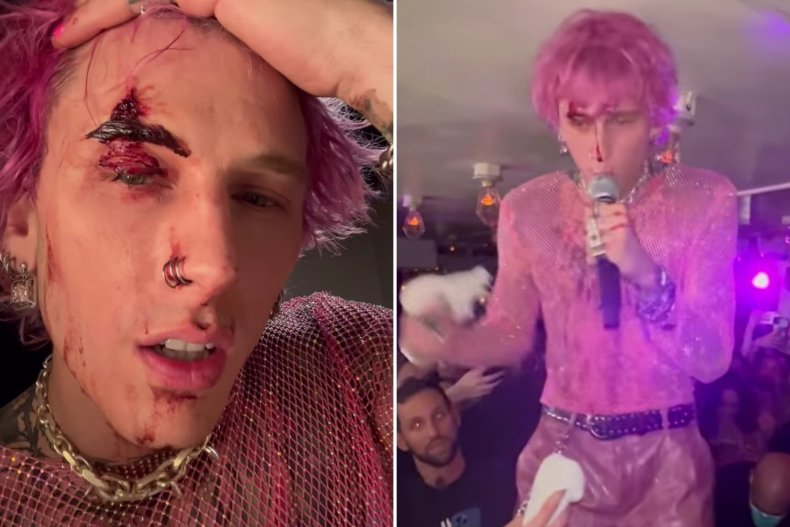 A follow-up clip, captioned "f*** it," showed the star performing his track "My Ex's Best Friend" as he clutched bloody paper towels while blood also ran down his face.
During his performance of the song, partygoers were seen attempting to pass him more paper towels in a bid to help him clean up the self-induced mess.
Several hours later, the star posted video of himself examining the extent of his injury, which appeared to be above his eyebrow.
With dried blood steaked across his face, Machine Gun Kelly exclaimed "oh, s***," before concluding the video by calling the injury "gross."
The video clips can be viewed in full at the top of this article.
He also shared a series of photos from his time in the Big Apple, including photos of his blood-covered face, in a post captioned: "NYC you're my bloody valentine."
Machine Gun Kelly has had quite the busy week, having also attended the premiere of his newly-released Hulu documentary, Life In Pink, in New York City.
In the documentary, the star revealed that he endured a paranoia-filled suicide attempt while on the phone with his fiancée, Megan Fox.
He credits the moment with turning his life around as he became sober afterward, throwing himself into his work. After the incident, he released the album Mainstream Sellout earlier this year, which reached number one on the Billboard 200.
Machine Gun Kelly explained in the documentary that after the death of his father in July 2020, he found himself alone as Fox was in Bulgaria filming a movie.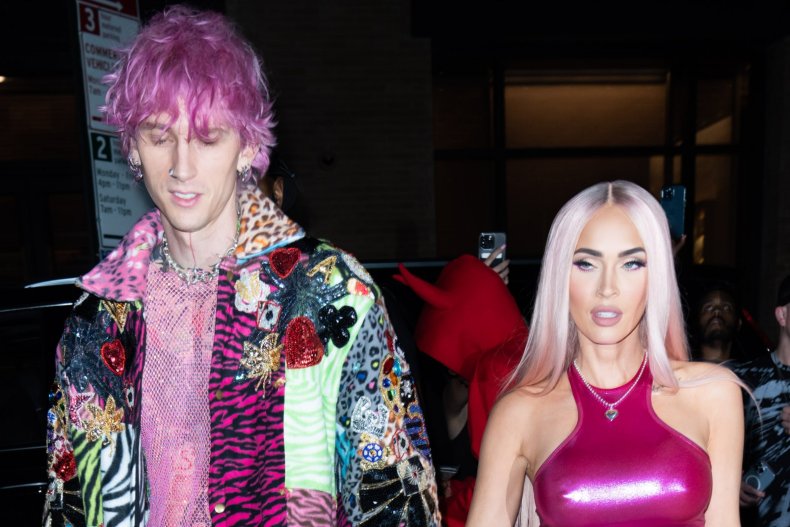 "I wouldn't leave my room and I started getting really, really, really dark," he said. "I started getting this really wild paranoia. I kept getting paranoid that someone was gonna come and kill me."
At the time, the musician said, he slept with a shotgun next to his bed and one day he "just f****** snapped."
"I called Megan, I was like, 'You aren't here for me.' I'm in my room and I'm, like, freaking out on her. Dude, I put the shotgun in my mouth," he recalled. "And I'm yelling on the phone and like the barrel's in my mouth.
"And I go to cock the shotgun and the bullet, as it comes back up, the shell just gets jammed. Megan's like dead silent."
He added: "That was kind of where I started realizing, like, something's not right."
After that moment, he said he realized he needed to "kick the drugs" and he was helped by Fox and his 12-year-old daughter Casie, who told him they didn't "want to be talking to you through a veil anymore."
Now living a life of sobriety, Machine Gun Kelly said he has replaced his drug habit with another addiction, but he still wants to make time for his daughter, who is from the star's previous relationship with Emma Cannon.
"The problem is, I'm addicted to a new drug, and that's work," he said. "It feels like I've dug a little too deep of a hole in that and I really need to get the f*** out of it and dig more into being what matters most, which is like a great father."