Macron, Merkel Urge Improved Ties With China As Belt and Road Looks More Likely Than Ever
French President Emmanuel Macron and German Chancellor Angela Merkel have called for improved trading ties with China as they voice cautious optimism about the Continent becoming more involved in Chinese President Xi Jinping's Belt and Road Initiative (BRI).
"We, as Europeans, want to play an active part [in the project]," Merkel said after Tuesday talks in Paris with Xi, Macron and European Commission President Jean-Claude Juncker, the Hong Kong-based South China Morning Post reported. "And that must lead to a certain reciprocity, and we are still wrangling over that a bit."
Macron voiced a similar view, while remaining cautious. "What's at stake is demonstrating that cooperation yields more than confrontation," the French leader said, according to Reuters, a clear contrast to the current position of Europe's close ally the United States.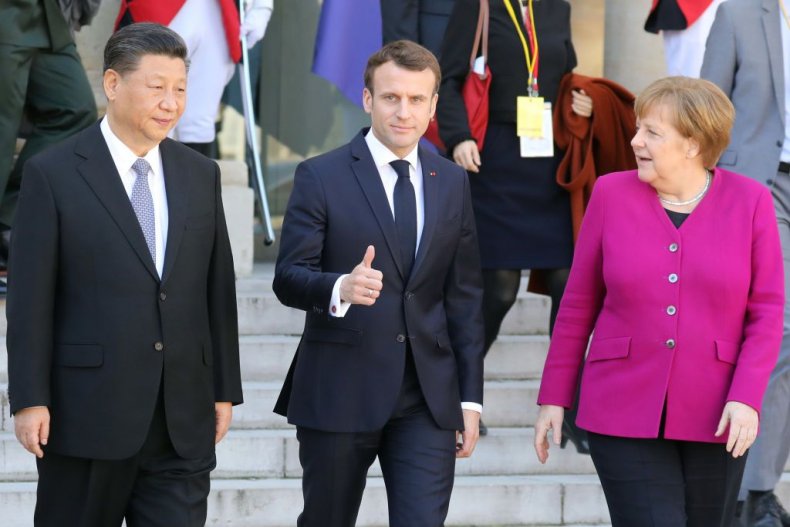 Washington has dubbed the BRI a "vanity project," as President Donald Trump has generally taken a hard-line stance against Beijing. Last summer, Trump launched a multibillion-dollar trade war with China, accusing it of treating the U.S. "very unfairly" when it comes to trade.
As the trade dispute continues, the administration has maintained a firm stance against China's efforts to move forward with the BRI, which is modeled after the historic Silk Road trade route and aims to link China by land and sea with other parts of Asia, Europe, the Middle East and Africa through vast infrastructure development.
"China's BRI offers both opportunities and risks, and the prudent thing to do, which European countries are moving toward, is to explore its opportunities while being cautious of its risks," Yuen Yuen Ang, an associate professor of political science at the University of Michigan specializing in China, told Newsweek.
Conversely, she pointed out, "the U.S. slams the door on BRI because it sees its relationship with China in zero-sum terms." Washington thinks "if China 'wins,' the U.S. 'loses,'" she said.
Analysts have raised significant concerns about what some have classified as "predatory" lending practices by Beijing in an effort to expand the BRI and its global influence. Throughout Asia and Africa, China has offered long-term loans that some nations are unlikely to pay back. The goal, according to analysts, is for governments to eventually default on the loans and give China control of the infrastructure built with the funds.
European nations are also concerned about what they view as unfair trade practices by China that make it difficult for foreign enterprises to compete fairly. While European leaders believe they have opened their markets wide to Chinese companies, they see China as having been slow to respond in kind.
Ang told Newsweek that China's government will likely take these concerns more seriously moving forward.
"China has recently fast-tracked a draft Foreign Investment Law. While falling short of some expectations, it signals the Chinese government's eagerness to respond to foreign investors' concerns," she explained. Ang also pointed out that ongoing tensions between Beijing and Washington may encourage improved ties between China and Europe.
"Europe offers a critical alternative source of engagement and commerce for China, so European governments are now in a particularly advantageous position to negotiate for market access," she said.
Italy just became the European Union's first member to sign on to the BRI, with the country's prime minister inking a memorandum of understanding with China on Saturday in regards to the project. France, Germany and the European Commission have been more cautious, appearing concerned that Italy moved ahead too quickly, as it became the first member of the world's elite G7 group of wealthy and developed economies to do so.
But Xi attempted to reassure the European leaders on Tuesday. "Cooperation is greater than competition," he said, according to Reuters. "We shouldn't be always worried about watching our back with suspicion while moving forward."