Is Madison Cawthorn Being Purged by Republicans?
Speculation that the Republican Party may be trying to purge Representative Madison Cawthorn from Congress has intensified after the North Carolina congressman was embroiled in yet another potential scandal.
In his relatively short time on politics, the freshman congressman has been linked to a number of controversies, several of which have arrived one after another in recent weeks amid his bid for re-election in the state's primary on May 17.
On Tuesday, The Washington Examiner reported that Cawthorn may be implicated in an insider trading criminal investigation in relation to his links to Let's Go Brandon cryptocurrency.
The cryptocurrency, which is named after the conservative catchphrase used to attack President Joe Biden in reference to NASCAR driver Brandon Brown, spiked in value on December 30 after Brown announced the coin would be his sponsor for the upcoming season.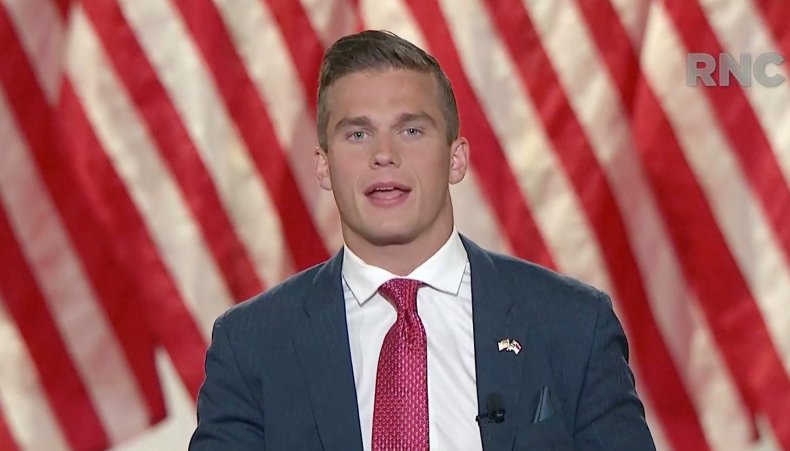 The day prior, Cawthorn, a known cryptocurrency owner, posted "LGB legends....Tomorrow we go to the moon!" on the Instagram page of James Koutoulas, hedge fund manager who is behind the Let's Go Brandon cryptocurrency.
Cawthorn is accused of engaging in a illegal pump-and-dump by having advanced knowledge of the deal with Brown.
"This looks really, really bad," Dylan Hedtler-Gaudette, the government affairs manager for federal watchdog group Project on Government Oversight, told The Examiner. "This does look like a classic case of you got some insider information and acting on that information. And that's illegal."
Also on Tuesday, Cawthorn attracted national press attention after he was cited for having a loaded gun at a security checkpoint at Charlotte Douglas International Airport, marking the second time in just over a year that the Republican has been stopped from flying with a firearm.
The reporting of both incidents arrived as Cawthorn was heavily criticized by his own party after claiming colleagues in Washington, D.C. asked him to attend orgies and that he had witnessed others do cocaine in front of him.
The unsubstantiated remarks resulted in Cawthorn, the House's youngest member, being pulled into talks with House Minority Leader Kevin McCarthy, who said the 26-year-old had "lost my trust [and] he's going to have to earn it back."
Since the orgy comments, a number of other potentially damaging stories about Cawthorn have come out, including Politico publishing pictures of Cawthorn wearing women's lingerie and a video being made public showing Cawthorn being pulled over before being charged with driving with a revoked licence.
A number of people have now suggested that those within the GOP may be behind the negative media attention aimed at Cawthorn over concerns his cocaine and orgy remarks damaged the entire party.
"Right-leaning DC paper breaks story that Cawthorn is in trouble for insider trading on a pump-and-dump crypto scheme," tweeted Tristen Snell, founder of mainstreet.law and a former assistant attorney general for New York state. "GOP rivals sent those lingerie photos to Politico. Madison, meet bus."
Snell wrote in a subsequent tweet: "Perhaps Madison has worn out his welcome. Perhaps he was a little too close to home with the coke and orgies."
Molly Jong-Fast, a writer for The Atlantic, tweeted: "I'm no fan of Madison Cawthorn but if you don't see what republicans are doing here 3 weeks before the primary, I don't know what to tell you."
Cliff Schecter, an author and a writer on Joe Biden's 2020 campaign, also suggested the Republican Party is targeting Cawthron as part of a "Godfather-esque" attack on the congressman.
"Did somebody know [Cawthorn] had that gun? Did somebody let [the authorites] know? If you don't think Republicans are out there sharing this, you're insane," Schecter said on his YouTube channel.
"Arrested for the second time in a month for driving with a revoked license...You don't think Republicans took that footage from the police car afterwards and sent it out everywhere? They don't want this guy to be the nominee. They have put a hit out on him. And my God, is it fun to watch," Schechter added.
There is no real evidence either way that those within the Republican Party are helping to release dirt on Cawthorn because they grew weary of his antics. With regards to the photos of Cawthorn in lingerie, Politico said they were sent screenshots of the original images by a person formerly close to Cawthorn and his campaign.
The Transportation Security Administration and the Charlotte-Mecklenburg Police Department announced details of Cawthorn getting stopped at the airport with the handgun.
A state judge in Cleveland County approved the release of the video showing Cawthorn's traffic stop after being requested by local media, while Cawthorn was accused of violating federal insider trading laws by watchdogs after being made aware of his public Instagram comments.
Newsweek reached out to Madison Cawthorn and the Republican National Committee for comment.