Madison Cawthorn's Defeat 'Good News' for Ukrainians: Former Ambassador
North Carolina Republican Representative Madison Cawthorn's defeat in the state's primary was celebrated by a former Ukrainian ambassador on Wednesday, following Cawthorn's past comments toward Ukrainian President Volodymyr Zelensky.
In a tweet Tuesday night, Olexander Scherba, Ukraine's former ambassador to Austria, wrote, "Good news, Ukrainians! US Congressman Madison Kothorn [sic], one of Ukraine's biggest haters in Congress, lost the primaries. One Putin's agent will have less influence."
The comments by Scherba came shortly after Cawthorn conceded to state Senator Chuck Edwards in North Carolina's Republican primary for a seat in the House of Representatives.
"Congratulations to @ChuckEdwards4NC on securing the nomination tonight," Cawthorn wrote in a tweet on Tuesday night. "It's time for the NC-11 GOP to rally behind the Republican ticket to defeat the Democrats' nominee this November."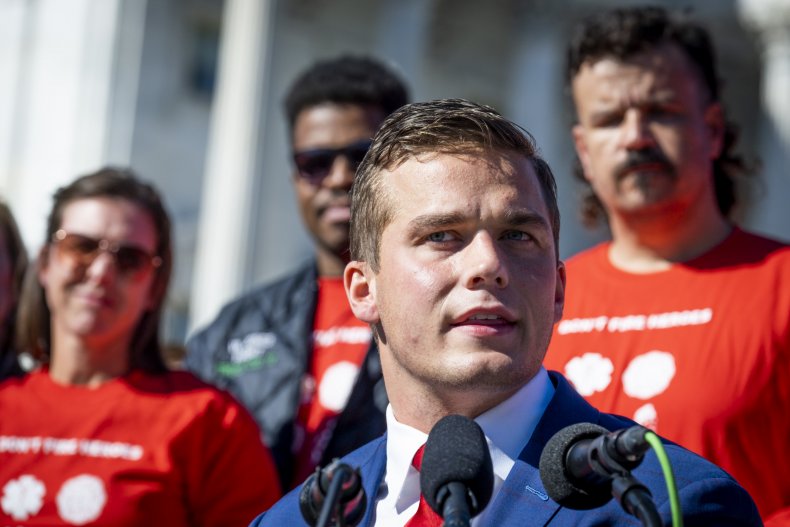 In March, Cawthorn made headlines for calling Zelensky a "thug" in a speech.
"Remember that Zelensky is a thug...remember that the Ukrainian government is incredibly corrupt and is incredibly evil and has been pushing woke ideologies," Cawthorn previously said.
In a statement previously sent to Newsweek, Cawthorn's communications director, Luke Ball, said that the Republican congressman "was expressing his displeasure at how foreign leaders, including Zelensky, had recently used false propaganda to entice America into becoming involved in an overseas conflict."
"He supports Ukraine and the Ukrainian president's efforts to defend their country against Russian aggression, but does not want America drawn into another conflict through emotional manipulation," Ball added in his statement to Newsweek.
In a series of tweets following his remarks in March, Cawthorn wrote, "The actions of Putin and Russia are disgusting. But leaders, including Zelensky, should NOT push misinformation on America."
In addition to calling Zelensky a "thug," Cawthorn, who is currently the youngest member of Congress at 26 years old, was also one of the 57 House Republicans that voted against a measure providing Ukraine with $40 billion in aid amid their ongoing war with Russia.
"Imagine if we spent $40 Billion on veterans," Cawthorn wrote in a tweet following his vote against the bill.
In another tweet following the vote, Cawthorn wrote, "Here's a thought: No more foreign aid to anyone until we finish the Wall," alluding to the wall at the U.S.-Mexico border.
Despite Cawthorn's vote in opposition, the bill was passed by the House of Representatives. On Tuesday, the Senate voted in favor of ending debate on the bill, which will lead to an official vote later this week.
Newsweek reached out to Cawthorn's office and Scherba for comment.