Madison Cawthorn Slammed for Suggesting Ukraine Aid Be Spent on Veterans
A U.S. congressman is receiving backlash on social media following his suggested use of financial assistance intended for Ukraine.
North Carolina Republican Representative Madison Cawthorn on Wednesday morning posted on Twitter that instead of providing financial help to Ukrainians as they fight against the Russian invasion of their country, the money should be spent stateside.
"Imagine if we spent $40 Billion on veterans," Cawthorn wrote on Twitter in a post that has attracted criticism from political commentators and from at least one fellow lawmaker. Cawthorn has been at the center of several recent controversies, some of which have arrived one after another as the freshman congressman makes his bid for reelection in the state's GOP primary on May 17.
Cawthorn's comments on Wednesday came after the House of Representatives voted overwhelmingly in favor of a bill providing $40 billion in aid for Ukraine on Tuesday evening. The Additional Ukraine Supplemental Appropriations Act 2022 passed by a vote of 368-57, with all 57 votes against the measure coming from Republicans, including Cawthorn.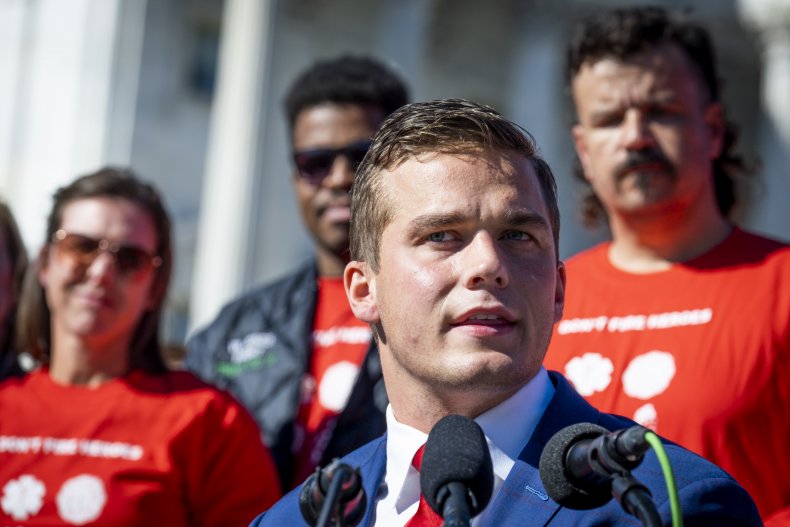 One of Cawthorn's congressional colleagues, California Democratic Representative Ted Lieu, responded to the freshman lawmaker's suggestion.
"Dear @RepCawthorn: Unlike you, I'm a veteran and didn't lie about getting accepted to the Naval Academy. Wanted to let you know Democrats increased funding to veterans last year to $270 billion," Lieu wrote.
Brian Normoyle, an independent political commentator and writer, responded to the congressman's idea for the money slated to be given to Ukraine, stating on Twitter, "We do. About six times as much, actually."
Lachlan Markay, a reporter at Axios, responded to Cawthorn by bringing up a past vote from the congressman on an issue related to veterans.
"In March, Cawthorn voted against a bill to provide $20 billion per year to veterans exposed to toxins during their service," Markay wrote.
The vote Markay is referring took place in early March. Cawthorn voted against House Resolution 3967, titled the Honoring our PACT ACT. The act, which was passed by the House on a vote of 256-174, addressed the health care of veterans who were exposed to "toxic substances during military service," according to Congress.gov.
Gary Snyder, a Democratic congressional candidate in Indiana, mentioned Indiana Republican Representative Jim Banks in his retort to Cawthorn.
Snyder wrote, "Imagine if you could remember (drug crazed orgies and all) joining @RepJimBanks in voting against the Evest Act and the 'Burn Pit' bill that provided care, benefits and compensation to veteran suffering from the effects of toxic burn pits?"
In addition to Cawthorn, representatives Lauren Boebert, Marjorie Taylor Greene, Matt Gaetz and Jim Jordan were among the Republicans who voted against the aid package for Ukraine.
In a response to Newsweek, Cawthorn's office pointed to a tweet the congressman posted on Thursday that read: "Here's a thought: No more foreign aid to anyone until we finish the Wall."