Madison County Has Broken Its Own 'Grim' Record for Opioid-Related Deaths
Madison County has broken its own record for the number of opioid-related deaths with 92 fatal overdoses so far this year, the Coroner's office has announced. The previous highest record was in 2014 when 91 people died as a result of opioids.
"Madison County Coroner Stephen P. Nonn is reporting that an unfortunate and grim record has been broken as opioid-related death investigations continue to tax resources of the Office of the Coroner," it said in a statement said.
While the Coroner's Office is still waiting for the final toxicology reports for a number of the cases, evidence at the scene and the drug history of the victim strongly suggest the cause of death was drug overdose.
In 2017, the U.S. Department of Health and Human Services (HHS) declared the opioid epidemic sweeping the nation had become a public health emergency. It began in the 1990s when pharmaceutical companies told healthcare providers there was little risk of their patients becoming addicted to opioid-based pain killers. As a result doctors, started prescribing them at higher rates. This, the HHS says, led to the widespread misuse of prescription and non-prescription opioids. In 2016, opioid overdoses caused over 42,000 deaths in the U.S.
Nonn told the Belleville News-Democrat that the main problem with opioids in Madison County is fentanyl rather than heroin or meth. Fentanyl is up to 100 times stronger than morphine and, within the pharmaceutical industry, is approved by the Food and Drugs Administration as a painkiller.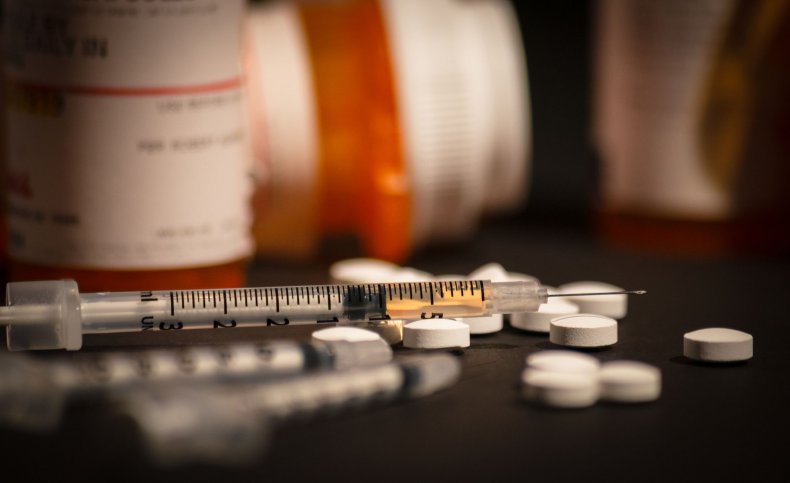 In Madison County, officials say they have have been working to limit the crisis by providing education to the public, offering treatment by partnering with rehabilitation centers, and by law enforcement—by prosecuting dealers within the community. The Coroner and Sheriff's office also runs pop up drug disposal units so people can bring their unused prescription medications in.
Nonn praised the county's finance department for recognizing the opioid crisis and maintaining funding for programs aimed at tackling the problem. "It is true that over the last couple of years, there has been some paring back of budgets and spending throughout county government—including some areas of my budget—but in the end, the Office of Coroner and the Finance Committee, engaged in very productive dialogue in protecting areas of budgeting and spending as the overdose surge continues," he said.
"Most tragically is the number of people who are left behind to grieve in the wake of this continuing epidemic. It is an epidemic that continues to be a serious criminal justice problem and public health concern that is taxing the resources of first responders, social services, the justice system, and our office is certainly not excluded from the list."