There Is Only One Person Who Should Play Madonna in a Biopic
Madonna has been working on her upcoming biopic for some time now—and per The Hollywood Reporter, the project is now actively looking for the perfect person to play the "Like a Prayer" singer.
Many names have been dropped, and many of them are questionable. The most recent touted names are Sydney Sweeney and Barbie Ferreira from Euphoria—though this seems to be more because there is buzz around them right now rather than because they are right for the role. As for Julia Garner—sure, she can be an amazing actress, but people are too distracted by the fact that she has blonde curly hair like Madonna did that one time.
In fact, there is only one real obvious choice to play the singer. Before we get into who that is and why they are the right choice, let's look at what someone starring in a Madonna biopic should be able to do.
The most important thing is that they need to be able to transform. Sure, you can be the right person to play the singer during her early years as a dancer in New York, but will that same person be able to deliver the imperial majesty of Madonna circa the Blond Ambition Tour? Will they be able to sell the Earth Mother yoga years of the Ray of Light era? Will they be able to put on an English accent like Madonna did in the early 2000s?
The best way to do a Madonna biopic might be like I'm Not There, the Todd Haynes film in which multiple actors (Heath Ledger, Cate Blanchett, Richard Gere) play versions of Bob Dylan. But if the distributors get nervous with that idea (I'm Not There hardly set box offices alight, then there is one person who we know can transform into any role. Who we know can sing, and we are fairly sure can dance. She even looks pretty like Madonna.
It's Florence Pugh, the Oscar-nominated Little Women and Black Widow star.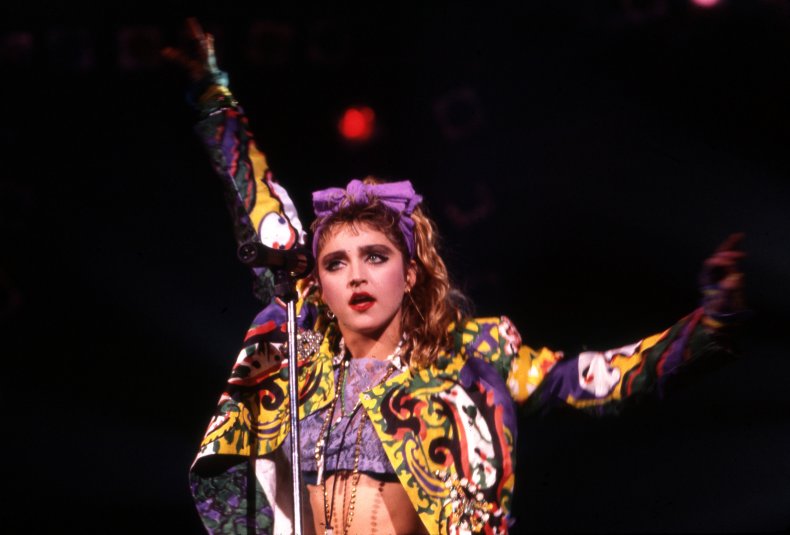 Strangely, it was Little Women that was Pugh's perfect audition piece for a Madonna biopic. First of all, there were times in the film where she looked so much like the young Material Girl that it was astounding. Secondly, there was what she did with her character. While Amy March usually pales in comparison to her sister Jo in Little Women adaptations, Pugh made her the breakout star of the film. Her Amy was drily funny and strongly driven to succeed. She is the one who gets the man in the end, and who becomes the talk of European society.
Drily funny? Driven to succeed? A succès de scandal? A women who sooner or later, always gets her man? Sure sounds a lot like Madonna, who even sang a song about that last part at the Oscars.
Let's tick off all the ways that Pugh is the right choice to play the "Human Nature" hitmaker. Is she able to transform into a role? Check. Just look at the difference between her brooding intensity in breakout role Lady Macbeth and compare it with the rising panic of Little Drummer Girl or Midsommar, or the glib superheroics of Black Widow. Not every actor could go from bonnets in Little Women to body slams in Fighting With My Family.
That latter role, a biopic of WWE superstar Paige, is our best evidence that we can check "she can dance" off our list of traits. While her Instagram Stories suggest that she is an adorably goofy dancer, the fact that she could learn complicated wrestling fight choreography suggests she would be able to pick up the steps to "Vogue" and be able to learn enough choreo for the inevitable scenes of Madonna dancing in the clubs of New York with Keith Haring and Jean-Michel Basquiat.
But can Pugh sing? You betcha. Check out YouTube for many videos of her trying to make it as a folk singer as a teen under the name Flossie Rose. She may even (whisper it) be a better singer than the job requires. Plus, her previous roles have seen her seamlessly slip into multiple accents, so the Oxford-born actor should have no problem getting into the Michigan native's voice.
Quite frankly, Pugh is the only one of the actors mentioned by reports on the biopic who has the gravitas to pull the role off. The idea of a biopic directed by its subject, and co-written by them as well, could very easily tip into a vanity project without a strong actor in the lead role. And right now, Pugh is the only Oscar nominee among the group of likely candidates.
Pugh is also the best choice for Madonna fans to get behind. Per The Hollywood Reporter, whether this biopic goes ahead or not is said to depend on who gets cast in the lead. And while Julia Garner has the acting chops and the awards recognition, you can see a film exec thinking she is too much of a TV star to play the lead. She was amazing in her biggest film role in The Assistant, but a film starring an actual Marvel star is likely to get greenlit with a bigger budget (and a bigger chance of coming to theaters) than one starring someone mostly known for Netflix content.
So this a plea to Madonna from a Madonna fan, and to the casting agents she is working with: Look no further than Florence Pugh. She even already has the English accent for the Guy Ritchie years!