Madonna Talks Masturbation as She Teases Racy Excerpt from Her Biopic
Madonna treated her Instagram followers to a racy excerpt from the screenplay for her long-awaited biopic on Tuesday.
The pop icon, 62, took to Instagram to share a video of herself reading out a snippet of the script that included a passage about a moment of sexual enlightenment when she was younger.
"I discovered masturbation when I was 19," the star read. "This dancer girl brought it up to me. She said, 'Do you have a boyfriend?' I looked at her like she was speaking Arabic. 'I don't blame you. Masturbation is so much more enjoyable,' she said. The concept of masturbation had not even occurred to me."
After sharing that she asked the dancer in question for guidance in self-pleasure, Madonna continued: "She described it to me and I went home and I tried it that night... and I went, 'OK, now I get it. That's what people are supposed to feel during sex.' That girl that told me about masturbation, she was a lifesaver."
Turning her attention to the camera, the singer said as the video came to an end: "It's the little things that you take for granted in life."
Captioning the clip, Madonna wrote: "Ex-static Process..........🔥 #screenplay ✍️✍️✍️ #erinwilson."
Madonna now appears to be working on the screenplay for her biopic with Erin Wilson, whose credits include the 2002 film Secretary, starring Maggie Gyllenhaal.
Announcing Wilson's involvement in June on Instagram, Madonna shared a series of images that included a photo of stacks of tagged and dated notebooks.
She wrote: "Sitting with my favorite b***h............I mean writer ✍️Erin Wilson. [Nothing] Touches but our Souls. 💗 #traceyemin #screenplay."
The post came after it was claimed that Diablo Cody had departed her previously announced role as screenwriter for the story of Madonna's life.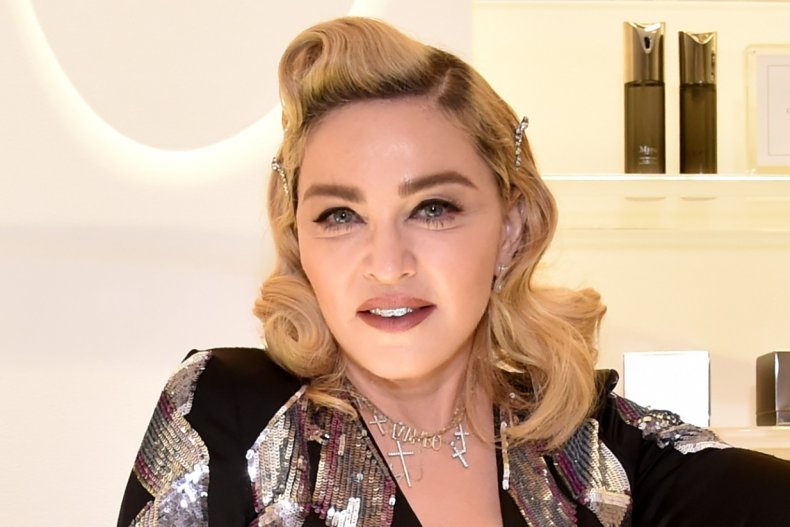 However, Entertainment Weekly reported in April that Oscar-winning Juno screenwriter Cody had submitted a completed draft of the biopic to movie studio Universal and moved on to another project.
In September 2020, Madonna confirmed during an Instagram Live session that she and Cody been working on her biopic, according to Entertainment Weekly.
The Michigan native said that the film would be "about my struggle as an artist trying to survive in a man's world as a woman, and really just the journey."
At the time, she said that they had written 107 pages of the script together, and also discussed a number of the points in her life the film would cover.
Madonna said: "We do talk about Andy [Warhol], and Keith [Haring], and Jean-Michel Basquiat and Martin Burgoyne and the whole coming up as an artist in Manhattan, downtown, Lower East Side in the early '80s.
"Honestly, [it's] one of the best times of my life, and one of the worst times. I hope I can portray or express what a thrilling time that was for me in every way."
The star added of the project: "It's not a musical, but there's a lot of music, and there's a lot of the actress who will play me singing my songs, but in places where she's supposed to be singing."