Madonna, Mocked For Her George Floyd Remarks, Has a Long History of Race-related Gaffes
Madonna has come under fire for a "tone deaf" post of a video of her son David Banda dancing to Michael Jackson to condemn racism following the death of George Floyd.
The pop legend shared the clip to Twitter and Instagram showing 14 year old Banda, who is black, dancing to Jackson's 1995 hit "They Don't Care About Us."
The move has drawn intense ire from the public, with the singer being mercilessly mocked on Twitter.
In a caption for the video, Madonna wrote: "Brutal murder travels around the world my son David dances to honor and pay tribute to George and His Family and all Acts of Racism and Discrimination that happen on a daily basis in America."
Retired professional basketball player Rex Chapman even went as far as to say that Madonna's post was "the worst tweet of all time."
Despite the backlash, a smaller number of Madonna supporters are insisting that the 61-year-old has always stood up for minorities.
This is not the first time the "Material Girl" singer has been caught making race-rlated gaffes.
Using the N-word on Instagram
In 2014, Madonna apologized for using the n-word on Instagram. The post featured a photo of her then 13-year-old son Rocco boxing, with the comment: "No one messes with Dirty Soap! Mama said knock you out!" She then added "#disn****".
In a statement to the Associated Press, she asked for forgiveness.
"I am sorry if I offended anyone with my use of the N word on Instagram," she said. "It was not meant as a racial slur. I am not a racist. There's no way to defend the use of the word. It was all about intention. It was used as a term of endearment toward my son who is white.
"I appreciate that it's a provocative word and I apologize if it gave people the wrong impression."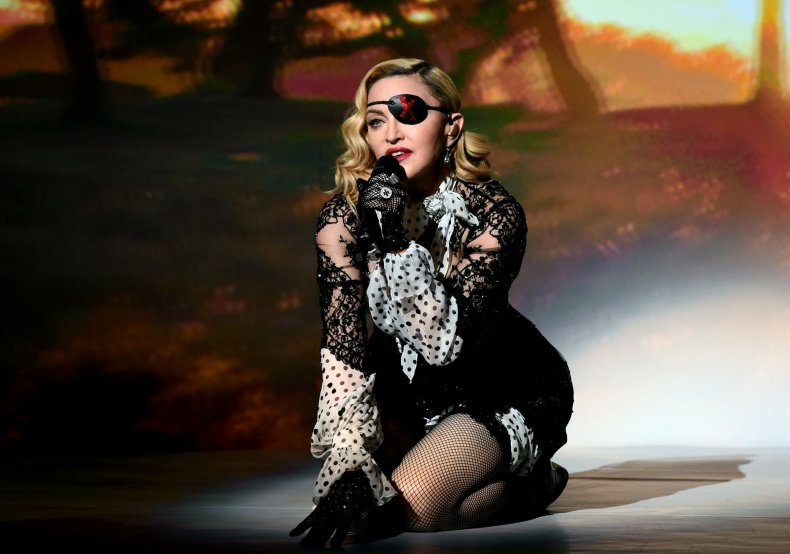 Comparing age discrimination to racism
In 2015, Madonna compared age-discrimination to racist and homophobic comments, telling Rolling Stone: "It's still the one area where you can totally discriminate against somebody and talk shit. Because of their age. Only females, though. Not males. So in that respect, we still live in a very sexist society."
She continued: "No one would dare to say a degrading remark about being black or dare to say a degrading remark on Instagram about someone being gay. But my age—anybody and everybody would say something degrading to me. And I always think to myself, why is that accepted?
"What's the difference between that and racism, or any discrimination? They're judging me by my age. I don't understand. I'm trying to get my head around it."
Using pictures of iconic black figures
Again in 2015, to promote her album "Rebel Heart", Madonna drew criticism for using edited images of Nelson Mandela, Bob Marley, and Martin Luther King Jr in her social media campaign.
Spat with Malawi
The star has often been referred to as a celebrity savior and was involved in a spat with officials from Malawi in 2013 over the charity she founded in 2006, Raising Malawi.
The non-profit organization aims to "support orphans and vulnerable children in Malawi through health, education and community support."
However, as reported by CNN, she was embroiled in the controversy over accusations of her demands for VIP treatment and the Malawian government issued a statement at the time saying the star thought the country "should have abandoned everything and ... rolled out a red carpet and blasted the 21-gun salute in her honor."
Denying the accusations, Madonna issued a response saying she was "saddened that Malawi's President Joyce Banda has chosen to release lies about what we've accomplished, my intentions, how I personally conducted myself while visiting Malawi and other untruths."
Four of Madonna's children are adopted from Malawi. David, whom she adopted in 2006, her 14-year-old daughter Mercy in 2007 and 7-year-old twins Estere and Stella were adopted in 2017.
In a 2019 profile by the New York Times, to mark her 60th birthday, the piece says that Madonna considered herself a "freedom fighter, fighting misogyny, homophobia, racism, guns, the rise of authoritarianism."
However, she later claimed the profile made her feel "raped."

Tribute to Aretha Franklin
The previous year, Madonna upset fans of the late Aretha Franklin when she was expected to deliver a tribute to the Queen of Soul at 2018 MTV Video Music Awards but instead spent the best 10 minutes speaking about her own achievements.
Madonna was mocked for another tone deaf post earlier this year, when she posted a photo of herself in a bathtub filled with petals, telling her fans that COVID-19 is a "great equalizer."