Madonna Blames Camera Angles for Appearance at Grammys
Madonna hit back at people who criticized her appearance at Sunday's Grammy Awards labeling it as "ageism and misogyny."
The Material Girl, 64, presented at the Grammys where she handed Kim Petras and Sam Smith the award for Best Pop Duo/Group Performance for their hit song, Unholy.
Madonna told fans on Instagram she wanted to present them the award to be part of the history-making moment of Petras becoming the first transgender person to win that award.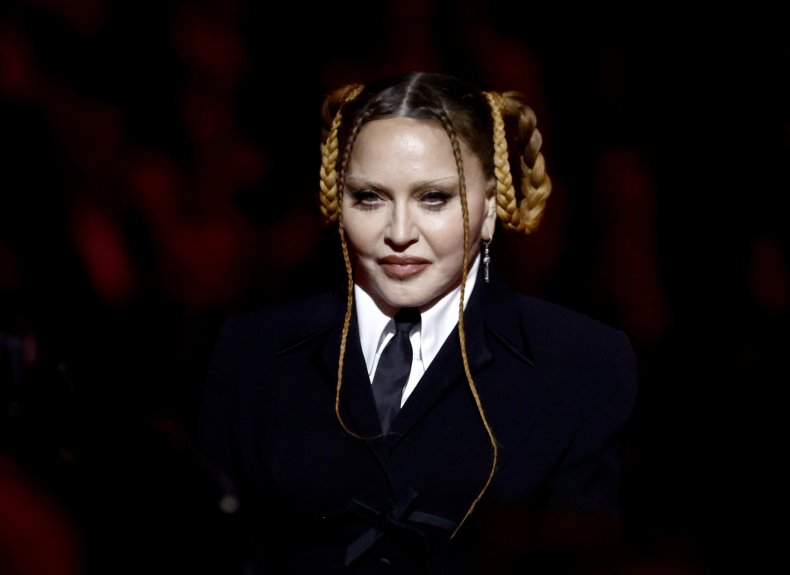 "It was an honor for me to Introduce Kim Petras and Sam Smith at the Grammys. I wanted to give the last award which was Album of the year, but I thought it was more important that I present the first trans- woman performing at the Grammys— a History making moment!! And on top of that she won a Grammy!! ♥️" Madonna began.
Alongside her lengthy caption, Madonna posted a video of her partying with Smith and others after the awards show had ended. She addressed criticism of her appearance saying it the use of a long lens camera that distorted her face.
"Instead of focusing on what I said in my speech which was about giving thanks for the fearlessness of artists like Sam and Kim- Many people chose to only talk about Close-up photos of me Taken with a long lens camera By a press photographer that Would distort anyone's face!!" she continued.
"Once again I am caught in the glare of ageism and misogyny That permeates the world we live in. A world that refuses to celebrate women past the age of 45 And feels the need to punish her If she continues to be strong willed, hard-working and adventurous."
Madonna wore a long, black suit dress to the Grammys and wore her lightened hair with a middle part and plaited pigtails which were styled in a round shape at the side of her head.
The Music singer added that she has "never apologized for any of the creative choices I have made nor the way that I look or dress and I'm not going to start."
"I have been degraded by the media since the beginning of my career but I understand that this is all a test and I am happy to do the trailblazing so that all the women behind me can have an easier time in the years to come. In the words of Beyonce 'You-won't break my soul'," Madonna wrote.
"I look forward to many more years of subversive behavior - pushing boundaries -Standing up to the patriarchy - and Most of all enjoying my life. Bow down b******! 💃🏼🪩🎤💄🎼👠"
Madonna is no stranger to speaking out against ageism, telling The Cut people could be sexy at any age.
"It's an outdated, patriarchal idea that a woman has to stop being fun, curious, adventurous, beautiful, or sexy past the age of 40. It's ridiculous," she said in 2018.
"Why should only men be allowed to be adventurous, sexual, curious, and get to have all the fun until the day they leave this earth? Why should that only be the domain of men? How do we fight this?
"By standing up to men and by standing up to social mores or standards that say we cannot. The more women that do it, it will just be a matter of time."
Madonna added: "Now, all the challenges that I had to face 20 years ago seem ludicrous," she said. "What I am going through now is ageism, with people putting me down or giving me a hard time because I date younger men or do things that are considered to be only the domain of younger women.
"I mean, who made those rules? Who says? I'm going to keep fighting it. Ten to 20 years from now, it's going to be normal. People are going to shut up."