Madonna Reveals She Had Hip Replacement Surgery—'I'm a Bionic Woman'
Madonna has opened up about undergoing hip replacement surgery late last year, months after sharing Instagram posts showing her scars.
The pop icon, 63, had previously taken to social media in November 2020 to share a photo of herself sporting a scar on her hip, 11 months after an injury she had sustained on her "Madame X" tour forced her to cancel a number of shows on the North American leg.
And during her Madame X Presents: Madame Xtra Q&A special for Paramount+, the "Vogue" singer has spoken candidly for the first time about her hip surgery.
The star-studded special, which was shot in September, features a host of celebrities, such as Kim Kardashian, Katy Perry, Ariana Grande, Billie Eilish, and Amy Schumer, asking Madonna a selection of questions.
MMA fighter Conor McGregor is featured asking how the mother of six stays fit, prompting her to talk about her recent struggles with painful surgery.
"Let me be really honest with you—I used to be, like, a fitness/workout maniac," she said, per Extra. "You probably know that right?... During my [2019 Madame X] tour—I don't know if you've noticed it, but I'm limping a lot—I was in more pain than I've ever been in in my life. I'm a bionic woman—I had hip replacement surgery.
"So, how do I stay in shape? It's all in your head... It's called will, it's called no one's gonna stop me, and how I stay in shape is no one's gonna stop me. And how I stay in shape is I don't believe in limitations."
Elsewhere in the special, which was released after her Madame X tour film, the star gave an insight into her upcoming biopic as she answered her friend Fab 5 Freddy's question about her fondest memories of their time together.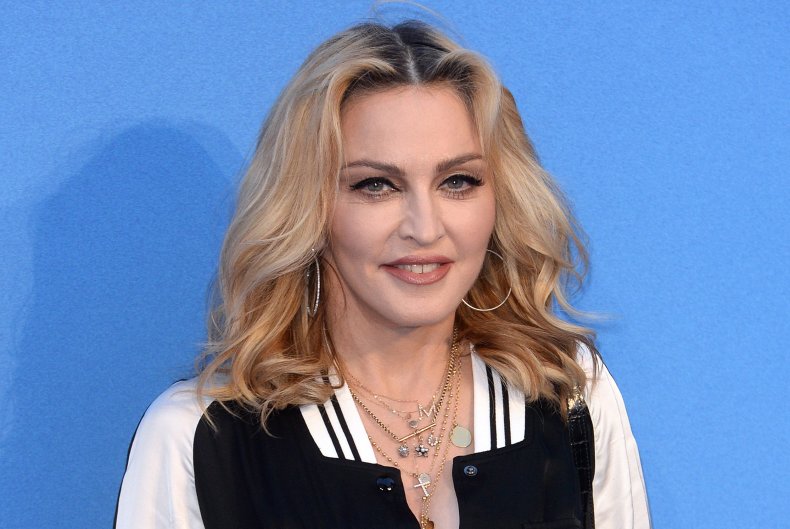 She said: "We go way back, so I wanna acknowledge him for a moment, no joke, because I'm writing a script about my life and when I first came to New York and my journey as an artist.
"Coming to New York, 1979, and living through the '80s and being able to work with and spend time with and become friends and be at the same level with people like Keith Haring and Basquiat and all the other amazing musical artists, fine artists that were around at the time.
"The convergence of people, the breakdancing, the graffiti artists, there's never been a time like that and I truly, I cherish it. I miss it, and I wish we could have that again."
A number of other faces are seen making appearances in the star's Q&A special, including Jonah Hill, Paris Jackson, David Letterman and Lil Nas X, who Madonna said she told: "I'm handing over the torch to you—you are the new gay poster child!"
Madonna announced in June that she was working on the screenplay of her biopic with Erin Wilson, whose credits include the 2002 film Secretary, starring Maggie Gyllenhaal.
It had previously been reported that Diablo Cody had departed her role as screenwriter for the biopic. Entertainment Weekly reported in April that Oscar-winning Juno writer Cody had submitted a completed draft to Universal and moved on to another project.
During an Instagram Live session in September 2020, Madonna said that the anticipated film covers "my struggle as an artist trying to survive in a man's world as a woman, and really just the journey."
She said, per Entertainment Weekly: "We do talk about Andy [Warhol], and Keith [Haring], and Jean-Michel Basquiat and Martin Burgoyne and the whole coming up as an artist in Manhattan, downtown, Lower East Side in the early '80s.
"Honestly, [it's] one of the best times of my life, and one of the worst times. I hope I can portray or express what a thrilling time that was for me in every way."
She added: "It's not a musical, but there's a lot of music, and there's a lot of the actress who will play me singing my songs, but in places where she's supposed to be singing."