Maduro Announces Plan to 'Improve Everything' and 'Correct Mistakes' Through National Dialogue
Venezuela's President Nicolás Maduro has called for a weekend of national dialogue as opposition demonstrations have rocked the South American nation this week.
"I declare Saturday, May 4 and Sunday, May 5 the days of the great national dialogue, actions and proposals of all representatives of the people's authority, so that they would tell the Bolivarian government and Nicolas Maduro what is necessary to be changed," Maduro said on national television on Wednesday evening, according to Russia's Tass news agency. "I want to adopt a plan to change and improve everything, to correct mistakes," the Venezuelan leader said.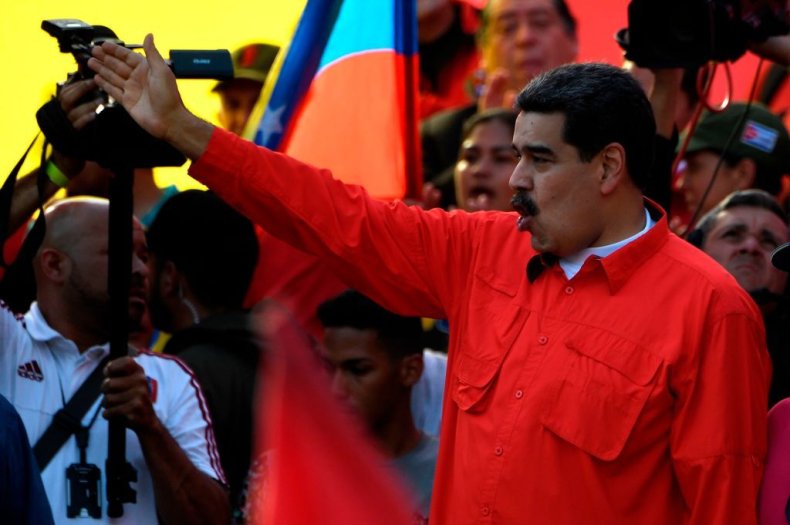 Opposition leader Juan Guaidó, who declared himself to be Venezuela's interim president in January, announced on Tuesday that he had military support and called for a last push to force Maduro from power. Soldiers now loyal to Guaidó and protesters clashed with forces that have remained loyal to the Venezeulan government. Dozens of injuries have been reported and videos showing military vehicles running over demonstrators have been widely shared online.
Allison Fedirka, director of analyst operations at Geopolitical Futures, told Newsweek that Maduro's offer of dialogue was not likely to bring about meaningful change. "Guiado and the opposition have repeatedly rejected Maduro's calls for dialogue," she pointed out. "Also, the opposition only wants to discuss Maduro's departure and new elections, no power sharing agreement or reforms the current government can make."
After Guaidó, who was elected to head to Venezuela's National Assembly legislative body, declared himself interim president the United States and allies throughout the Americas and Europe were quick to recognize him as the Latin American country's legitimate head of state. But Russia, China, Iran, Turkey and Cuba have continued to support Maduro. Russia has sent military forces to support the Venezuelan leader, and the U.S. has alleged that Cuba has also sent troops to bolster Maduro. Cuba has denied sending any military or security forces.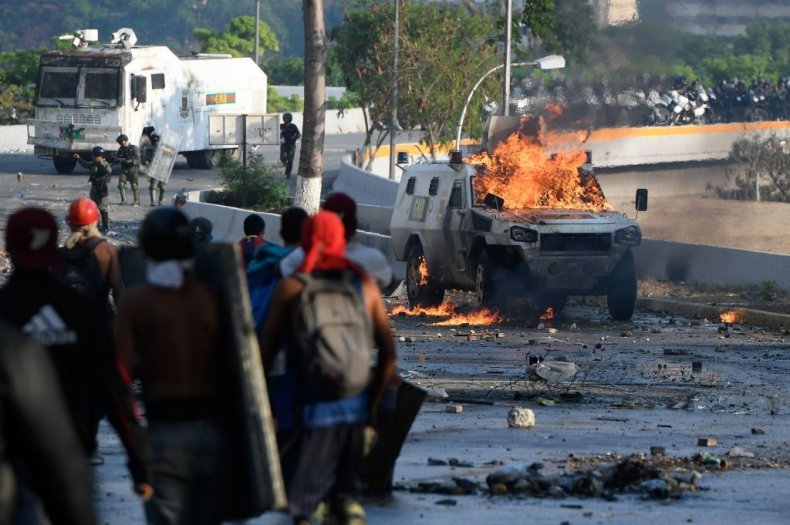 "Honestly, our judgment is that the overwhelming number of military service members in Venezuela support Juan Guaidó and the opposition," President Donald Trump's National Security Adviser John Bolton said on Fox & Friends on Wednesday. But several prominent government officials that Bolton previously said would likely turn on Maduro, have remained loyal despite the violent clashes in the streets.
"People incorrectly refer to what Juan Guaidó is doing as a coup. He's the legitimate president. He's trying to take control of the government," Bolton argued. "The coup here has been by the Cubans and the Russians who have sort of grafted themselves on to Venezuela. I think they're running it in some sense more than Maduro is."
Fedirka told Newsweek that the reputation of the U.S. in Latin America is now at stake based on what plays out in Venezuela.
"If the crisis drags on too long, the region will question Washington's ability to affect change through non-interventionist [or non-]military means," Fedirka said. "It also leaves a negative mark on the U.S. leadership image in the western hemisphere. If the U.S. intervenes militarily, it risks alienating itself from the region and potentially delegitimizing Guaidó's rise to office," she explained.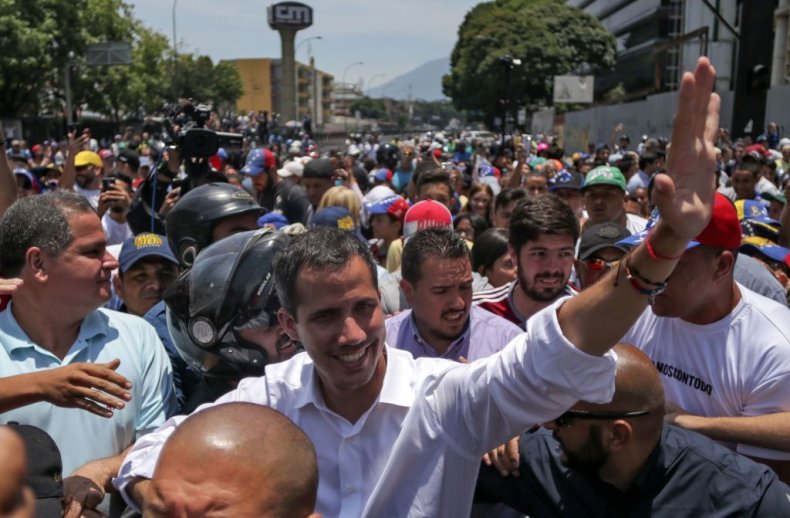 Guaidó has cited a provision in the Venezuelan constitution to justify his claim to power. In the absence of a president, the leader of the National Assembly is required to step in to fulfill the duties of the head of state. The opposition and its supporters argue that Maduro is no longer the legitimate president, dismissing last year's election results. The polls were boycotted by a large portion of Venezuela's population and were condemned by many in the international community as fraudulent.
Since Maduro took power in 2013, Venezuela has experienced the worst economic crisis in its modern history. The formerly oil rich nation has seen inflation soar along with crime and corruption, while ordinary Venezuelans have struggled to purchase the most basic of necessities. While critics of Maduro point to corruption and mismanagement, supporters argue that international sanctions have crippled the economy.
"Right now there is a high risk of unrest continuing [in Venezuela]," Fedirka said. "This means that in coming days and weeks the U.S. needs to make a decisive move or accept Maduro in power. I do not believe the U.S. is ready to fold its cards and walk away."