MAGA Republican Issues Stark Warning to Ron DeSantis
A supporter of former President Donald Trump had some strong words for Florida Governor Ron DeSantis over the weekend.
Trump announced his third presidential campaign in November and so far is the only noteworthy candidate to officially file for the 2024 race, but several other Republicans have been rumored to be mulling bids, DeSantis among them.
One Make America Great Again (MAGA) supporter was very firm in a warning he issued to DeSantis on Twitter. Brenden Dilley, a podcast host and 2018 Arizona congressional candidate, made it known that he wouldn't support the Florida governor if he decided to run in the 2024 presidential primary.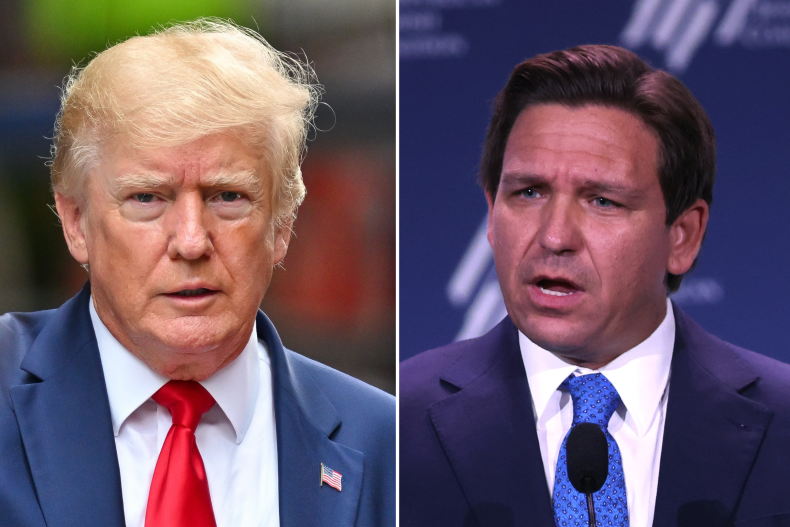 "Full Warning: If Ron DeSantis announces his run for president in 2024, I will not show him or his supporters any quarter," Dilley tweeted Sunday. "We will meme that disloyal dog into oblivion and make him permanently unelectable just like Ted Cruz."
Dilley vied for a House seat in a special election in February 2018 but received only 1.1 percent of the vote to place 11th in the primary that was won by Debbie Lesko, who eventually won the seat.
DeSantis has proven to be a thorn in Trump's side, even if he hasn't announced a bid for the presidency. A recent University of New Hampshire Survey Center poll showed that in a hypothetical matchup between the two, DeSantis led Trump by 12 points. The poll was published a few days before Trump appeared in New Hampshire for a campaign stop.
Trump's campaign responded with a list of 16 polls from mid-December to late this month that showed him leading his hypothetical opposition by at least 3 points, with some of the former president's leads as high as 30 points.
Trump has grown increasingly sour toward DeSantis. He supported DeSantis in his 2018 gubernatorial campaign but refused to back him in the 2022 midterms. Days before the election, Trump began firing shots at the governor, calling him "Ron DeSanctimonious" when speaking at a Pennsylvania rally and calling him disloyal after the 2018 support.
DeSantis easily secured his reelection bid against Democrat Charlie Crist in November with a nearly 20-point victory.
Trump's announcement of another run has received mixed reviews, with some former supporters edging toward a candidate who is less polarizing. Other polls show him as the likely Republican favorite, which Trump is quick to point out on his social media platform, Truth Social.
Last week, Trump shared a graphic without explanation that depicted a poll by Premise Data showing him with overwhelming support in a hypothetical Republican primary. The poll showed Trump receiving 51 percent of the vote, with DeSantis at 30 percent and former Vice President Mike Pence at 9 percent.
Many Trump-backed candidates didn't win their elections in 2022. The Republicans, who expected a red wave to sweep Congress, failed to regain the Senate from Democrats and secured only a small majority in the House.
Newsweek reached out to DeSantis, Dilley and Trump campaign spokesman Steven Cheung for comment.