MAGA Republicans in the House scored a major victory from Speaker Kevin McCarthy on Tuesday following months of turmoil in the GOP conference.
McCarthy, a California Republican, announced a formal impeachment inquiry against President Joe Biden over the business dealings of his son Hunter Biden during a press conference Tuesday morning. House Republicans began probing the younger Biden's business dealings soon after taking control of the House in January.
McCarthy described a culture of corruption among the Biden family, accusing him of abuse of power and obstruction.
"Today, I am directing our house committee to open a formal impeachment inquiry into President Joe Biden. This logical next step will give our committees the full power to gather all of the facts and answers for the American public," he said.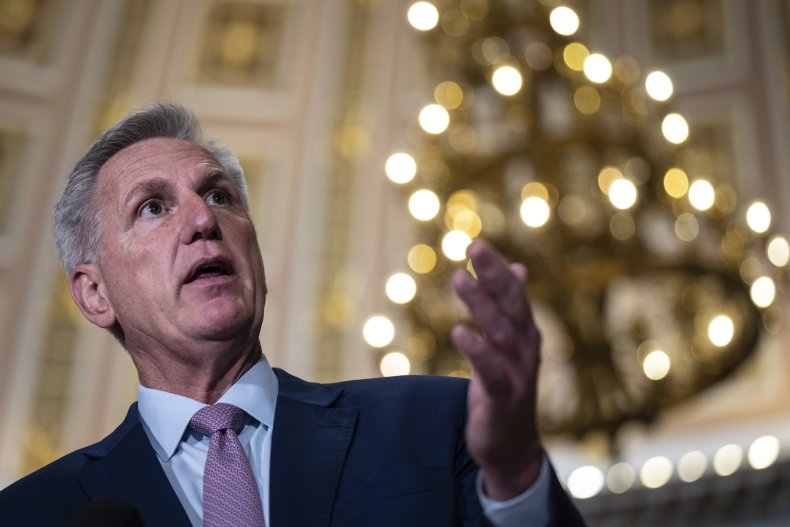 The inquiry will be led by Representatives James Comer, Jim Jordan and Jason Smith, McCarthy said. He did not take questions from reporters at the press conference.
White House spokesperson Ian Sams wrote in a post to social media platform X, formerly Twitter:
"House Republicans have been investigating the President for 9 months, and they've turned up no evidence of wrongdoing
"His own GOP members have said so
"He vowed to hold a vote to open impeachment, now he flip flopped because he doesn't have support
"Extreme politics at its worst."
In a follow-up post, he criticized McCarthy for not holding a vote on opening the impeachment inquiry despite saying in 2019 that the House must "hold a vote of the full House authorizing an impeachment inquiry."
When reached by Newsweek for comment, the White House spokesperson referred to his post.
Newsweek reached out to McCarthy's office via email for comment.
The news comes ahead of an expected contentious battle over a bill to continue funding the government through the next fiscal year. As the House Freedom Caucus has laid out its demands, concerns have grown that Republicans may not reach a deal by the end-of-the-month deadline, fueling concerns of a government shutdown, which would have wide-ranging impacts for millions of Americans.
An impeachment inquiry would allow House Republicans to make their next moves to strengthen their case against the president, including obtaining Hunter Biden's bank records.
Still, the impeachment efforts have faced criticism from Democrats, and even some Republicans, as the investigations have yet to prove that President Biden benefited from his son's business dealings.
Former federal prosecutor Joyce White Vance wrote on X that the Republicans' impeachment attempts are different from when Democrats impeached President Donald Trump.
"When Trump was impeached it was because evidence of high crimes & misdemeanors came to light," she wrote. "Dems acted reluctantly. The MAGA caucus has forced proceedings against Biden w/out evidence, for the purpose of more investigating [although] theirs has not been productive & to try & appease Trump. It is not the serious proceeding the Founding Fathers contemplated & wrote into the Constitution. It's political theatrics at its worst."
Impeachment Inquiry Could Quell Unrest
The inquiry would be a win for the conference's more conservative flank, which has sparred with McCarthy over the debt ceiling, a looming bill to fund the government through the next fiscal year and frustration over the timeline over the impeachment inquiry.
If McCarthy cannot strike a deal between moderate and right-wing Republicans, he may be forced to make concessions to some centrist Democrats to keep the government open—a move that would likely spark outrage from conservatives, who could file a motion to hold a vote on vacating his position at any point.
Several Republicans have expressed frustration with McCarthy, with Representative Matt Gaetz of Florida hinting at support for vacating the office if McCarthy does not cooperate with the Freedom Caucus. However, McCarthy's support for an impeachment inquiry could placate these conservatives ahead of the government funding showdown.
Representative Marjorie Taylor Greene, a staunch Georgia conservative who remains a McCarthy ally, voiced approval for an impeachment inquiry in a post to X.
"It's the right thing to do and our country deserves the House of Representatives to fully investigate Joe Biden and uncover the entire network who colluded to cover up his crimes from the American people," Greene wrote.
Impeachment Inquiry Already Facing GOP Skepticism
However, an impeachment inquiry could also leave several House Republicans in a precarious situation. Currently, 18 Republicans represent congressional districts won by Biden in 2020 and are generally viewed as more moderate than the Freedom Caucus conservatives. Although the House will not vote on the inquiry,supporting impeachment would risk alienating moderate constituents who may have split their vote in recent years.
Some House Republicans have already expressed skepticism over a potential impeachment inquiry.
Ken Buck, who represents a deeply conservative Colorado district, poured cold water on impeachment during a CNN interview last Wednesday.
"I think that we have three committees that are working very hard on uncovering evidence of Hunter Biden's wrongdoing," he said. "They are looking to see if there is a connection with Joe Biden. If they reach that point where they could find evidence of a connection, fine. I think that the Republicans will move forward with an impeachment inquiry. Right now, I'm not convinced that that evidence exists. And I'm not supporting an impeachment inquiry."
Meanwhile, if impeachment is eventually brought to a vote, the Democratic-led Senate would almost certainly reject it, as Democrats have been critical of Republican investigations into the Biden family. Several Republican senators have also voiced skepticism.
"I don't see the glaring evidence that says we need to move forward," Senator Shelley Moore Capito, a West Virginia Republican, told CNN. "I didn't see it in the Trump case and voted against it. I don't see it in this case."
Update 9/12/23, 12:20 p.m. ET: This story was updated with additional information.