'A Magnificent Moment': Crowd Cheers as Charlottesville Removes Confederate Statue
Crowds in Charlottesville, Virginia, cheered Saturday morning as workers removed a Confederate soldier statue from its position outside a county courthouse—a decision made amid a summer of civil unrest and more than three years after the city had its own encounter with racial violence.
"This is a magnificent moment," local community organizer Don Gathers told The Washington Post. "Much of the racial tension, strife and protest we're seeing across the country emanates from right here in Charlottesville. But now we're moving the needle in a positive way."
Perhaps Gathers was referring to the events of August 12, 2017, when white supremacist and neo-Nazi groups gathered in the college town to protest the proposed removal of the monument to Confederate General Robert E. Lee, which stood in Charlottesville's former Lee Park.
Virginia State Police declared the Unite the Right rally an unlawful assembly, and self-titled white supremacist James Fields Jr. drove his car through a crowd of counterprotesters, killing Heather Heyer and injuring 19 others. Fields Jr. ultimately pleaded guilty in 2019 to 29 federal charges, including hate crimes.
While the divisive statue of Lee remains in Charlottesville, crowds gathered Saturday to celebrate the removal of "At Ready," the bronzed figure of a Confederate soldier and his cannon, which stood for 111 years in front of the Albemarle County courthouse.
Many of those who stood to watch the statue's removal wore blue Union Civil War caps, and danced to music broadcast by a local radio station, the Post reported. City workers used a crane to lift the monument from its pedestal and take off the bronze plaques from its sides.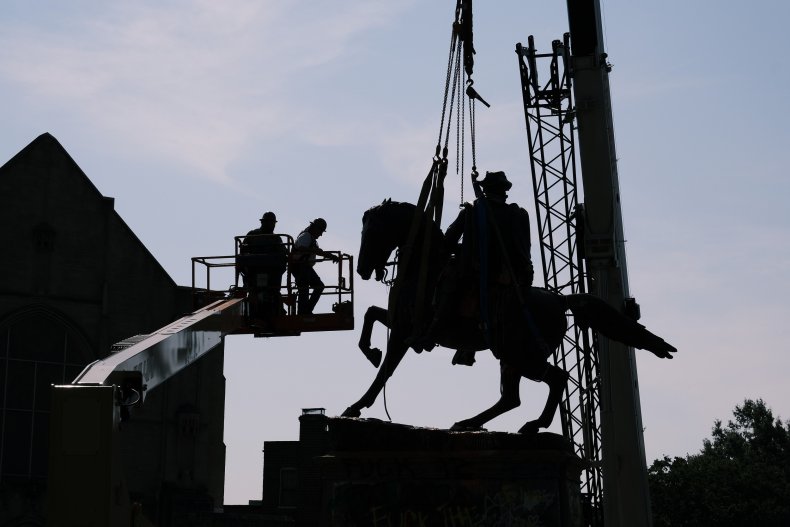 The scheduled removal came after Albemarle County supervisors unanimously voted in August to take it down. Board chairman Ned Gallaway said that it was time to leave the "statue and his accessories to the history books," according to the Associated Press.
Virginia state law requires that that the county considers relocating the statue to museums, historical societies or militarily battlefields. It will go into storage until a permanent decision is made.
While the Charlottesville city council voted in 2017 to remove both the Lee statue and a nearby monument to Thomas "Stonewall" Jackson, another prominent Confederate general, a small group of Confederate supporters are still fighting to keep them around. Shortly after the city council's decision, the group filed a lawsuit against their removal and the case is still waiting to be heard in the Supreme Court of Virginia, the Daily Progress reported.
Newsweek contacted Albemarle County for comment, but did not hear back in time for publication.
The statue's removal Saturday is the latest example of counties and cities around the U.S. reckoning with their pasts, many of which include ties to the Confederacy. Statues and monuments seen as glorifying or celebrating leaders like Jackson and Lee became an early target of protesters in June following the death of George Floyd.
Floyd, a Black man, died May 25 while in the custody of Minneapolis police officers. His death reignited the Black Lives Matter movement and spurred protests against police brutality and systemic racism.
In nearby Richmond—the former capital of the Confederacy—Mayor Levar Stoney ordered Confederate statues and monuments on public city property to be removed, not bothering to wait for the Richmond City Council to follow the two-month long process for statue removals, according to The Virginia Mercury.
Stoney abruptly made his announcement July 1, and crews were removing the first statue, a monument to Jackson, a mere hours later.