Magnum Ice Cream Slammed for Comparing 'Guilty Pleasure' Dessert to Going to Prison for Being Gay
A major ice cream company is being criticized for a new ad that compares the "guilty pleasure" of enjoying one of its sweet treats to a gay man being arrested for showing affection to his boyfriend.
Magnum ice cream, owned by Unilever, recently launched an commercial on Spotify in the UK that features a voiceover by a man facing discrimination in his homeland.
"A hug for my boyfriend—that's my guilty pleasure," says the unnamed narrator, who speaks English with an indeterminate accent. "Because in my country, just a simple hug with the man I love could send me to prison for more than 10 years."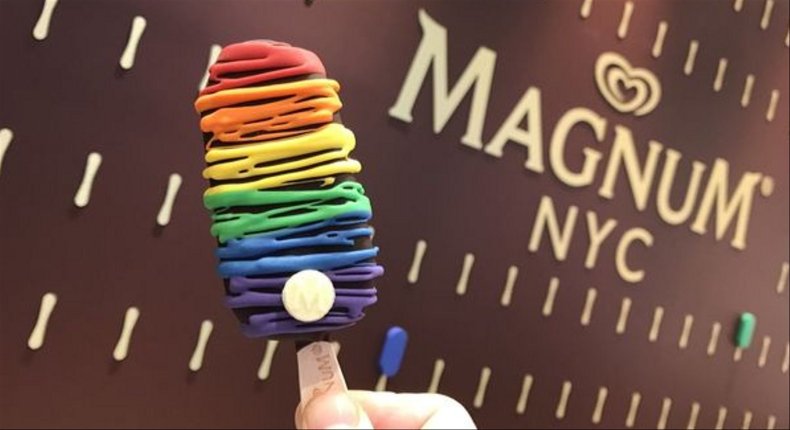 A Magnum spokesman said the Dutch-British company wanted "to remind people that what is considered a guilty pleasure isn't always what you would expect."
The ad was poorly received by some, with one Twitter user calling it "disgusting, racist and homophobic."
"@MagnumIceCream your advert comparing the potential to be killed if you're gay to the guilty pleasure of eating a Magnum is disgusting, racist and homophobic," tweeted one follower. "Please withdraw it immediately."
"I know most of y'all probs have Spotify premium so don't hear the ads, but really unsure about the Magnum ad that's talking about homosexuality being a 'guilty pleasure' in countries where homosexuality is illegal," wrote another. "Like, thanks for the awareness but also, like, not okay."
Another chimed in, "Why the f--k is Magnum running an advert about being queer in a homophobic country being fucking comparable to a chocolate ice cream?"
Homosexuality is illegal in at least 70 countries, with penalties ranging from imprisonment to the death penalty.
Magnum has engaged in outreach to the LGBT community in the past with better results: In 2015, the company released a series of videos featuring gender-nonconforming people as part of its #BeTruetoYourPleasure campaign.
And in June 2017, Magnum released a special Pride Month ice cream bar, with a portion of proceeds going to GLAAD.
In 2016, Richard Hammond, co-host of Amazon Prime's The Grand Tour, provoked a media backlash by suggesting that eating ice cream implied a man was gay. During a discussion about a car's leather interior, co-host Jeremy Clarkson lamented the light color wouldn't allow the driver to "enjoy a chocolate Magnum ice cream [bar]."
"It's all right, I don't eat ice cream," Hammon replied. "It's something to do with being straight."
As his cohosts looked on flummoxed, Hammond explained, "There's nothing wrong with it, but a grown man eating an ice cream—it's that way, rather than that way."