Maisie Williams Details 'Mental Transformation' for Her Role on 'Pistol'
Maisie Williams used her time in the makeup chair to physically and mentally transform herself in the new FX show Pistol.
The Game of Thrones actress has a starring role in the new biographical drama about the Sex Pistols. Created by Craig Pearce and directed by Danny Boyle, all six episodes are available to watch on Hulu now.
Williams portrays the English model Pamela Rooke, aka Jordan, who is known for her work with Vivienne Westwood (played by Talulah Riley). Pistol documents how Jordan, Westwood and members of the Sex Pistols were instrumental in the rise of the punk movement in 1970s Britain.
Newsweek spoke to Williams and Riley who shared what it was like getting into, and out of, character each day.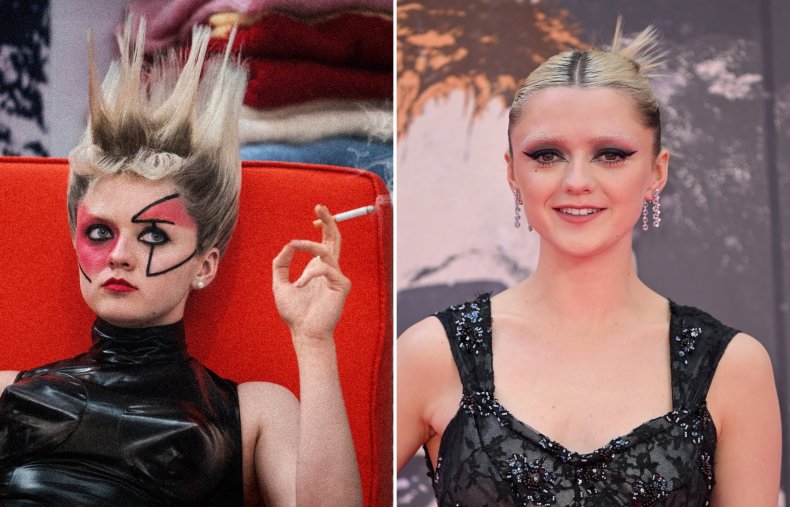 Jordan's appearance in Pistol is true to her look in real life. She sports provocative clothing, artistic makeup on her face, and often towering hairstyles. As a result, Williams spent many, many hours in the makeup chair each morning before shooting.
"I can use that time as like a meditative period to mentally transform as well as go through the physical transformation," Williams told Newsweek. "But also, I think we got on so well with all of the team and the research that everyone had done was just so extensive. So it was ultimately just nice to chat about all the things that we've learned about like the people that we're creating in the mornings or the scenes that we're doing."
The Sex Pistols were formed in London in 1975, they made it big in 1977 with their single "God Save the Queen," and then broke up after a disastrous American tour in 1978.
"I feel like there was a lot of, like 50-year anniversaries of like specific dates, of like gigs or whatever. So it was like kind of nice sometimes like different days had like different energy like that," Williams said.
Riley, who plays legendary designer Vivienne Westwood, added that the makeup chair was the place to be for the cast at the end of the day too.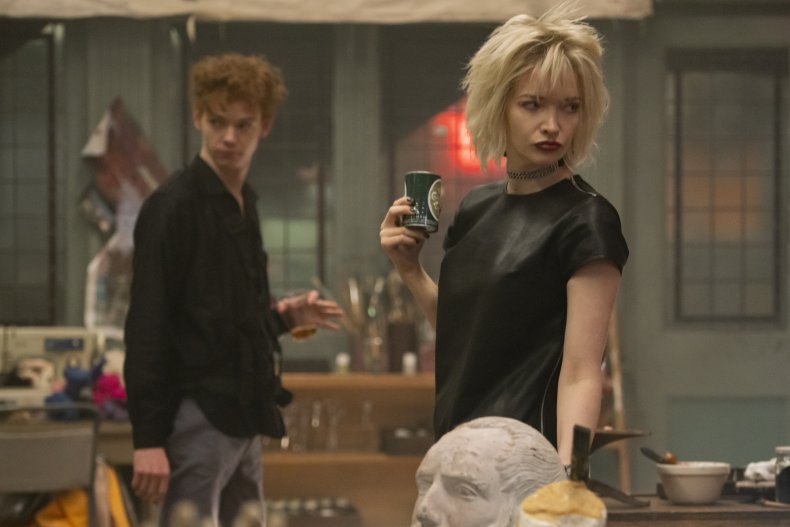 "Our makeup artist was fantastic, wasn't she?" Riley told Newsweek and Williams. "Her trucks, like the best truck to hang out and she had beers with the boys at the end of the day. Yeah, it was quite fun getting your makeup taken off as well as getting it."
Both Williams and Riley both got to meet their onscreen counterparts in person before appearing in Pistol.
Jordan died of cancer in April 2022 at the age of 66, but before that she managed to visit Williams on set during rehearsals. "It's really great to be able to sort of drink in the aura of someone and the way that everyone in the room reacts to them and what it is that they do versus the way that other people project onto them," Williams reflected on her experience with the innovator.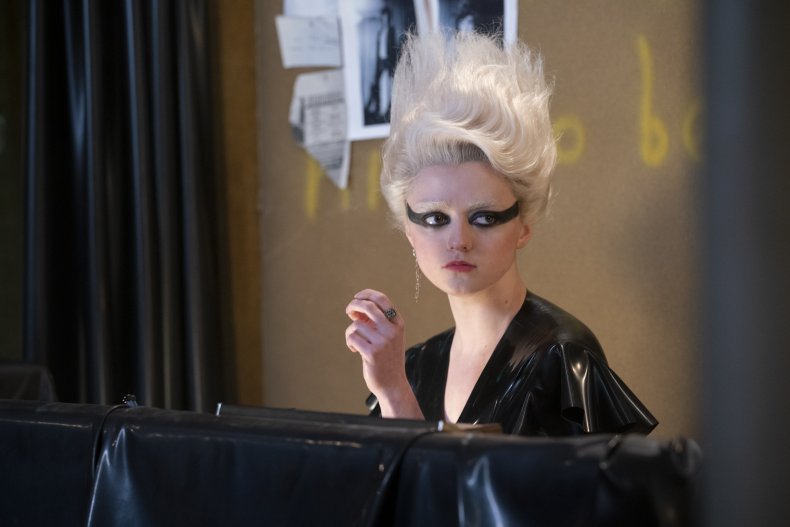 "A lot of her outfits were kind of inspired by the dance attire that she'd worn when she was younger, so I was just really intrigued to know about her childhood, her relationships.
"I was just sort of like, 'where did you come from? Where did all of these influences come from?' It was really just interesting to chat with her about that," Williams added. "Then also just to see the way that she could command a room very effortlessly, and I had to try and do the same."
Riley had a similar experience prior to shooting, as she traveled to Vivienne Westwood's business headquarters to meet with the builder of the fashion empire.
"She was lovely," Riley confirmed. "It was great just to get a feel for her and how she sounds and the physicality. Obviously, what we're doing is fiction. It's not really, really our characters but it was it's nice to just get a tone in there."
The SEX Boutique plays a large part in Pistol, as it's where we meet the character of Westwood and her partner Malcolm McLaren (Thomas Brodie-Sangster) for the first time. In real life, the shop found at 430 King's Road, London played an integral part in providing the clothing for the Sex Pistols and the garbs that defined the look of the punk movement.
Riley compared the surroundings of the SEX Boutique on set to the sites she saw at Vivienne Westwood's HQ. "It was fantastic to see all her designs out on the walls and the materials. And it was quite evocative of what we were doing on set, because obviously now, one might say, she has more name recognition than the Sex Pistols," she said.
All six episodes of the limited series Pistol are available to watch on Hulu now.