Major Winter Storm to Make Travel Difficult 'If Not Impossible'
Americans in the northern United States will face a severe winter storm starting Monday night in the northern Rocky Mountains and continuing for several days.
The storm is expected to bring snow, strong winds and ice for some areas as it moves across the upper United States. The National Weather Service (NWS) has issued myriad winter storm watches, warnings and advisories for areas in the Rocky Mountains to the upper Midwest. The storm is anticipated to start Monday night and move through the upper United States until early Friday when it exits after impacting New York. Areas in the storm's path could see anywhere between 6 inches and 2 feet of snow accompanied by dangerous winds, with meteorologists expressing concern about some of the areas most likely to be impacted.
The Weather Channel reported that the winter storm could make travel "extremely difficult, if not impossible" in Wyoming, South Dakota, southern Minnesota and northern Wisconsin as winds create blizzard conditions and frigid air becomes "life-threatening" for stranded motorists.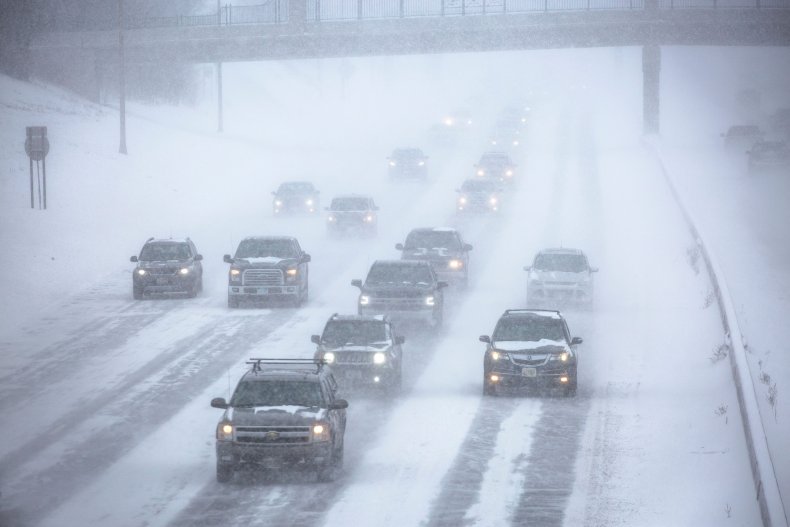 Southern and central Minnesota are expected to see the worst of the snow with up to 2 feet. The Weather Channel warned it could be the Twin Cities' heaviest snowstorm in over a decade. NWS Twin Cities quipped on Twitter that "odds are, a ruler won't cut it when measuring this one".
AccuWeather Director of Forecast Operations Dan DePodwin told Newsweek that the worst conditions in Minnesota will be experienced Wednesday afternoon to Thursday morning.
"We will see very heavy snow falling at rates of 1 to, in some places, maybe even 2 inches per hour," DePodwin told Newsweek, adding that wind gusts could reach up to 40 miles per hour.
DePodwin said blizzard conditions could be experienced across much of southern Minnesota, parts of South Dakota and Nebraska. Dangerous travel conditions also could be experienced in Denver, Colorado, during the day on Wednesday as the city receives anywhere from 3 to 6 inches of snow. Green Bay, Wisconsin, and Traverse City, Michigan, also could see heavy snow. DePodwin said a "swath of ice" is forecasted to hit north of Chicago into lower Michigan and western New York.
DePodwin told Newsweek that "treacherous" travel conditions and power outages are likely.
NWS also advised Americans in the Plains states about the storm's anticipated impacts. NWS released a warning that "extreme impacts" from the storm could hit the Twin Cities. NWS' scale classifies extreme impacts as causing "substantial disruptions" to everyday life. In addition to impaired travel conditions, "life-saving actions may be needed" throughout the storm.
The "extreme impacts" classification had one meteorologist concerned.
"So... the Winter Storm Severity Index for this week has the Twin Cities in the Extreme Impacts category. That is the first time I've seen this," Fox9 meteorologist Cody Matz tweeted. "The rest of central & Southern MN in the Major Impacts category. That goes to show just how epic this week really could be."
Many meteorologists urged those with travel plans in the area to reschedule. NWS Twin Cities tweeted that the worst of the snow would hit Minnesota in two separate snowfalls—one was expected late Tuesday afternoon and the second was expected to begin Wednesday afternoon.
As the storm moves across the states, sleet and freezing rain are expected to develop. The Weather Channel reported that southern Great Lakes states and northeastern states could see the worst of the ice Wednesday night and Thursday morning.