How 'Major' Winter Storm Will Impact U.S. This Week
Spring may be just a few weeks away, but winter still has a nasty sting in its tail—with an icy storm expected to batter much of the country this week.
Snow, sleet, fierce winds, and freezing rain could plunge a region of the U.S. into the grip of a "major" storm as it travels across several states over the following days.
Residents of some areas have been warned that they could suffer frostbite in as little as 30 minutes if they venture outside in the extreme weather where "cold wind chills as low as 35 below zero" were predicted.
The West Coast, the Northeast, and the Midwest are all due to be severely affected, with power outages, fallen trees, and travel disruption all forecast along with the grim weather. Farmers have been warned their livestock may also be at risk.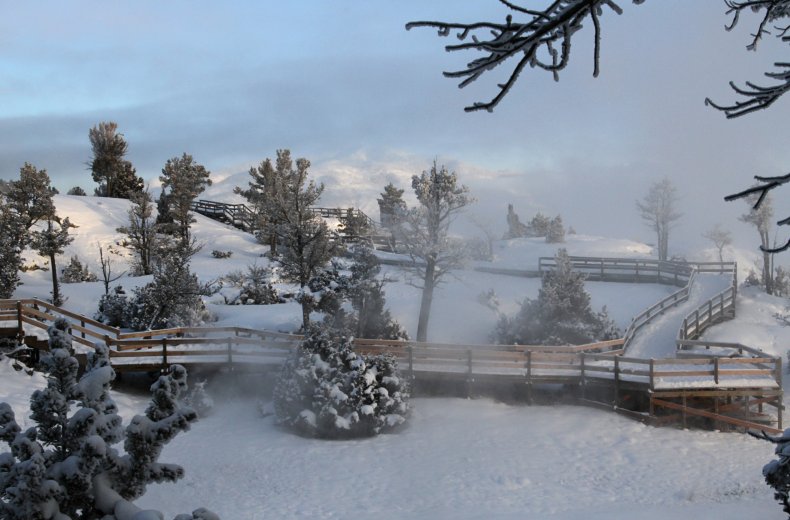 The National Weather Service's Weather Prediction Center tweeted: "The major winter storm which will plague a large portion of the country will begin today [Monday] across the Northwest. Much of this week will feature significant snow, sleet, freezing rain, and wind. Widespread travel and infrastructure impacts are expected."
The center shared a chart detailing key warnings about the storm: "The combination of heavy snow rates and strong wind gusts may result in blizzard conditions in parts of the West and Midwest, leading to difficult travel, as well as potential power outages and tree damage. In some places, winds will likely gust over 50 mph."
While "treacherous travel conditions are likely" further east, the forecast added, "record lows and dangerous wind chills" are predicted to stretch from the West Coast to the Northern Plains.
Meanwhile, the National Weather Service issued a string of blizzard warnings on Monday, including an "urgent" message relating to residents of the cities of Rock Springs and Green River in Wyoming. The warning, which will remain in place from 2:00 p.m. on Tuesday through 11:00 p.m. on Wednesday, urges residents that up to 14 inches of snow could accumulate with winds gusting as high as 65 mph.
It said: "Travel will be extremely difficult to impossible. Widespread blowing snow will significantly reduce visibility. Very strong winds could cause large snow drifts on the order of several feet. Cold wind chills as low as 35 below zero could cause frostbite on exposed skin in as little as 30 minutes."
Travel should be undertaken in emergencies only, it added, with a winter survival kit essential for any journeys. Jeffrey City, also in Wyoming, was hit with a similar warning to start a little later on Tuesday at 5 p.m., but which will also remain in place until 11:00 p.m. on Wednesday.
Meteorologist Heather Tesch, of the Weather Channel app, also issued a warning to her viewers. As graphics on the screen detailed the weather pattern unfolding, she said: "This is the kind of setup that can bring potent storms, both on the northern end with lots of snow, but also on the southern end with storms."
Americans should keep an eye on their own state's weather conditions and check the National Weather Service regularly for updates.
News of this latest storm comes after a bitter winter that has already ravaged California, with FEMA revealing that the price tag is estimated to stand at "several hundred million" to repair all the state's damage.
Last week, even the usually balmy Las Vegas saw snow.
In January, cars in Dallas, Texas, slid dangerously out of control as a highway was effectively turned into an ice rink during a fierce storm. More than 400,000 homes were left without power.
Thousands of flights have been delayed or cancelled so far this year as planes were grounded due to poor weather. Travellers with flights planned over the coming week should check their airline's updates for news about their journeys.