Majority in 6 Swing States Disapprove of Trump's Handling of the Economy: Poll
A majority of Americans in six key swing states disapprove of President Donald Trump's handling of the economy, according to a new poll by CNBC and Change Research.
Many political strategists believed the strength the American economy enjoyed during Trump's first three years in office set him up for a strong re-election run in November. But the economic shutdown caused by the coronavirus pandemic gave Americans reasons for concern that they didn't have before January.
As likely voters expressed doubt about the strength of the U.S. economy, more than half of those polled said they disapproved both of Trump's performance in office and his handling of the pandemic. Trump experienced a rise and fall of his ratings throughout his time in office, as many leaders have, but his approval among voters hit an 18-month low in early July following a month of political strife connected to the recent Black Lives Matter protests and the ongoing threats posed by the pandemic.
"These numbers cannot be disconnected from voters' dissatisfaction with the president's handling of COVID-19," pollsters said, adding that disapproval of Trump's response to the virus was at a steady 57 percent in swing states.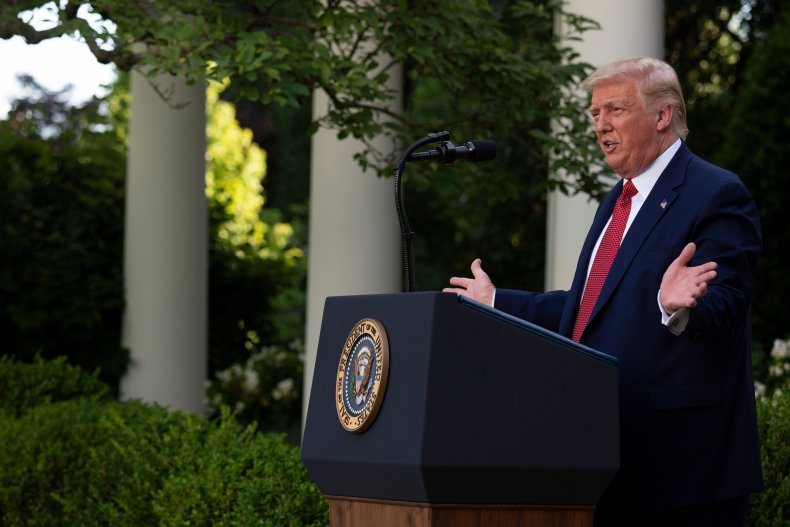 The poll published Wednesday is the most recent bimonthly survey conducted by Change Research that looked at voters' opinions nationally and in six important swing states: Arizona, Florida, Michigan, North Carolina, Pennsylvania and Wisconsin. Researchers for this latest poll spoke with 4,332 likely voters in the battleground states and 1,258 likely voters nationally between July 10 and 12 and reported a 1.49 percent margin of error for the battleground results and a 2.76 percent margin of error nationally.
Though the pandemic is a serious issue for most voters, a majority of those in swing states said the economy, jobs and the cost of living in the U.S. remained their top concerns heading into the general election, with 61 percent saying their views on the current economic climate and job market were negative. Half of the likely battleground state voters polled said the economic shutdown caused by the pandemic affected them or someone in their household personally through wage cuts, and 37 percent said the pandemic resulted in their own or a family member's job loss. Sixty percent of respondents also said they had a personal connection to at least one virus patient, a 10 percent increase from a similar question Change Research asked one month ago.
A slim majority—51 percent—of battleground state respondents said they approved of Trump's handling of the stock market, but a majority gave him negative ratings for most other economic issues, including his administration's ability to help those most in need during the pandemic. Voter disapproval in battleground states extended beyond Trump to the Republican Party: Pollsters found a majority believed presumptive Democratic presidential nominee Joe Biden and his party would do a better job handling the pandemic, assisting the middle class and helping Americans secure affordable health care.
The national poll also found 52 percent of likely voters believed Biden and the Democrats would handle the economy better than Trump and the Republicans, an issue that was evenly split among likely voters in the six swing states.
As the general election approaches, many state leaders are struggling with the decision of whether or not to roll back reopening efforts as new virus cases surge throughout the country, with Arizona and Florida emerging in late June as two of the nation's most consequential hot spots. An average of 59 percent of the likely voters across the six battleground states said they thought the impact of the pandemic was getting worse, with 71 percent saying they had "serious concerns" about the virus.
With several states across the country still setting new single-day case records, pollsters found that Americans appeared to be accepting the idea that the pandemic would last longer than initially anticipated, with an increasing number of Republicans, Democrats and independents saying they were wearing masks and limiting activities outside their homes.
"It is harder for voters to deny the reality of the spread of the virus as an ever increasing number of people report a personal connection to someone with COVID-19," the pollsters said.