Reopening the Economy Now Is Donald Trump's Last Hope of Entering the 2020 Election With Good GDP Data
President Donald Trump's push for states to swiftly reopen may be the best chance he has of entering the 2020 election with positive economic data and, if the rebound is strong, some of the largest numbers on record.
The Bureau of Economic Analysis will release its first estimate of third quarter GDP data on October 29, less than a week before America votes. June is the final month of the second quarter during which analysts expect the economy to contract by around 40 percent.
If the U.S. economy has substantially reopened by July, the quarter-on-quarter GDP growth rate could reach above 20 percent, per some of the more optimistic forecasts, offering a vital boost to the Trump campaign in what is shaping up to be a close-fought election.
"It's probably a game-changer for the president, and I think you could see the race tighten immediately, if not Trump moving into the lead because of that," Chris Wilson, CEO of WPA Intelligence and a Republican strategist, told Newsweek.
Before the current crisis, Trump had enjoyed robust economic growth and record unemployment data, which his re-election campaign hoped to utilize. Recent polling shows voters view Trump more favorably on the economy than his likely Democratic rival Joe Biden.
A Fox News poll of 1,207 registered voters between May 17 and May 20 found that 45 percent trusted Trump on the economy against 42 percent who said the same of Biden, though there was a margin of error of 3 percentage points.
An Economist/YouGov poll showed a similar result. The poll of 1,500 adults between May 17 and May 19 found that 38 percent believed the economy would improve were Trump re-elected and 35 percent thought it would get worse.
By comparison, 38 percent said the economy would get worse if Biden were elected president and 31 percent thought it would improve.
Not only will reopening the states lift the economy overall, but it could also trigger a sharp reversal in the unemployment rate, which has spiked as millions of Americans found themselves out of work because of the pandemic.
"A fast economic recovery ahead of the election would clearly benefit Trump," Alex Conant, president of political consultancy Firehouse Strategies, and former communications director on Sen. Marco Rubio's 2016 presidential campaign, told Newsweek.
"His argument for re-election is that he built a strong economy before the pandemic and he can do it again. Economic growth ahead of the election would help that argument."
Conant said it was "hard for presidents to win re-election during a recession," adding that none had done so in modern times.
"It's always hard to defeat an incumbent president, especially if the economy is strong," he said. "Fairly or not, voters credit the person in charge when things are going well, and blame them when things are going poorly."
But reopening carries a substantial risk of igniting infections again. More than 100,000 Americans have already died with COVID-19 and the lockdowns are helping to slowly bring the pandemic under control. Doctors have warned that America is unprepared for a second wave of infection.
While Americans are anxious about the economy, at the moment they tend to prioritize health. A YouGov poll in May of 1,640 U.S. adults found that 62 percent were more worried about the public health impact of COVID-19 than the economic effects.
Moreover, 65 percent said the U.S. should only fully reopen its economy when health officials could properly track and trace cases. Thirty-five percent said the U.S. should reopen as soon as possible to stop the economic damage.
The same Fox News poll that put Trump ahead of Biden on the economy also found that 55 percent thought the U.S. should wait to reopen even if it prolonged the economic crisis.
Voters are acutely aware of the pandemic's threat. A hasty reopening that causes case numbers to spike—and, inevitably, deaths—could backfire on the president, who would likely shoulder a big portion of the blame amid more lockdowns and economic pain. He is already facing low approval ratings for his pandemic response.
"In the short run, easing economic restrictions provides a boost to GDP while increasing the risk of accelerating the spread of the virus," John Leer, an economist at the pollster Morning Consult, told Newsweek.
"In the long run, an acceleration of the spread of the virus will likely wreak additional havoc on the economy."
Morning Consult's daily consumer confidence data shows sentiment is negatively correlated with the total number of confirmed cases in the U.S.
"If the virus is spreading in New York or Washington state, consumer confidence and spending in Colorado and Georgia will still drop, thus pulling down GDP growth," Leer said.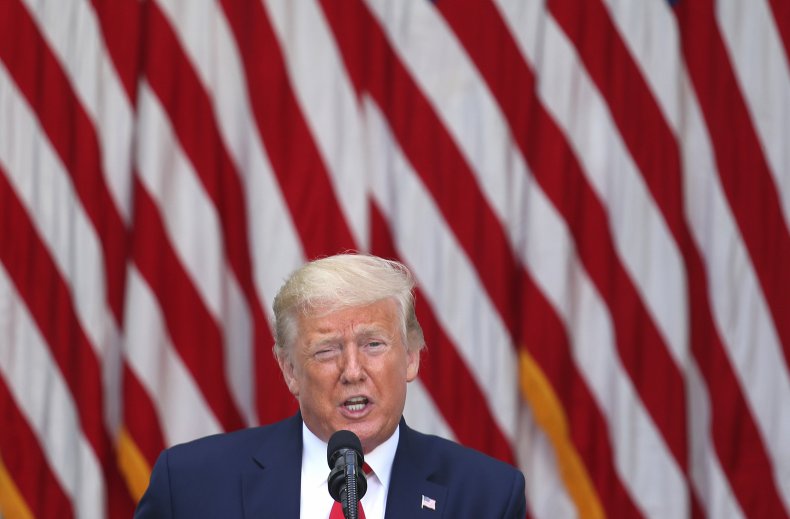 Early on in the crisis, many analysts had hopes of a V-shaped economic recovery once the pandemic began to subside. Today, the reality looks less optimistic, and a recovery is likely to be steady rather than sharp.
Joel Prakken, chief U.S. economist at IHS Markit, an economic data and intelligence firm, said the third quarter has to produce a positive number because April and May are the trough for consumer activity due to the lockdowns.
"However, there is a very wide range of estimates about how strong the third quarter is going to be," Prakken told Newsweek, adding that IHS Markit is forecasting somewhere around 5 percent growth, but he had seen estimates by others significantly higher than that.
He thinks the economy probably won't reach its pre-virus peak until 2022, primarily because the life sciences group within IHS Markit believes an effective COVID-19 vaccine will not be available for widespread distribution until late next year, and there is no guarantee of one.
"In that kind of environment, with secondary waves possible and consumers pretty reticent, and old capital not as productive as it used to be because restaurants will be operating at reduced capacities, so will movie theaters, so will airplanes, there'll be some drop in overall productivity in the economy and we're looking for a pretty cautious recovery," Prakken said.
Andrew Hunter, senior U.S. economist at the consultancy Capital Economics, said his firm is expecting GDP growth of around 20 percent in the third quarter, though that is assuming no second wave, which he said is a "big risk."
In any case, a full recovery to the pre-virus peak could take a long time, with some sectors struggling much more than others, and businesses dying out. The most-affected sectors, such as tourism and hospitality, "are probably going to take years to fully recover," Hunter said
Hunter noted, as did Prakken, that consumer activity is subdued in states that have reopened, an ominous sign for anyone in the Trump campaign pinning their hopes on a rapid recovery.
"While data from Apple Maps and on weekly gasoline consumption suggest that people are now getting out and about again—in some states driving activity has already returned to pre-virus levels—spending is recovering only gradually," Hunter told Newsweek.
"Movie ticket sales, restaurant dining and air passenger travel are still running at a fraction of previous levels even in those states which have been 'open' for several weeks now."
And, even if the third quarter GDP data does throw out some bumper numbers for the Trump campaign to staple to their campaign literature at the last minute, it may be too late, even with the well-documented correlation between economic health and voting.
"Third quarter GDP will be reported way too late to have any impact on the election if the usual correlations hold. It's the state of the economy six months before that determines this," Prakken told Newsweek.
"Even if the third quarter is up, the unemployment rate could still be 25 percent. And in these models that predict election outcomes, it's usually two things that are in there; the unemployment rate and growth of disposable income six or nine months before.
"I think it's second quarter GDP that's going to be pretty devastating for the election outcome. We're going to get that in late July, about the time that we're going to be having conventions, if we're having them.
"And in the middle of all that and the campaign ramping up, you got a -40 percent growth rate of GDP and an unemployment rate at 20 percent. That's not a good combination for any candidate to be running on, particularly one that already has favorability ratings that are not so favorable."
If the economy doesn't rebound fast, Wilson said, then Trump faces a greater challenge in seeking re-election. "Because going into March… his greatest strength was the fact that unemployment was at an all-time low," the strategist told Newsweek.
"If that does not bounce back, then he's got to win the election on something other than the economy, and that'd be a more challenging fight for him. I don't mean to imply this isn't a winnable fight, it's certainly a winnable fight, but if the economy does bounce back, I think he's in a much better position."