Majority of Americans Don't Trust Donald Trump to Tell Truth About Coronavirus Threat: Poll
Most Americans do not trust President Donald Trump to be honest about the COVID-19 threat, a new poll has found.
The latest survey from Yahoo! News and YouGov found that 53 percent of polled U.S. adults did not have faith in the president to tell the truth about the threat of the new coronavirus, while a third of those polled said they trusted the commander-in-chief.
A further 14 percent of the 1,635 U.S. adults polled said they were "not sure" whether they trusted Trump on the matter.
Women were less likely to trust the president than men, according to the poll results, which found 56 percent of women did not personally trust the president to be honest about COVID-19 while just 49 percent of men said the same.
A high percentage of Democrats also said they did not trust Trump to give an honest assessment of the new coronavirus threat. More than three quarters (79 percent) of 569 polled Democrats said they did not trust him on the issue, as 73 percent of Republicans said the opposite.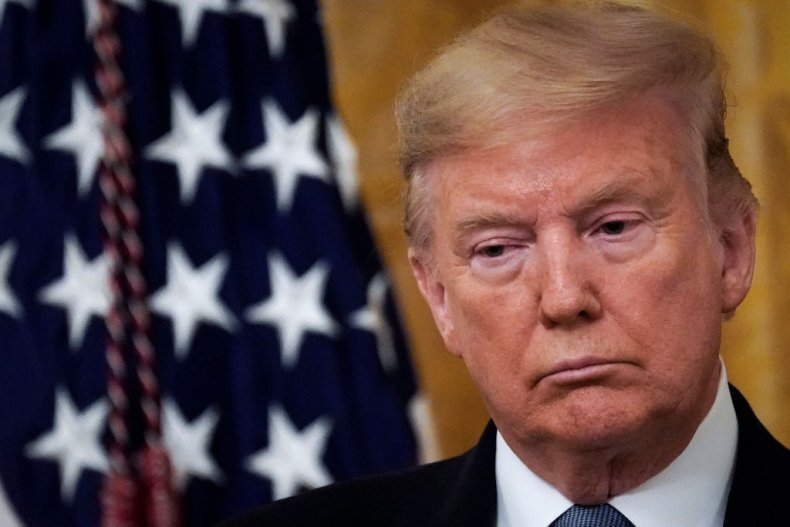 When asked if they were satisfied that the Trump administration was doing everything it could to stop the virus, a plurality (44 percent) of respondents said they were not. More than a third (37 percent) told pollsters they were satisfied while a further 19 percent said they were not sure.
Forty-six percent of respondents said they either "strongly" or "somewhat" disapproved of the way President Trump had handled the new coronavirus, while 41 percent approved of his performance.
YouGov and Yahoo! News conducted the poll between March 10 - 11. Its margin of error stood at 3.2 percent.
The new survey's results were published after the president appeared to row back on his initial position on the COVID-19 pandemic earlier this week.
Trump tweeted a comparison between COVID-19 and the flu on Monday, saying that "nothing is shut down" by the spread of the virus.
"At this moment there are 546 confirmed cases of CoronaVirus, with 22 deaths. Think about that!" he added.
But as the spread of the new coronavirus grew and a leading member of his own task force against the disease warned that it was much more lethal than the flu, President Trump seemed to shift his stance on COVID-19.
"The Media should view this as a time of unity and strength. We have a common enemy, actually, an enemy of the World, the CoronaVirus," he wrote on Twitter Wednesday. "We must beat it as quickly and safely as possible. There is nothing more important to me than the life & safety of the United States!"
The president also announced further measures aimed at curbing the spread of COVID-19 in a Wednesday address, including a 30-day European travel ban that comes into effect at 11:59 p.m. (ET) on Friday.
At the time of writing, more than 1,600 confirmed cases of COVID-19 have been recorded in the U.S. by the Johns Hopkins University tracker.
A total of 40 deaths and 12 cases of total recovery in America have resulted from the virus thus far.
Majority of Americans Don't Trust Donald Trump to Tell Truth About Coronavirus Threat: Poll | U.S.