Majority of Americans Support Calling in Military to Assist Police During Nationwide Unrest, Polling Shows
New polling shows that a majority of Americans, including nearly half of Democrats, support calling in the military to assist local police in handling the nationwide unrest that has accompanied peaceful demonstrations commemorating George Floyd, who died last week in Minneapolis police custody.
Morning Consult conducted the survey from May 31 to June 1 and found that 58 percent of voters support using the military to deal with protests and demonstrations across the country, alongside the police. Just 30 percent of respondents said they'd oppose such a measure.
Furthermore, 33 percent (one-third) of respondents said they "strongly" support sending in the military, while an additional 25 percent (one-quarter) said they "somewhat" support the move. Only 19 percent of voters "strongly" opposed deploying the military, while 11 percent "somewhat" opposed it. The survey's margin of error was plus or minus 2 percentage points.
Republicans were more likely to support the proposal, with 77 percent in favor of sending in military troops. Among Democrats, 48 percent said they'd support deploying troops to cities rocked by protests. And 52 percent of independents also backed such action.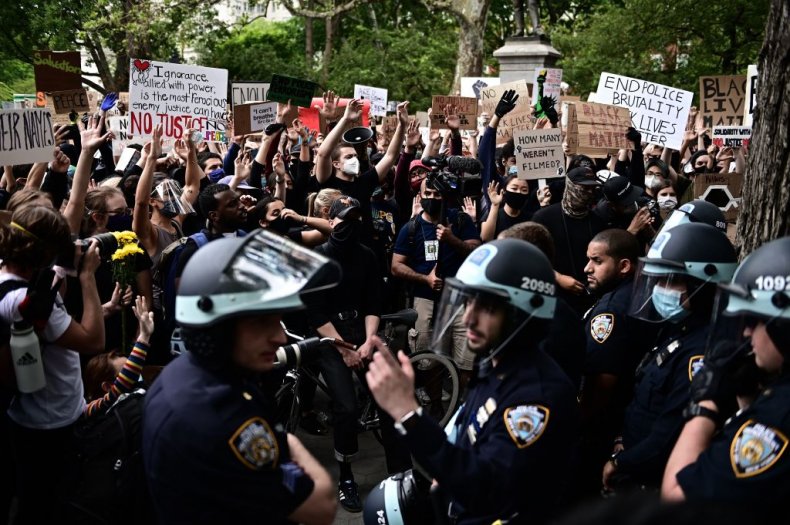 Large demonstrations have spread across the country in the wake of Floyd's death. He died May 25 after being detained by Minneapolis police for allegedly attempting to use a counterfeit $20 bill. A video of the incident quickly went viral online, showing white police officer Derek Chauvin pinning down Floyd, who was black, as he kneeled on his neck for nearly nine minutes.
Floyd repeatedly yelled "I can't breathe" while onlookers urged Chauvin to stop. Shortly afterward, Floyd was pronounced dead at a nearby hospital. Chauvin and three other officers involved in the incident have been fired, and Chauvin now faces murder and manslaughter charges.
While most demonstrations across the country have been peaceful, some individuals have resorted to vandalism and looting. Some police have responded with violence as well, beating demonstrators and teargassing crowds of peaceful protesters.
President Donald Trump addressed the nation on Monday evening, warning that he could send in the military to quell the unrest. "If the city or state refuses to take the actions that are necessary to defend the life and property of their residents, then I will deploy the United States military and quickly solve the problem for them," he said.
The president drew substantial criticism from activists, Democrats and some Republicans for the speech, as federal police were deployed to teargas about 1,000 peaceful protesters in front of the White House ahead of Trump's remarks. It appeared that the demonstration was cleared to allow Trump to walk to the nearby historic St. John's Episcopal Church and pose for a photo holding a Bible.
"There is a fundamental—a constitutional—right to protest, and I'm against clearing out a peaceful protest for a photo op that treats the word of God as a political prop," Republican Senator Ben Sasse of Nebraska said on Tuesday, criticizing Trump's actions.
Presumptive Democratic presidential nominee Joe Biden also criticized the president's actions, and his threat to send in the military, in a Tuesday speech. Biden said that the U.S. was "not horses rising up on their hind legs to push back a peaceful protest. Not using the American military to move against the American people."
Newsweek reached out to the Biden campaign for comment on the poll results showing that most Americans support sending in the military but did not hear back before publication.